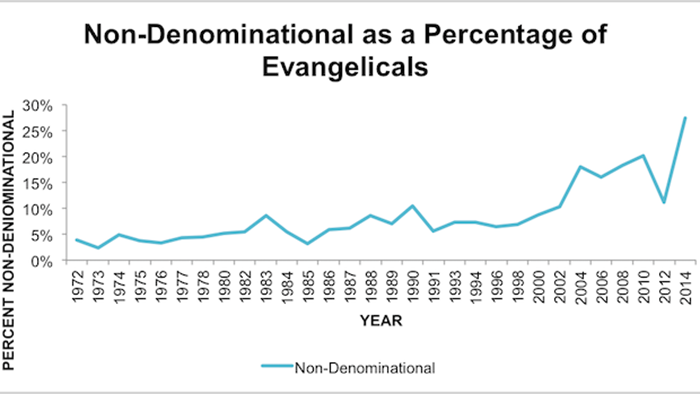 Image: Courtesy of the General Sociological Survey
CNN has posted a story I wrote describing the drastic rise of nondenominationalism among those whose religious preference is "Protestant." Here is the chart that tells the story visually, that we describe there verbally.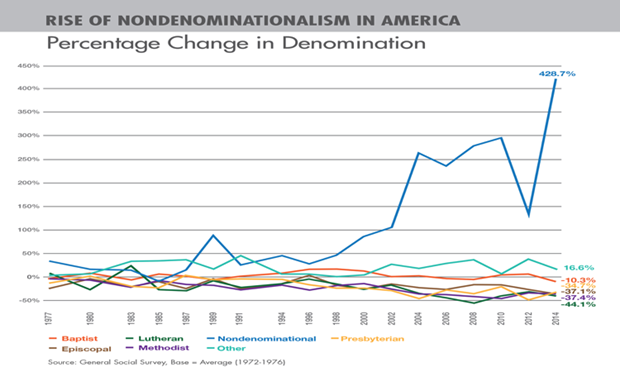 Using a baseline average from 1972–1976, over the last four decades, there has been more than a 400 percent growth in Protestants who identify as nondenominational.
Earlier this week, the Southern Baptist Convention, which is the largest evangelical denomination in the United States, released data showing that membership numbers have declined for the eighth straight year. I wrote about the acceleration of that decline at Between the Times.
So, what does this mean and how does it related to what I wrote for The Washington Post, USA Today, and CNN a few weeks ago about the persistence of evangelicalism in the United States? After seeing the new SBC data, one may think, "Surely if the largest evangelical denomination in the country is losing people, evangelicalism as a whole must be dying. Aha, Ed Stetzer!"
Well, that's not the case, and there is a clear reason why: the rise of nondenominational evangelicals.
Just for a point of reference, this chart compares the decline of SBC affiliation as a percent of US population (in this case, based on Pew data) and the rise of nondenominational evangelicalism in the same sample during the same timeframe.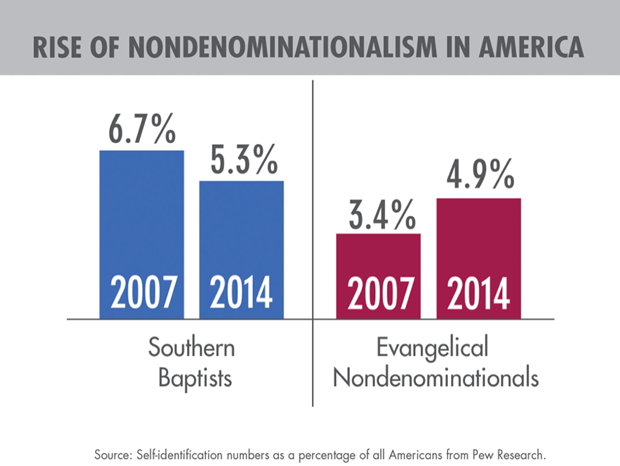 There are many other denominations in evangelicalism, and as I mentioned in the CNN article, the Assemblies of God just announced their 25th year of continued growth, but the picture points us to a change that's often overlooked—the rise of nondenominational evangelicalism.
CNN has published a new piece from me today in which I explain this phenomenon. Here's an excerpt:
If you focus only on churches within evangelical denominations, you miss those congregations that, while evangelical in their doctrine, exist independently.

Ignoring nondenominational churches misses Church of the Highlands in Birmingham, Alabama, which has more than 30,000 attendees, or the almost 25,000 Christians who attend Willow Creek Community Church outside Chicago. They, and many churches like them, are well-known and denominationally unaffiliated.

Despite recent data from LifeWay Research, which found most Americans are open to denomination churches, many pastors feel they can be more effective by not promoting their denominational affiliation. They aren't necessarily hiding it, but it's not something that comes up frequently.

Many evangelicals are happy to talk about Jesus, but perhaps are reticent to talk about their denomination. Or they might not even know their church is affiliated with a larger group.

For example, tens of thousands of people attend campuses of the innovative LifeChurch.tv, the congregation behind the popular YouVersion Bible app. Most members of LifeChurch are probably unaware of their affiliation with the Evangelical Covenant Church, a denomination founded by Swedish immigrants—another growing evangelical denomination—for 22 years in a row.
There's one more factor at play, too: church membership rolls do not accurately reflect regular attendance or active participation. I wrote for CNN:
Here's a dirty little secret: Many evangelical churches report membership numbers that look very different from actual attendance or even involvement.

Many Roman Catholics may be familiar with this phenomenon. I'm probably still on the roll of Our Lady of Victory in Floral Park, just outside of New York City, where I was baptized as a child.

Many evangelicals have some similar attendance patterns, often listing far more people on the membership rolls than actually attend church on Sunday mornings.
There's lots of information there, so please read the article at their site, and like and share so that others can understand the shift.
When you look at this chart, created from the General Social Survey (GSS), showing the increase of "nondenominationals" as a percent of evangelicals, it's quite stunning: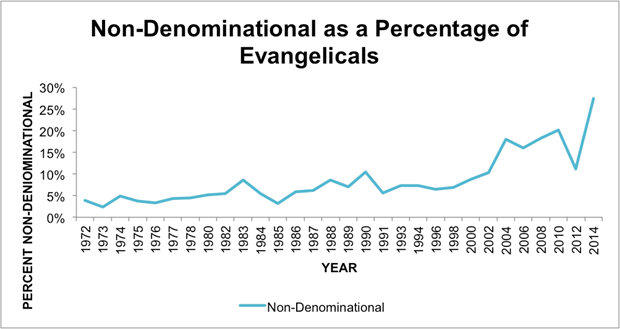 Soon, a third of all evangelicals will be nondenominational.
I'm a believer in denominations as tools for cooperative mission, so I think that this is not all good news. Furthermore, I imagine that many of these churches will partner up in networks for cooperative strategy (and many already are). However, the landscape is changing.
Some evangelical denominations are growing (and I mention two in the CNN article). Others are not. But it would be hard for any to grow as fast as nondenominational evangelicalism.
The Exchange is a part of CT's Blog Forum. Support the work of CT. Subscribe and get one year free.
The views of the blogger do not necessarily reflect those of Christianity Today.