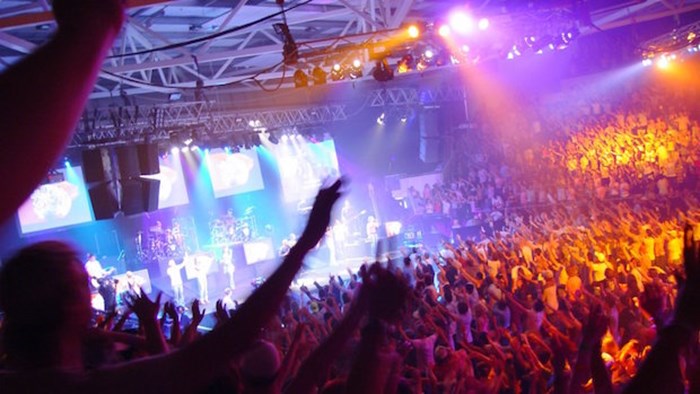 Image: SimonEast / Wikipedia
I'm a stats nerd.
If you read this blog with any regularity and you don't know that yet, I've failed you. I'm the executive director of LifeWay Research, so naturally I like analyzing and explaining the data we collect. But, at the same time, I love reading up on all sorts of stats and data that pertain to the local church and its mission.
Recently, Eventbrite, a "global marketplace for live experiences," conducted a study to research how often religious groups were using their service. My friend, and well-known research Scott Thumma, emailed me some details and the data was just released moments ago (at the time of this posting).
Here is their explanation of the project:
In 2010, the Faith Communities Today national survey asked 12,000 leaders of congregations about which types of religious programs increase spiritual vitality and growth. They found that the more member-oriented and mission focused the program, the higher the interest and engagement—especially true for programs aimed at young adults and parenting/marriage enrichment. The survey also found that the more often congregations held special events to attract people from the surrounding community, the more likely they were to grow.

Eventbrite took a cue from the Faith Communities Today research and conducted a smaller survey of our own. We surveyed 1000 people who attended special religious events in the past year. Our findings confirmed the relationship between special religious events (outside of worship) and spiritual growth at the individual level. The more often our respondents attended special religious events—whether held by their congregation or those hosted outside their faith community—the higher their level of religious involvement in terms of congregational attendance, small group participation, personal scripture reading and prayer, and the importance of faith in their lives.
What Was Interesting
Scott, the researcher, emailed me as some interesting points from the data:
The data clearly shows a positive relationship between involvement in religious special events and greater faith development. This is similar to what Faith Communities Today 2010 found.
Participation in such events inside and outside the local church, for roughly 70% of respondents, strengthens faith, helps them feel more connected and meet others of their faith, and for nearly half the respondents offers evangelistic opportunities that make it easier for them to reach out to others.
Special events have significant appeal to the younger 18-45 folks in the survey. They attend at higher rates than older persons.
Here is some more analysis, put together with my blog guru, Chris Martin.
Special Events' Effects
How often does your church have special events? Once a week? Once a month? Even less frequent than that? Ministry philosophies vary when it comes to thoughts about how often churches should hold festivals, movie nights, or other special events, and there is not necessarily a "right answer" when it comes to program frequency.
In their survey, Eventbrite gathered some interesting data that points to, if nothing else, the important role special events play in the life of the local church. It is important to note that the Eventbrite survey looked at a variety of faith groups—Buddhism, Islam, Judaism, and more—not just Christianity.
Here are a few key stats among those who participate in special events organized by their faith communities:
74% of those who participate in special events feel more connected with their faith community.
70% believe special events allow them to meet others of their faith.
69% agree that special event attendance actually strengthens their faith.
56% affirm that these events help them overcome life's difficulties.
49% agree special events make evangelizing easier.
These statistics are fascinating, especially as pastors lead their churches to consider events outside of the usual church week.
But how are you supposed to promote special events? How do you encourage people to actually come to them?
Special Events' Success
Eventbrite is an online marketplace for events of all types: concerts, class reunions, and a host of other types of activities. These folks are in the business of event promotion, so, obviously, they're knowledgeable about what it takes to get people to attend.
Here are some stats about what attracts people to special events hosted by their congregations:
44% of survey participants said their favorite types of events are ones focused on food or drink.
41% of participants look most favorable upon festivals.
36% of participants say their favorite special events are concerts.
34% say they prefer retreats/trips above all other sorts of special events.
So those are some of the favorite attractions. But what will motivate people to attend an event, even if it's not their favorite kind?
53% of participants will attend an event if there is a special speaker or guest.
44% will attend if there are charitable or volunteer components to the event.
42% are there if there's music involved.
37% will be in attendance of their family gets to be involved.
33% will participate if it's outside.
20% said that they are more likely to attend a religious event if there is discounted pricing available.
OK, that's probably too much info for most of you, but it is still pretty interesting to the church stat nerds out there.
But what are some trends in the area of special events?
Special Events' Trends
Like I said above, the Eventbrite survey looked at a variety of religions and how each of them conducts special events. For our purposes, let's focus on Christianity specifically.
Eventbrite reports about special events within Christianity, based on their survey data, "30% of special events are conferences particularly for women, ministry/leadership, and bible events. Peak season is September-October."
(As a conference speaker, I can tell you that peak season is EXACTLY September and October!)
Click here to see the rest of the report from Eventbrite.
Chris Martin contrinbuted to this post.
What did you glean from this data? Can you think of any significant implications from this study?
The Exchange is a part of CT's Blog Forum. Support the work of CT. Subscribe and get one year free.
The views of the blogger do not necessarily reflect those of Christianity Today.