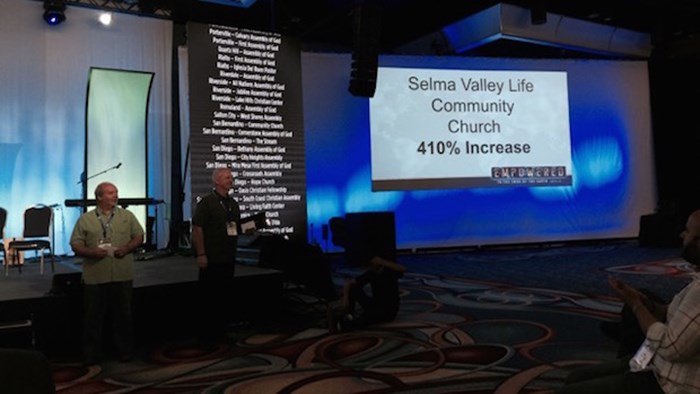 Sitting in the Southern California district of the Assemblies of God meeting a couple of weeks ago, I was reminded of something I've written about before:
"What you celebrate, you become."
Just before I spoke, the district leaders gave awards for missions giving. Churches that increased their mission giving were scrolling on the black screen in the photo. Then, the churches that had most increased their giving were shown on the blue screen to the right, brought up front, and celebrated.
However, the district did not just focus on missions giving, but on mission—and that is an important distinction. The giving is a means to an end: effective missions engagement. They celebrated missions giving because they want to continue becoming a district that values missions.
People are drawn to organizations and events that are focused on something that they see as essential.
So, ask yourselves a question if you are in a denomination or a network: what is the main focus of your meeting.
As we begin summer meeting season, it can be telling to observe different denominational gatherings' emphases. My own denomination has focused too often on conflict, with a lot of business, and sometimes majored on organization issues. Right now, and I'll let you decide if it's related, the denominational church planting gathering is about double the expected the convention gathering in attendance and already far exceeds it in enthusiasm.
I am thankful, however, to see the SBC moving in the right direction. The current president is working to make the convention more meaningful and less, well, of all that other stuff. I'm with and for him.
People are drawn to organizations and events that are focused on something that they see as essential. So, how do we make the focus of our denomination or network meetings more about what we want to be?
I suggest 4 things:
1. Choose speakers who cast a compelling vision.
Speakers are key. If you want to be more diverse, choose more diverse speakers. If you want the denomination to love church planting more, have them hear from (lovable) church planters. If you want more missions, hear from more missionaries or mission speakers.
If you want to focus on business, have lots of that. Make sure there are plenty of opportunities for long debates about minute parts of Roberts Rules of Order.
2. Reduce reporting and emphasize mission.
Reporting fits best in books, not in long reports at denominational meetings. The "let's be fair" approach to denominational planning—that everyone needs to report so it feels fair—produces a rather poorly attended meeting.
Instead, cast a vision for global missions, church planting nationally, and ministries that are making a difference.
3. Streamline business while staying accountable.
In the ten years I have spoken at denominational meetings, I've seen a monumental shift. Business times have been drastically reduced, except when major changes were afoot.
If every denominational meeting feels like a UFC match, then nobody but fighters show up.
I remember the Foursquare meeting where the business went hours longer than planned, but they were in the middle of a major reorganization and Glenn Burris told me, "We are not done until everyone has had a say on this one!" Now, like everyone else, they've shortened the meetings and focused accountability through their boards and agencies.
4. Be a family on mission, not an organization in debate.
Most importantly, act like a family. Yes, some families have that nutty uncle, and you have to be kind and patient when he is at the microphone. However, families mostly love each other. They want to be with one another. And, they act like they care for one another.
If every denominational meeting feels like a UFC match, then nobody but fighters show up. If it feels like a family on mission, focusing on the things that matter most, those who love and value the mission will be there expecting to be encouraged and anticipating a move of God.
Indeed, what a denomination celebrates, it becomes.
The Exchange is a part of CT's Blog Forum. Support the work of CT. Subscribe and get one year free.
The views of the blogger do not necessarily reflect those of Christianity Today.