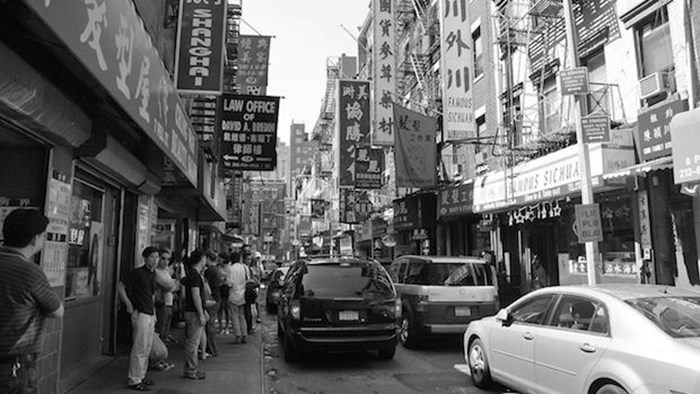 Image: chensiyuan / wikipedia
"I got into the trash!! Then hid behind the recliner and barfed in the heater vent!" reads the index card. In the picture, a chihuahua sits with ears folded back guiltily next to the card propped in the vent. I can only assume the dog is now having to inhale the sour, warm vomit air pouring out of the heat receptacle. And do I see a glint of a tear from those sad, bulging eyes?
Dog shaming (dogshaming.com) is a wonderful distraction from real work, if you should ever need another one. In short, the site is composed of pictures of dogs at the scene of their crimes with a handwritten explanation, sometimes in the dog's voice. And those expressive eyes and cowered postures exhibit true contrition on their part. These canines appear deeply ashamed of what they've done and yet it is out there for the world to see. That's what makes dog shaming work — the guilty look guilty and the master is justified for calling out the deed and its doer, all of which elicits compassion and forgiveness for man's BFF.
I don't handle shame nearly as well. I can't tell if it's because I'm Asian American or my eyes just aren't as expressive as a dog's (perhaps also due to the fact I'm Asian American). Or maybe it's because I'm not contrite enough. I don't seem to be able to win anyone over to the notion I want to be true friends, even though that is what the cowering dog and I both desire — to restore a sense of friendship, re-establish trust, and be welcomed back.
Shame on the web leaves little room for restoration.
A lot of websites not named dogshaming.com still do the work of shaming. Some even pride themselves on the moniker of watchdog (pun intended) where they publicly call out others for saying or doing something shameful. The problem is shame on the web leaves little room for restoration. And without commitment to one another, being the watchdog can prove to be as shameful as being the bad dog. I know because I've played the watchdog before.
Blogging in the niche space of Asian + American + Christian is a bit esoteric. I don't operate under the delusion that my opinion matters to the general public. In the past, when caricatures of Asians or Asian culture were misappropriated by non-Asian Christian authors or publishers, it took a lot to speak up and call those things out. Either way, it felt like I was going to cause one group or the other to "lose face" — one group being fellow Christians who are ignorant of Asian culture (but love ninjas and rickshaws); or the other group being believers like me, Asian American and Christian, trying to balance both of these identities with self-respect and a little less self-loathing.
Ultimately, the books and curriculum deemed offensive by Asian American Christians were removed from the shelves and apologies (eventually) were issued (I take no credit for this as there were stronger and more articulate voices in the mix: Soong Chan Rah, Kathy Khang, Daniel So, Nikki Toyama-Szeto, and many others). The unavoidable and inadvertent public shaming through blogging and an "Open Letter to the Evangelical Church" seemed to cause authors and organizations to feel they had offended an innumerable and watchful Asian American Christian image police (there isn't any such thing though the Internet can make it appear so) and it might have been considered progress to have our voices heard and issues addressed.
But I wonder, had Asian American Christians shamed other Christians into undoing the wrong, but not into making things right? What was meant to be a word of correction and lament for lack of brother/sisterhood elicited reversals and removals, but didn't strengthen relationships. This, ironically, leads to a twice-cooked sense of shame, because the hope was for reconciliation and renewed community, but I have neither a whole Asian American nor reconciled Christian community.
Even polite pleasantries are better than estrangement and ignorance.
And this is why I say it feels just as shameful to bring up the issue as it is to be ashamed of some (previously unknown) wrong. Shame divides and separates; even dogs know that, but what endears us to one another is contrition and submissiveness. That's fine if we're posting pictures of the chewed up couch and showing sad basset hound eyes, but when the issue is privilege and race; or poverty and prisons, now what? There's nothing adorable about that. Who wants to reconcile that?
Our first instinct may be to figure out who in the illustration is the guilty dog and the justified master. Who has exhibited contrition? Who will woo us back with puppy dog eyes? Who will welcome the other back into the fold? Who will overlook our doing for the sake of our being? Those are all important questions, but the most crucial is this: Who will we be together — not winner, loser; correct, incorrect — but who are we together?
When it comes to honor and shame — whether I did what was right or wrong — our hope is to pursue unity. Even polite pleasantries are better than estrangement and ignorance. If the guilty dog has no community, he has no choice but to become a lone wolf. But if you and I are committed to unity, then even if I should ruin your carpets, I know I can come home and suffer through shame — even shame on a website.
The Exchange is a part of CT's Blog Forum. Support the work of CT. Subscribe and get one year free.
The views of the blogger do not necessarily reflect those of Christianity Today.