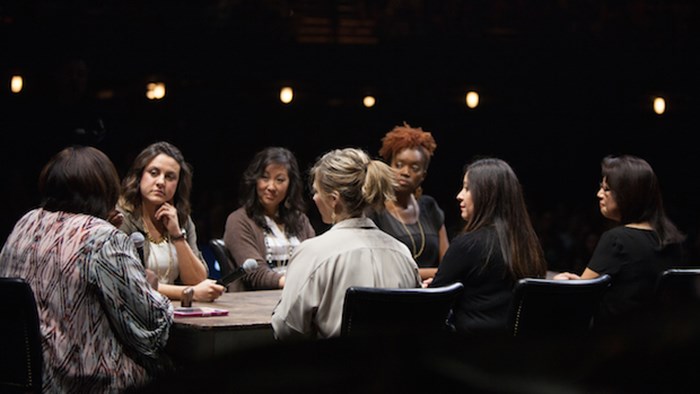 Courtesy of Thrive Photography
Helen Lee: Before this discussion at the IF:Gathering, you both were part of a group that met regularly and set the stage for what happened at IF. What did that look like and what impact did it have on you?
Jennie Allen: Last spring, Latasha and our friend Kim Patton asked me to join a diverse group of women specifically to talk about the issue of race. It took no time before I realized that this was going to be a powerful experience. It went beyond understanding, it was more than just healing, it was taking us all further in our faith. Before this group, many of us did not feel comfortable discussing issues of race; we thought it would be inappropriate or offensive to bring up questions or concerns. I had never been educated in talking about race so I never did it, even with my friends of color.
But when Tasha said to me, "Jennie, I want to talk about race, I want to share with you about how I'm viewed as a black woman," I realized that my efforts to try to be color-blind were actually more offensive than not. Tasha and I have mutual respect for one another and that comes from the freedom we have to address race rather than avoid it.
Latasha Morrison: I had been thinking about the lack of diversity across all Christian conferences and what that communicates to the world. I had also heard of Jennie's desire to bring more diversity to the IF:Gathering. We met and decided to cast a vision for small group gatherings centered solely on the topic of race, starting with ourselves and our immediate circle of friends. None of the women came to the group needing more friends. But everyone in the group saw the value of seeking friendships with those different from ourselves, friendships we knew we would have to work at and learn from.
For some, this was the first attempt at friendships outside of their own race.
We decided to get to know one another slowly and address several race-related questions each week. And over the months our group met, the events of Ferguson, New York, Ohio and other race-related crises occurred, which created opportunities for great discussion on injustice, unity, and reconciliation. Everyone had to practice listening to one another and to give grace so that no question would be deemed absurd.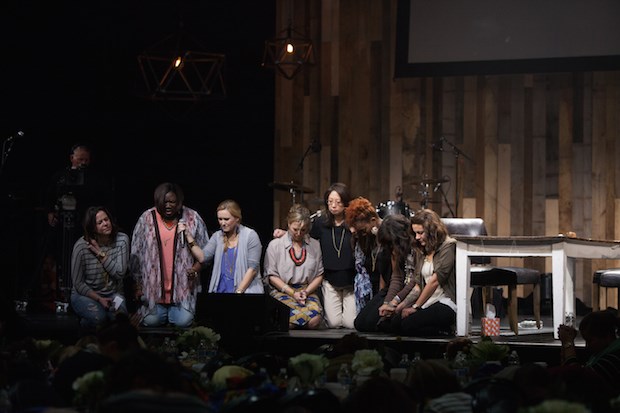 Helen Lee: Let's talk more about the conversation that was modeled at the IF:Gathering, which was based in part on the process you developed in your small group conversations. What do you feel was accomplished in the 20 minutes that the roundtable was conducted on the stage? (Editor's Note: the conversation continued for another hour after the on-stage session and the whole discussion will be available at the IF:Gathering website in the near future.)
Latasha Morrison: Our small group meetings are normally four hours long so I knew we wouldn't have time to go deep at the IF:Gathering with only 20 minutes. But I thought we could at least model how to have a healthy dialogue. I think God did something amazing in those 20 minutes, beyond what I expected. The church should lead and pioneer the conversation on race and true reconciliation. Many churches were on the wrong side of slavery and the Civil Rights era, so today if Christians can help lead this conversation, it would be redemptive. Racism is a sin that we should all work to end. I think even in those 20 minutes, we were able to share the heart of God and show why starting the conversation is so important.
Jennie Allen: I've received countless emails, Facebook, Twitter, and Instagram messages on the impact of the conversation. Tasha created a free guide to help people start similar conversations in their own context, and it has already been downloaded 3,400 times. I've realized that it doesn't take one million people to spark change— it only takes a committed few, then the Lord multiplies our efforts. I agree that racial unity is on God's heart. And He is stirring each of our hearts to bring attention to the issue. People are realizing that they can do this; they can gather people and have an honest, healthy conversation about race. That said, I know we barely scratched the surface at the IF:Gathering. We have more work to do. But I am so grateful that we started, and I am committed to keep going.
Racism is a sin that we should all work to end.
Helen Lee: Given your experiences this past year, what advice would you give to those who would like to start engaging this issue in their own events and contexts?
Jennie Allen: Before anyone tries to implement these race-related conversations in their churches or with their organizations, leaders need to be engaging in these conversations personally. My confidence to try this at IF came from the fact that many of us had been engaged in this conversation regularly for a year. That is how we were able to come to a place of believing it was even possible. It can't just be something we talk about from stages, if we aren't living it. If you want to value it publicly, value it in your real life first. It has to emerge from a place of humility and exploration, away from the spotlights.
And expect awkwardness. Our group awkwardly engaged in conversations until we became friends. Know that ahead of time, move into it, and know that if your hearts are genuine and humble then a lot of progress can be made, even if it's messy and difficult. Our rule was not to censor ourselves, but to say what was on our minds or ask what we needed to ask and agree to offer grace to one another. We must give grace as we attempt to navigate these conversations.
Latasha Morrison: People need to hear from voices different from themselves. There are small bubbles of Christian celebrities but no one knows Christian heroes in the African American or Asian American or Hispanic American or other diverse Christian communities. When we start crossing the racial lines in our conferences and events the body of Christ is richly blessed. Second Corinthians 5 reminds us that we are reconciled to Christ so that we are able to be reconciled to one another. I don't remember seeing in Scripture that I was only to be reconciled to fellow African-Americans.
This hurting world needs to hear godly voices on race and reconciliation. They need to see the lives of reconciled, transformed people in their own friendships, churches, and communities. This is how the gospel of Jesus Christ will be made known—through our unity in the midst of our diversity.
Here are some clips from the IF:Gathering discussion:
You might also want to tune in to the live stream of today's racial reconciliation summit hosted by the Ethics and Religious Liberty Commission.