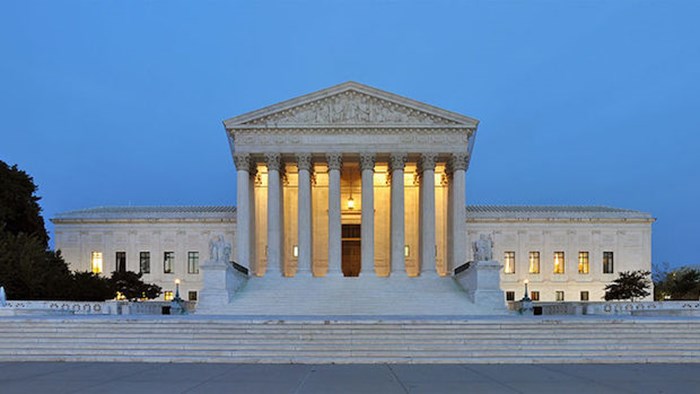 Image: Joe Ravi / Wikipedia
Update: New York City to change rules to allow churches to rent schools
Today the Supreme Court declined to review a case from New York City involving the city's right to ban religious groups from holding worship services in public schools. Effectively this solidifies the city's ban, and could potentially result in the replication of that ban in other cities, counties and states across the country.
This is obviously not helpful for churches, especially church plants.
I've written about this before here and here. In 2012 LifeWay Research specifically polled Americans and New York residents to see what they thought about the issue. What makes this decision particularly strange is that it runs up against the clear will of the majority of Americans, and the majority of adult New York residents.
Unfortunately it appears that the NYC school system thought differently, the Second Circuit Court of Appeals thought differently, and the Supreme Court declined to step in.
If this approach (which is now the law of the land in New York City) is replicated, churches who currently meet in schools will be forced to scramble for new locations to gather. What's more, the issue of equal access for persons of faith is strongly in play here and, once again, we have an example of narrowing accomodation for people of faith.
This news truly makes me sad.
I have previously made the case that churches should be allowed to remain in public schools for three specific reasons. I continue to believe that these three reasons remain very much applicable. As such, I will restate my three points.
However, it is ironic that Mayor de Blasio said earlier that he supported churches using publc schools, but now, he has pushed this case to the Supreme Court and its unfortunate end.
I think public places should be available to churches for three reasons.
1. Churches benefit communities.
Schools and churches make their communities better—and the public knows it.
According to a 2011 Barna Research study:
Three-quarters of U.S. adults believe the presence of a church is "very" (53%) or "somewhat" positive (25%) for their community. In contrast, only one out of every 20 Americans believes the influence of a church is negative.

It seems odd for a municipality to ban something from public buildings that their constituents strongly view as positive.
The New York Law Department, however, has a different approach, stating:
We view this as a victory for the City's school children and their families. The Department was quite properly concerned about having any school in this diverse City identified with one particular religious belief or practice.
Most Americans see churches as partners in the community, but the NYC school system sees churches differently.
They are mistaken.
2. Discriminating on the basis of the speech content is against our values.
The NYC municipal government contends ongoing religious speech (though worship services) should be banned from public school buildings to avoid confusing our children. (Remember churches use the schools when school is not in session.)
Yet, the Long Island public school I attended as a child had plenty of religions present, and NYC today has nearly every faith represented. Allowing individuals to worship in empty public buildings does not confuse children about religion. To the contrary, it affirms our commitment to religious freedom and even pluralism.
Father Richard John Neuhaus wrote against stripping religion from our institutions. Neuhaus believed religion is a public endeavor, not an enterprise best kept underground.
I'm actually not one who believes in the war on religion by the secular elites, but it is hard not to see a problem with what Yale University scholar Stephen L. Carter called 'the culture of disbelief' in his book by the same name.
The book, introduced to many by President Clinton, reminds us that banning public religion threatens the individual liberties of millions of Americans.
As I see it, banning church worship from schools is an unfortunate overreaction, rooted in the desire to have a public square free of religion and belief.
It's just not helpful.
3. Religion-neutral is better than religion-hostile.
Constitutional concerns about church use of public school buildings can be answered by a religion-neutral approach. A government that is religion-neutral we will not discriminate based on the content of speech, even unpopular religious speech.
Thus, I stand with my Muslim friends who wish to rent on Friday, my Jewish friends on Saturday, and my Christian friends on Sunday, all paying money to use space that belongs to us all. And, yes, they would pay—and pay the acutal costs to avoid governement sponsorship of religion of any kind.
The rationale that leads to a ban like the one enacted by New York City follows the principle that in order to avoid poisoning young minds, we must strip religion out of our lives, and essentially relegate it like pornography to the back of the store.
Yet metro NYC includes a robust mixture of the cultural and religious milieu. Renting empty public buildings, with the income going to under-resourced schools, benefits many and imposes nothing.
Perhaps NYC schools need to decide if religion is a danger to our culture that should be banished from the public square, or something to be valued and protected.
I desperately pray it is the latter.
This post was edited for clarity on legal points.
The Exchange is a part of CT's Blog Forum. Support the work of CT. Subscribe and get one year free.
The views of the blogger do not necessarily reflect those of Christianity Today.