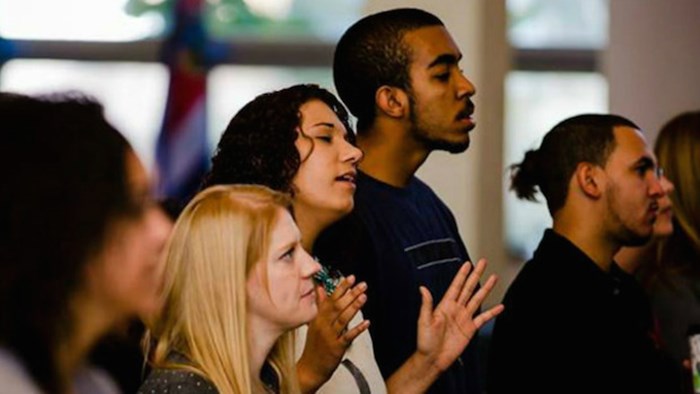 Since Pew Research Center released its religion survey data on Tuesday, my team and I have been hard at work analyzing the data and writing articles for this blog, USA Today, The Washington Post, and more to come.
We've gone from a time when nobody know what Jimmy Carter was talking about when he mentioned being "born again," to where half of all Christians use that phrase or the word evangelical to describe themselves.
In my latest piece for The Washington Post, posted online yesterday, I primarily focused on how the Pew data revealed the mass evangelicalization of the United States.
Here's an excerpt:
In 2013, South Carolina evangelical megachurch NewSpring Church baptized more than 6,500 people while worship attendance grew by nearly 10,000 more than the year before. The same year the entire Episcopal Church in the United States produced only around 12,000 adult confirmations with an attendance drop of more than 27,400 from the previous year.

The stark figures of one church compared to an entire denomination suggest noteworthy trends and scope of the changing church in America.

While there is often an inordinate focus on those who leave Christianity and predict its demise, what do the actual numbers say? The latest study from Pew Research Center, released this week, and the General Social Survey, released just a month ago, reveals what I have termed the "evangelicalization" of American Christianity.

The church in the United States is becoming more evangelical.

Who is an evangelical?

Unfortunately, there is no official definition of the word evangelical, but this much is true: Evangelicals are not a subset of the Republican party; evangelicals are a subset of Protestant Christians. It is a religious description, not a political movement.

Historian David Bebbington suggests a respected paradigm for those who identify as an evangelical: a transformed life through following Jesus, faith demonstrated through missionary and social reform efforts, a regard for the Bible as ultimate authority, and a central focus on the sacrificial death of Jesus.

In their latest study, Pew identified evangelicals two ways. In most of their data, they consider affiliations of denominations that have been historically evangelical. Using this measure, evangelicals declined as an overall percentage of the population from 26 percent in 2007 to 25 percent in 2014. In terms of raw numbers, however, more Americans are evangelical today than seven years ago—59.8 to 62.2 million.
Be on the lookout for more from me on the Pew data over the weekend. We'll be sure to repost anything from other sites here on the blog.
Chris Martin, Aaron Earls, Marty Duren, and Casey Oliver contributed to this blog post.
The Exchange is a part of CT's Blog Forum. Support the work of CT. Subscribe and get one year free.
The views of the blogger do not necessarily reflect those of Christianity Today.