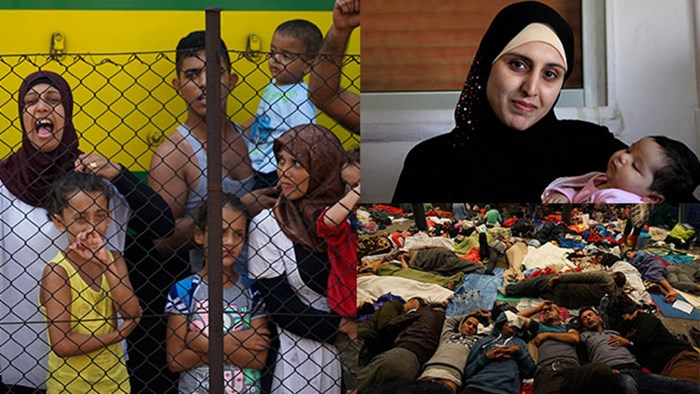 Following Friday's attacks in Paris and the revelation that one of the attackers may have traveled along with Syrian refugees from the Middle East into Europe, I fear that these heinous acts will give us an excuse to turn away from the needs of the refugees. We have to remember that these refugees are also victims of terrorism.
Virtually all Syrian refugees are fleeing from violence and extremism. Having just been in Lebanon, the refugee families we met reject the radicalism that has led to violence, which has caused them to lose everything. They are victims, having lived alongside the perpetrators of this violence.
In the U.S. a number of leaders have suggested that we should only accept Syrian Christians as refugees and keep Muslim Syrian refugees out of the country. This is the opposite of how Jesus called his followers to act. "Love your enemies, do good to those who hate you," Jesus said. (Luke 6:27, 32) Syrian refugees, of course, are not our enemies. They do not hate us. But even if we thought they were, Jesus tells us to love them.
We have to remember that these refugees are also victims of terrorism.
Jesus' command goes against our instincts. We want to protect ourselves from those who might hurt us. In order to do so we may be willing to withhold our compassion from those who need it most. Yet Jesus calls us to a very different way. He asks us to love our neighbors—regardless if there may be enemies among them.
The four million refugees who have fled Syria are among the most love-starved people in the world. They have been forced to flee their homes. They have left family members behind, often in graves. They have left their communities. They have nothing, and where ever they go no one wants them. In Jordan, Lebanon, Turkey, and most places in the West, many Syrian refugees are mostly unwanted. What a testimony it would be if the church embraced them with open arms.
We know not to judge people by the color of their skin, their ethnicity, or their religious beliefs. Not all Italians are members of the mafia, not all Irish are criminals. We bristle when all orthodox Christians are accused of being bigoted. We can't fall into the trap of stereotyping entire groups of people.
As Christians, we are sent with the love of God in our hearts and the good news of the gospel on our lips. Jesus sent us to the nations – as ambassadors of his love – to the poor, the sick, the oppressed, the widow, the alien, the stranger, and especially to the children.
Fulfilling this mission will mean that we open ourselves up to the world's pain. Going into the broken places of our world requires exposing ourselves to its agony. This is what Jesus did in going to the cross. This is what Paul and the Apostles did, and nearly all of them were executed.
In my time at World Vision, I have seen this kind of sacrificial love. Our staff have been killed in Uganda, Iraq, Peru, Sudan, Pakistan, and Cambodia. Yet, World Vision remains in or has returned to each one of those countries.
One good friend, Ray Norman survived an attempted assassination in Mauritania. His powerful story illustrates how Jesus' love, when it is open to the world's pain, can transform hearts. After the attack, we debated pulling out of Mauritania. But World Vision's work and Ray's response were having a profound effect. One of the country's Islamic leaders asked Ray to stay. "If for no other reason, stay in this country and teach our people how to love their poor." Their return made national news as Ray and his daughter publicly forgave their assailant and resumed World Vision's work with the poor.
Instead of fearfully turning away from Syrian refugees, we need to see the amazing opportunity we have to show the love of Christ. This is an unprecedented moment for the church. The gospel's most powerful expression is love. When you love the unloved and the broken, it always provokes the question to which Jesus is the answer: Why do you care?
The Exchange is a part of CT's Blog Forum. Support the work of CT. Subscribe and get one year free.
The views of the blogger do not necessarily reflect those of Christianity Today.