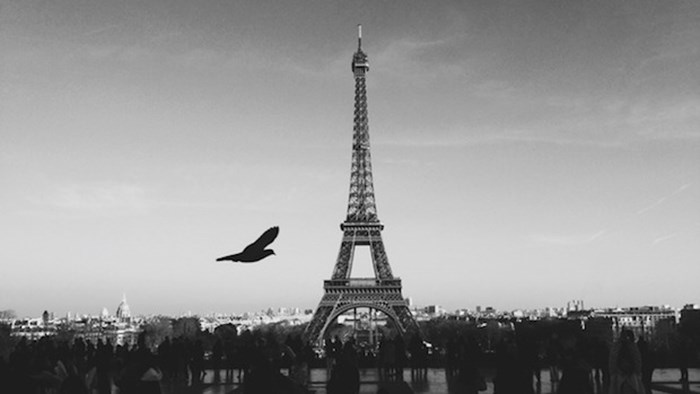 Image: Louis Pellissier
We are, it is hard to disagree, in what will be a decades-long struggle with radical Islamists. Tonight, that stark reality is made clear again as the death toll continues to rise in Paris in what has been, if early reports are accurate, a series of multiple terror attacks. While no group has claimed responsibility thus far, this scenario is all too familiar, and France has previously experienced smaller attacks from radical groups. So while we wait for more details, we are beginning to process what we do know.
Others can opine on geopolitical realities, military strategies, and more. But I'm burdened to ask, how do we respond as Christians?
I can't speak for everyone, but I can and will share some suggestions in this painful time. I believe there are things Christians can and must do to respond to this, and so many other, terrorist attacks.
Pray for the families. #PrayForParis. Pray for France. Pray for Muslims. And pray for those who are our enemies.
First, pray. Pray for the families. #PrayforParis. Pray for France. Pray for Muslims. And pray for those who are our enemies. That's a uniquely Christian thing to do—to pray for all, including our enemies. It's not easy, but it is our calling.
Second, love the hurting. Though most of us are not in Paris tonight, we know that Christians are there, along with others, loving those who have lost so many. And, even from where we sit, we can love the French and "weep with those who weep" (Romans 12:15). It was the French newspaper LeMonde that said in the aftermath of the 9/11 attacks, "We are all Americans now." Well, today, we are all Parisians.
Third, love our enemies. Again, that is what makes our faith unique. Most of us are watching this unfold from outside of France, but as the President of the United States said in his remarks, "this is an attack on all of humanity." When we let that sink in, love isn't our first natural feeling. But love is what we are called to anyway.
You have heard that it was said, Love your neighbor and hate your enemy. But I tell you, love your enemies and pray for those who persecute you, so that you may be sons of your Father in heaven. For He causes His sun to rise on the evil and the good, and sends rain on the righteous and the unrighteous. -Matthew 5:43-45
But in moments like this, that response can be hard to come by. We have to consider our own tendencies, and be ready to flee from temptation. Fresh memories from 14 years ago come back for Americans tonight, and strong feelings rise to the surface.
Sometimes it's not enough to just give lip service to what we should be doing. We also have to commit to what we should be resisting. And on a night like this, there are at least three things we should NOT do as Christians.
First, we should not hate. That's what our human nature wants to do. We feel pain for those on the other side of the ocean. We feel anger toward an evil that we cannot control. We remember what it feels like to live in a nation under attack. And some of us may even worry about people we know who live in France. All these emotions, especially together, can lead our souls to some troubling places. But the truth is, we are people who live with hope and who live with a mission. We cannot hate a people and reach a people at the same time. As we pray, we must pray for our own hearts to be protected from hate.
Second, we should not take out anger on refugees. The immigrants streaming across Europe are trying to escape the radical Islamists, they are not the enemy. This incident certainly reminds us of the importance of security in this immigration crisis, and terrorists may very well try to infiltrate such refugees. But almost all of these people are just trying to live and protect their families—as you and I would do. If we start placing blame, and drawing quick conclusions from that, then we are saying that innocent people should have been denied protection. This is not ok. The gospel frees us to first—and always—be people of compassion.
The gospel frees us to first—and always—be people of compassion.
Third, we should not call for a war with Islam. I've written extensively that I do not think that interfaith cooperation is helpful, but multi-faith understanding can be. I do not believe that Muslims and Christians pray to the same God and, as such, I believe that ALL people need Jesus, including Muslims, Hindus, and atheists. That's part of what makes us evangelicals.
I want to see Muslims come to Christ (as, yes, they want to win me to Islam). And, we can't do that by going to war with a billion people.
And it is worth saying again—the vast majority of Muslims are not terrorists.
A few years ago I wrote in USAToday in the aftermath of the Boston Marathon bombing:
Simply put, too many people make decisions about a group based on what they see on television news – and that's a bad place to make sweeping conclusions…Don't be so lazy to assume ta that the worst of a group represents the entire group. They hardly ever do. Perhaps a better idea is to meet them, learn about them and treat them as your neighbor.
Instead of a war on Islam, we should acknowledge and encourage that moderate Muslims will have to be part of any solution. Earlier this evening I tweeted, "We are in a decades-long struggle with radical Islamists that will require the partnership of Western nations, Muslim leaders, and many more." We need Egypt's Abdel Fattah el-Sisi, Jordan's King Abdullah II, and others, partnered with Western nations, and engaged in this struggle at an even greater level.
Yet, as Fareed Zakaria has written, Muslims have a problem.
It is not enough for Muslims to point out that these people do not represent the religion. They don't. But Muslims need to take more active measures to protest these heinous acts.

They also need to make sure that Muslim countries and societies do not in any way condone extremism, anti-modern attitudes and intolerance towards other faiths.
Where from Here?
These are complex issues and I've not addressed them all here. Furthermore, this is not a problem that evangelical Christians can solve—it's a global issue. It will involve governments, alliances, and Muslims themselves. And, it will continue to involve military action and the political debate that surrounds such action.
But, in this short article, I'm simply addressing what Christians can and should do now—all of which we can do today. Put another way, I'm not writing about the appropriate government response tomorrow—I'm writing about a Christian response today.
When it comes to multi-faith engagement, we do not want, nor should we seek, to pretend we are on the same path.
As we engage Muslims, we do not want, nor should we seek, to pretend that we are on the same path. We should not pretend that our dialogue will help us figure that out that we were just misunderstanding one another all along. We are not—Evangelicals and Muslims both want to convert one another, but since that work is not yet done, the world needs moderate Muslims to make the world safer for both of our faiths. I will continue to pray for that, and while I do so I will continue to love my Muslim neighbors, while always seeking to reach them with the gospel that saves.
Times like these are filled with emotion, and that is normal. But let's make sure that our response is more tempered by the fruit of the spirit than online rhetoric. Don't get caught up in debates and anger. This is a horrible night, but our story is bigger than this and it ends in hope.
Even as we mourn, we have nothing to fear.
Amy Whitfield and Jonathan Howe contributed to this article.
_______________________________________
Jamie Aten of Wheaton's Humanitarian Disaster Institute has an article in the Washington Post about how we might respond to the Paris' attacks. Jamie and Ed will join with several other speakers at the Disaster Ministry Conference in June 2016.
LifeWay Research has done many studies of how Americans and Protestant pastors view Islam. The most recent is here. Others include:
Ed has written on Islam many times, including most recently:
You might also find helpful:
The Exchange is a part of CT's Blog Forum. Support the work of CT. Subscribe and get one year free.
The views of the blogger do not necessarily reflect those of Christianity Today.