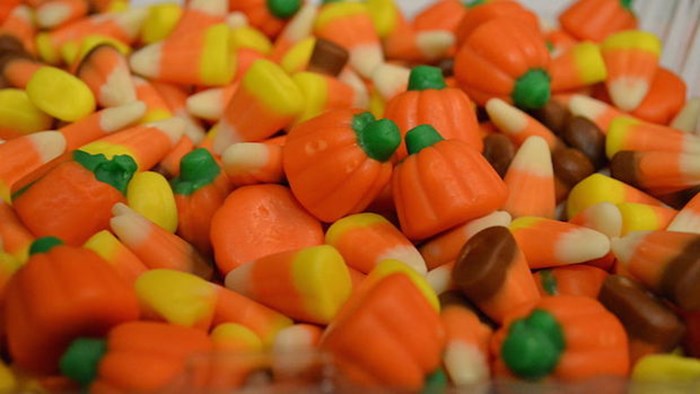 Image: Jamal Fanaian / Wikipedia
Earlier this week, LifeWay Research released data from a recent survey gauging American views on Halloween. The holiday is one of the more controversial of the most popular American holidays because of it's relationship with witchcraft, paganism, and other "dark" elements. Historically, many people in varied strands of Christianity have opted out of the holiday in favor of more neutral "fall" or "harvest" themed celebrations.
Where Americans Stand
Our survey told us that a third of Americans avoid Halloween or its pagan elements. Here's a fun graph depicting the data: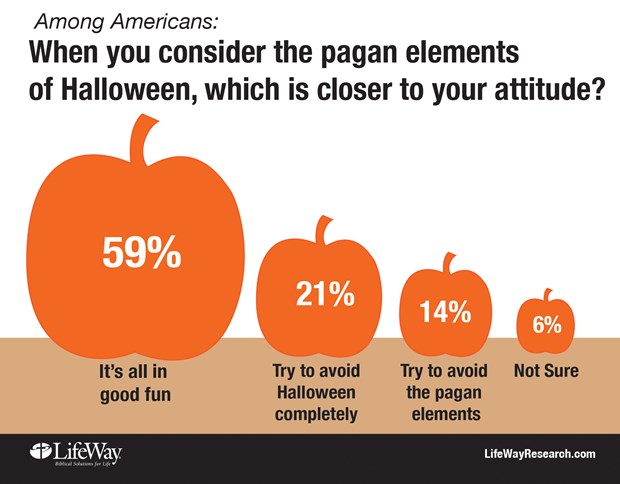 As you can see, well over half of Americans see Halloween as being all in good fun, acknowledging the reality that most people who celebrate Halloween are not worshiping Satan or sacrificing animals in the name of false pagan gods.
Still, though, as Carol Pipes reports for LifeWay Research, about one third of Americans avoid the holiday, or just the pagan elements:
Although 3 in 5 Americans told LifeWay Research Halloween is "all in good fun," 21 percent avoid the holiday completely and another 14 percent avoid the pagan elements.

Halloween has been known in North America since colonial days. But it wasn't until Irish immigrants brought their Halloween customs to America in the 1840s the festival grew in popularity. Since then, it has been woven into the fabric of American culture. By the 1950s, Halloween was mostly considered a children's holiday celebrated with costumes and candy.

But Halloween has exploded in popularity the last several years, even among adults. Americans are expected to spend $6.9 billion on Halloween this year, according to the National Retail Federation, more than double the amount spent 10 years ago.

"As popular and pervasive as Halloween has become, there is still a sizeable minority that avoids at least some elements," said Scott McConnell, vice president of Nashville-based LifeWay Research.

Not surprisingly, nonreligious Americans are most likely to say Halloween is all in good fun (75 percent) and least likely to avoid Halloween completely (11 percent), according to LifeWay Research.
Our data did reveal that Christians of different stripes see the holiday differently, however.
Where Christians Stand
Carol Pipes writes, explaining the data:
Christians aren't far off from the rest of Americans when it comes to Halloween. A slight majority (54 percent) says Halloween is all in good fun, while 18 percent try to avoid the pagan elements, and 23 percent avoid it completely.

Catholics are more likely to select "It's all in good fun" (71 percent) than Protestants (49 Percent).

Evangelicals are more likely to avoid the holiday completely (28 percent) or its pagan elements (23 percent), although 45 percent say Halloween is "all in good fun."

Church attendance also affects Americans' views of Halloween. Those attending a religious service once a week or more are the least likely to say Halloween is all in good fun (44 percent), compared to those attending once or twice a month (68 percent) or only on religious holidays (82 percent).

"More than two-thirds of evangelicals welcome the candy, costumes, or community interaction surrounding the holiday, but the majority are unwilling to label 'the pagan elements of Halloween' good." McConnell said.
Where I Stand
I'm not shy about the topic of Halloween. In 2013, I wrote a blog post entitled, "Four Reasons You Should Go Trick-or-Treating Tonight." Here's the gist of the post:
1. There is no other night in the year when people you have not met will be coming to your door.You want to be there, meet them, and visit with them. If you are at a Halloween alternative, you miss your neighbors.

2. There is no other night when you get to go to your neighbor's door and introduce yourself without any awkwardness (only if you have kids—otherwise it's creepy and you should stay home and pass out candy). Tonight, you will meet people at your door and at their door—what an amazing opportunity.

Halloween trick-or-treating might be the best opportunity you have to connect with the unchurched all year.

3. You don't have to worship the devil to go up and ask your neighbor for candy. Choose your costume and your words carefully, and many Christians find this an opportunity, not an occult experience. I know the history of Halloween, but your neighbors don't, so don't assume they are participating in some dark ritual if it has lost all that meaning. (Now, if you are opposed to Easter Eggs, Christmas Trees, and the like, I would definitely not go out on Halloween or else you are being inconsistent to your convictions.)

4. You can meet more neighbors tonight—in one night—than any other day of the year. Don't miss the best opportunity you have each year to meet your neighbors. And, while you do, get their names and numbers and have them over for dinner. Get to know them, and start tonight.
Obviously, I have no desire to push you to violate your conscience, but I do encourage you to interact with and love your neighbors on a day they're more prone to stop by and say, "Hello."
So where do you stand? Will you and your family be celebrating Halloween tomorrow? Why or why not? Feel free to comment (respectfully) below.
Click here to download the full LifeWay Research report.
The Exchange is a part of CT's Blog Forum. Support the work of CT. Subscribe and get one year free.
The views of the blogger do not necessarily reflect those of Christianity Today.