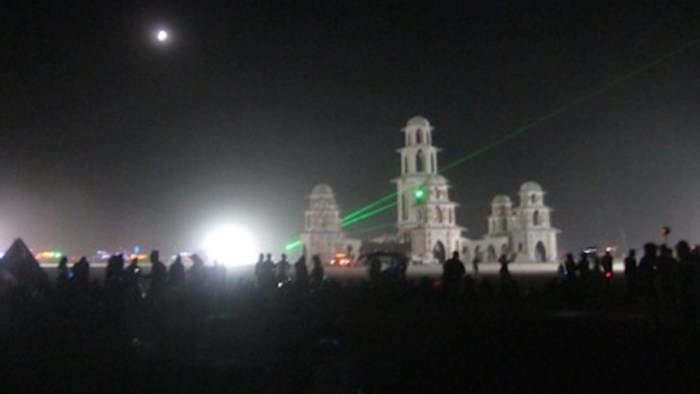 We are headed out of Burning Man and I am beginning to reflect on the experience.
This Burning Man (my fifth) was a challenge! Self-reliance is one of the ten values Burning man is guided by, and we experienced this value to the max. Whiteout conditions were dominant three out of the five days we were there. That means that the wind kicked up playa dust (an especially fine, white and blanketing dust) blowing everywhere and entered every crevasse and cranny of tents, RVs, camps, and bodies!
The first night we went on a tour, which ended when we made our way back to camp through a dust storm that allowed for three-foot visibility ahead and to either side. Imagine a blizzard of snow, only dry and dusty, causing an almost complete darkness, with an occasional biker or art car suddenly appearing behind or in front of you, lighting the way for a moment! On the record, Burning Man organizers exclaimed it was the best Burning Man ever. Off the record, they admitted weather and wind wise it was the worst.
I look at my team, tired but mostly happy for the experience and the ministry.
My colleague Beth Seversen, adjunct professor at Wheaton and leader for Evangelism in the Evangelical Covenant Church, and I are veterans, and not as happy as the newbies. Burning Man first timers with me—Kerilee Van Schooten my Research Assistant, and Whitney Bauck, who is writing an article for the Wheaton magazine on our research—look happy and encouraged by the experience, despite the challenging conditions.
As we drive away, two valid but not-obvious questions are capturing me:
What does the Church have to learn from Burning Man?
What might Burning Man learn from the Church?
Many church people think of Burning Man as a wild party with naked, drugged up, fairly secular or even pagan people. Many Burners think of the Church as a narrow, judgmental, gay-bashing and repressed institution whose time and relevance have passed.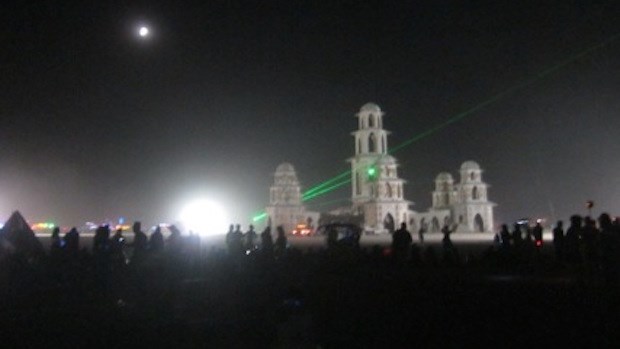 (Temple at Burning Man: The Spiritual Heart of the Event)
I think they are the right questions, even if not obvious ones. The Church is losing emerging adults, those ages 19 to 29--as many as two-thirds of them. And especially the Church is losing the more artistic, edgy, and creative emerging adults, the very group Burning Man is building a burgeoning movement upon.
The Church has lasted for 2000 years through all the vicissitudes of history showing a capacity to recreate itself in cultures across the globe. Undoubtedly, the Church will recreate itself for Burners in the next decade. Burning Man has things to learn from such a long term and ever-adapting, diverse, global and always renewing movement.
What Can the Church Learn From Burning Man?
Ninety percent of the people we interviewed at Burning Man were from mainline Protestant and Catholic backgrounds. They are, at this point, very dechurched! Most of them attended church in high school and earlier, but were never captured by the Church. They are not hostile, just disinterested. They are spiritual but not religious. They have found in the spiritualities on offer at Burning Man the missing meaning and connection and vision for the future that they never discovered in church. As we interviewed people, certain themes emerged describing what they had found or experienced that met their spiritual longings and needs in the way the church never did and, from their perspective, never could. Many of these themes and longings will be reflected in the Church for Burners. Here are some of those themes:
1. Many Burners are looking for the opportunity to express, in a context of radical acceptance, sides of themselves they have ignored or repressed or discounted.
Every day in Center Camp, scores of people give a first awkward performance of their own music, poetry or spoken word. As they take their first steps to be artistic, try on a new costume, or test out a new relationship, they find a place where belonging is not determined by meeting some pre-set standard of behavior or performance excellence.

The Church is not often perceived as a place of radical acceptance, or radical grace toward people as they are. But the initial Jesus movement was built on the grace and acceptance of the marginalized. The Church for Burners will practice a radical grace and acceptance that will be surprising for people who long to express "new" selves.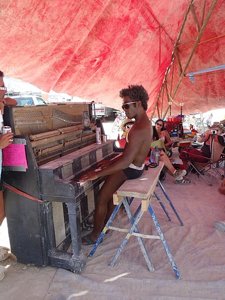 2. For many Burners, the good news they are longing to discover relates to achieving wholeness and expanded consciousness.
They long to feel whole, connected to others and to the whole wide world. The Christian message of the forgiveness of sins seems to many Burners to come from a parochial, moralistic and conventional view of the world. Most Burners are not focused on sin as the primary problem of human beings, or as falling short of a moral standard. Moralism, expressed as a cultural mans of control, is a barrier for many Burners to finding one's true identity.

It is refreshing to note Jesus' many confrontations with the moralism and the hypocrisy of his day, and quite provocative to remember how significant a part of his ministry healing and wholeness were. Wholeness and a changed consciousness were central to Jesus' proclamation and demonstration of the kingdom or rule of God. The blind saw, the lame walked, the oppressed went free, and the poor heard the good news. We interviewed leaders of one Christian camp at Burning Man who had lines of Burners 50+ people long at every prayer and ministry time. The word was out that this group knew how to hear from God for people, and knew how to pray for God to heal. The Church for Burners will bring the healing and transformed consciousness (mind) that Jesus so often modeled in his ministry and community.
3. Many Burners are looking for a faith that is integrated with their bodies, their sexuality, their minds, their hearts, their creativity, their imaginative sides, and their larger social and cosmic environments.
For many of them, the church seems more focused on managing behavior and controlling thinking through dogma, and does not seem to have much room for imagination, the arts, the heart and passions, sexuality, or the cosmos. The Church even seems to distrust, discount, and repress the very avenues many Burners find most fulfilling and transformative.
Immediacy, the final value, is, in many ways, the most important touchstone of value in our (Burning Man) culture. We seek to overcome barriers that stand between us and recognition of our inner selves, the reality of those around us, participation in society, and contact with a natural world exceeding human powers. No idea can substitute for this experience.
A Church for Burners needs to express a positive vision for the arts, imagination, sexuality, intuition, the cosmos and the interconnectedness of all humanity. And not just for utilitarian reasons, so we can reach people. These dimensions are fundamental to our humanity and identity and need articulation and engagement at an authentic and profoundly personal and Biblical level.
If you find yourself questioning my thoughts or wondering where I was going, wait for it.
Next time I will reflect on what many Burners might learn from the Church…
The Exchange is a part of CT's Blog Forum. Support the work of CT. Subscribe and get one year free.
The views of the blogger do not necessarily reflect those of Christianity Today.