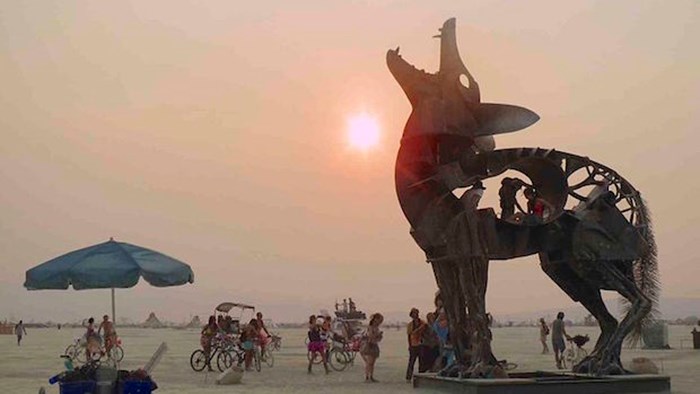 Image: Jennifer Morrow / Wikipedia
Burning Man at Black Rock City. That is where I am headed right now. A city that rises in the desert of Nevada once a year. For that one week a year, it is the eighth largest city in Nevada, swelling to 70,000 strong, and situated just a two-hour ride north of Reno in a barren, dry and dusty landscape. For a week, it becomes a city full of carnival and spectacle, filled with creative art, avant garde music, and counter cultural costumes and communicators. It is also a city full of spiritual seekers. That is why I am going once again.
Burning Man has garnered attention because of its numbers, uniqueness, location and cultural influence. Even weather and bugs at Burning Man are now nationally newsworthy. So when Burning man flooded the first two days last year, news outlets reported it everywhere. And this year bugs have hit the desert city, causing the Huffington Post to wonder if the apocalypse has finally arrived.
What is Burning Man like? The city fans out in the shape of a semi-circle, filled with tents and RVs, and port-o-potties, and dusty streets jam packed with costumed (and sometimes uncostumed) bike riders. The city axis from every direction intersects at the Man. Each year, the Man is built on the center of the playa, a large expanse of desert dotted with art pieces and interactive exhibits and travelled over only by art cars, bike riders, and walkers. The Man draws attention and visitors all week long, providing a focal point for this temporary community: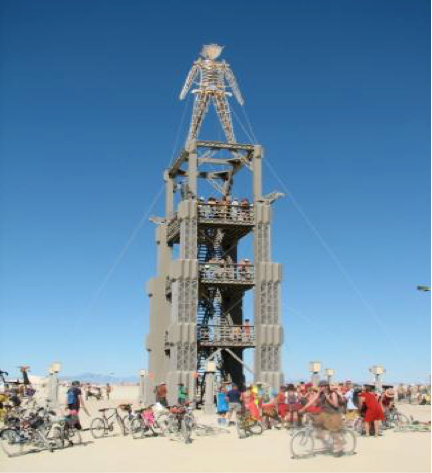 Saturday night, five days into the festival, in an event worthy of a Disney movie finale, the Man is burned, with fireworks, fire twirlers, and a fired up crowd of people, dressed in every imaginable outfit. Lots of stuff gets burned at Burning Man.
At first blush, Burning Man seems like one big party, and especially for pyros. And it is, partly. But it is also much more than that. It is a gathering place for spiritual seekers who are fulfilling their vision for a utopian society and imbibing and implementing a style of life that its adherents believe can change the world. Larry Harvey, the founder of Burning Man in the mid 1980s, has a vision that Burning Man and its spinoff communities and festivals will change the arc of the history of the 21st century. He is an atheist. He does not believe in a Supreme Being. But in a twist that resonates with much of Burning Man spirituality, he believes that Being is Supreme. He has said in numerous ways that we are all together creating a larger consciousness, deeper connections, and new forms of community that will someday convert the planet.
This world-changing vision is shaped by ten values, many of them worthy of Scripture, including radical inclusion (what Christians call grace!), community effort, civic responsibility, and leaving no trace on the environment. Burners also practice a culture of gifting (everyone brings a gift to the community, reminiscent of the Body of Christ). They also practice decommodification: nothing and no one can be bought and sold at Burning Man, except for the coffee and ice at Center Camp.
Why am I going? Why has Wheaton College sponsored me to do so?
It actually started out very personally for me. I went my first year (2010) because my oldest son invited me. He had connected to Burning Man and believed it would influence me and bring he and I together. We have not always seen eye to eye, though I respect him deeply. That first year I took a ministry team. Oh the stories I could tell of praying for Burners. Like the young woman at the Science of Churchology camp (much of Burning Man is broken up into different theme camps). I sensed this woman had a broken heart and asked if I could pray for her. It turned out her boyfriend had broken up with her the night before. I prayed for the presence and power of God to heal her heart and fill her and use her in the lives of others. At the end of the prayer time, she wept and expressed that she had come 1000 miles to hear that word from God. I told her about Jesus' love for her and she responded over the next several days, becoming open to Jesus for the first time in her life.
That is not the end of this story. When I told my son what had happened with this young woman, he invited me to pray for the members of his Denver Burning Man community. Twenty-five of them gathered the next morning (most of them had not yet gone to sleep for the night yet!). I led a two-and-a-half hour prayer session where I prayed and listened to God for these 25 precious people, most of whom had not been in a church in quite a while and had no plans at all to return!
In the following years, I have kept going back for additional reasons. I believe Burning Man gathers and spreads a wave of new spiritualities into the cultural contexts of the West, spiritualities we as Christians need to be aware of and respond to. If we can learn more about these spiritualities and what Christians are doing to reach the people with them, God's mission will move forward. The fourth time I went two years ago, I began to do formal research at Burning Man. The team that year produced a video on Burning Man that aired on national Canadian television. You can see it here.
This year I am leading another research team and we are beginning to work on articles and a book. Here is one thing we have already discovered. Many of the people driving the rise of these new spiritualities that mix Buddhist, Hindu, Native American, and New Age ideas, come from the church. That's right. They are the formerly churched. Over 90% of the people we have interviewed have a Christian, Mormon, or Jewish background. Most of the Christian background people grew up mainline Protestant or Catholic. And they are not hostile to their background. Not at all. It just never captured them.
A significant portion of the American population is "dechurched," meaning they were regular churchgoers at some point but no longer are—these are often who Burners are. Burners have found little in the church to keep them, but are still hungry for spiritual connection and meaning. Nature abhors a vacuum, and these new spiritualities are filling the spiritual vacuum left by unsatisfactory church connections.
As Ed Stetzer has often pointed out, the primary defections among formerly churched people who would now call themselves "nones" have come from the squishy middle of nominal mainline and Catholic background people. It is no longer socially advantageous to identify as a Christian in America. Burning Man is full of such dechurched folk, feeling like they have now found an exciting and compelling spiritual vision for the future of planet earth. Many Burners are counter cultural. Maybe God is preparing for a new era of revival among counter cultural young people. If we can learn from spiritually diverse Burners why they have embraced new and alternative spiritualities, and if we can learn from Christian groups who are reaching them, maybe we could see a new Jesus movement in this decade, not unlike what happened in the 60s? That is my hope. That is why I am returning again.
Stay tuned…