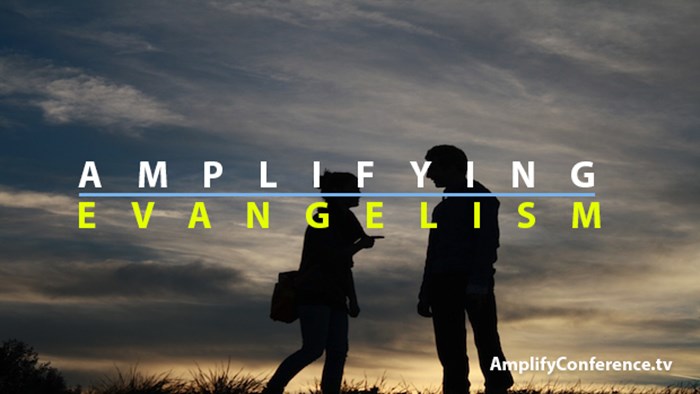 When I was in the early stages of my doctoral studies in evangelism, I attended the local art exhibit of a friend. Many people from the community were there, including a gentleman I knew from a secular community organization of which we are both a part.
As each of us introduced our spouses, he mentioned to his wife that I was a United Methodist minister currently working on my doctorate, but he was not sure of the area of study. I explained that I was studying the theology of evangelism. At the mention of the word "evangelism," the couple—almost in perfect unison—recoiled from me with shocked expressions.
Realizing the obvious negativity of their reaction, they quickly recovered their composure and the man sought to relieve the awkwardness of the moment by saying that he was surprised I was studying evangelism as he perceived me to be a very open-minded and compassionate person.
The conversation that followed was one which I can only hope improved this man's understanding of evangelism and emphasized that its practice does not preclude being open-minded or compassionate.
Extending oneself in a genuine and authentic way that respects the perspective of the other is not always easy. Despite an environment of spiritual openness on the part of nonreligious people, the reputation of Christians as a whole is currently far from ideal.
In contrast to a decades ago, when Christians were viewed, by and large, in a positive light, Christians now are more known for what they oppose rather than what they support. In his 2007 book Unchristian: What a New Generation Really Thinks about Christianity…and Why It Matters, David Kinnaman provides a challenging and somewhat disconcerting assessment of the perceptions of those outside the Church, asserting that outsiders view Christians as hypocritical, too focused on getting converts, anti-homosexual, sheltered, too political, and judgmental.
Thus, while people may be spiritually open, they are also quite likely to be resistant to Christians. Because their misconceptions about the faith may have been formed on the basis of their own lived experience, their perceptions are, in a very meaningful sense, reality. This fact, in and of itself, simply elevates the need for grace in any effort of disciple-making, accentuating the importance of respect, authenticity, and compassionate love.
Gabe Lyons has also noted the difficulty in making disciples when existing disciples lack an adequate understanding of Christian faith: "When we no longer know what it means (much less care) to be salt and light among those in our culture and to be an influence for good, we forfeit our role as agents of Christ's kingdom."
The message to the church at Ephesus in John's Revelation is significant in this context: "I know your works, your labor, and your endurance...But I have this against you: You have abandoned the love you had at first" (Rev. 2:2, 4, HCSB).
First love is a powerful thing. Many people can vividly remember the first time they set eyes on the person who would become their spouse or their first date or first kiss. First love can take one's breath away. The strongest marriages are those in which the partners remain in touch with the power of that first love, building on it and deepening it through time. What holds true with the emotional holds true with the spiritual as well; anyone who has experienced the enthusiasm and passion of a new believer can attest to that. New believers are hard to contain! The strongest believers are those who remain in touch with the power of their first love, building on it and deepening it through time.
In my work in evangelism, I have the opportunity to worship in many different contexts—traditional, contemporary, emergent; both the variety and the similarity are remarkable. Worship is meaningful at many levels: the praise, sacrifice, supplication, and intercession offered to God, the shared sacrament. An additional crucial but often overlooked aspect is the consistent opportunity worship affords to announce the story of faith through music, prayer, and the proclaimed word.
For believers, hearing the Story is an opportunity to remember their spiritual first love, to reinforce and deepen faith, to appropriate it to daily life. For the nonreligious visitor, hearing the Story is an opportunity for the Holy Spirit to work towards faith and a spiritual first love experience.
Over the years, I have noticed an aspect of worship that cuts across all the issues of style that tend to absorb the energies of congregations. This relates to the ability to tell the story and thus experience or re-experience spiritual first love.
In worship, it often appears as though believers have either forgotten the Story or at least do not seem to remember it with any sense of passion. For example, there is a vast body of hymns that ignited the faith and passion of generations of people and moved them toward a first love spiritual experience. Yet the same people whose faith was launched on those hymns sing them now as if they were dirges.
It is difficult for anyone to believe that grace is amazing or that there really is victory in Jesus when hymns describing those things are sung with a decided lack of energy, power, or even a modicum of interest, let alone enthusiasm.
Contemporary worship does not avoid the danger simply because it avoids traditional hymns. Praise songs and choruses often do not tell the story in the first place (even if sung with enthusiasm) and can regularly become private love songs rather than communal proclamations of praise. Similar difficulties affect the liturgical life of the community, with many rituals performed by rote with either no real understanding of why worship proceeds as it does or no visible interest in the meaning behind the actions.
When God instructed Moses in how to lead an Israel freshly liberated from slavery in Egypt, remembrance played a key role:
Only be on your guard and diligently watch yourselves, so that you don't forget the things your eyes have seen and so that they don't slip from your mind as long as you live. Teach them to your children and your grandchildren...These words that I am giving you today are to be in your heart. Repeat them to your children. Talk about them when you sit in your house and when you walk along the road, when you lie down and when you get up. Bind them as a sign on your hand and let them be a symbol on your forehead. Write them on the doorposts of your house and on your gates. (Deut. 4:9, 6:6-9, HCSB)
This word is for Christ-followers as much as for the Hebrew people. Individual Christ-followers and communities of Christians can only be faithful disciples and make new disciples when they know the Story of faith, keep it ever before them, and become comfortable enough with it to articulate it gracefully to others. When Christ-followers worship with a real sense of their spiritual first love, others are able to discern their passion immediately. When Christians speak with the genuineness and authenticity that accompanies a deep connection to their spiritual first love, they are able to converse, dialogue, and share with others in ways that are open, respectful, attractive, and meaningful.
As Jesus attended to whole persons, so Christ-followers attend to whole persons as they seek to be and make disciples of Jesus relating to all with respect and compassion, beginning conversations, caring, trusting and being trusted, listening, learning, and growing in their relationships with those outside the Christian faith. In this way environments are created in which the Holy Spirit can move and work, transforming and renewing not only those who have yet to experience God's grace for themselves, but those who are already engulfed by that which utterly transcends.
The Exchange is a part of CT's Blog Forum. Support the work of CT. Subscribe and get one year free.
The views of the blogger do not necessarily reflect those of Christianity Today.