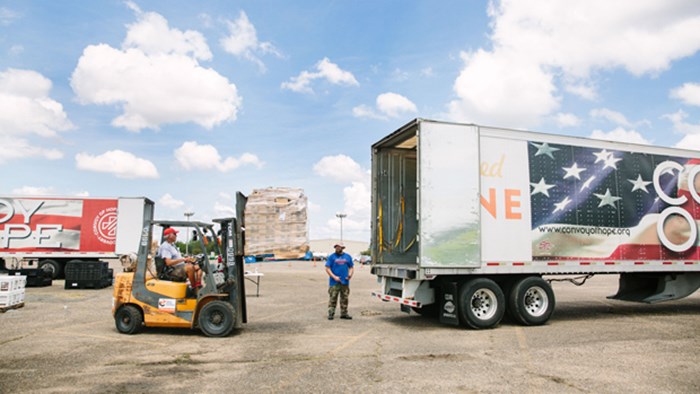 Image: Convoy of Hope
Ed: Why are Christians uniquely suited to help those impacted by the flooding?

Ross Johnson, Director of Disaster Response, Lutheran Church Missouri Synod: As Christians and congregations reach out, we're able to take care of spiritual and physical needs. FEMA and other organizations are very helpful with temporal needs, but they don't offer spiritual care like local churches can. Congregations make a great hub of mercy and human care in their community. No one knows there community better than the local church or pastor, especially when a disaster happens and the majority of responders are from the outside, not always knowing the community's history or culture.
Congregations were there before the tragedy and hopefully will be there for decades after the tragedy. After the first few weeks of the disaster, the congregation remains a hub of ministry, mercy, and outreach for the long term.
And it's only the Church that has the voice of Christ which brings the peace that surpasses all understanding, whether it is to Christians or non-Christians. We have a phrase that we say: "Proclaiming the gospel even in the wake of a disaster."
Whatever opportunity that we have, we use it to share the good news for the hope that lies within. Our hope is not found in the things of this world that break and are destroyed, but rather, it's in the spiritual peace with God. I think the greatest disaster that one could go through is to die outside of the one true Christian faith.
David Melber, Vice President, Send Relief (North American Mission Board): In addition to the assessments, mud-outs, and feeding, we have a lot of chaplains here who will be ultimately ministering to the people who have lost everything they have and are just dealing with the effects of the disaster. They're here to provide the emotional and spiritual support, and share the gospel with so many people.
Disasters have a way of distilling for people the things that are really important in life. When Christians come alongside people in crisis, there are many opportunities to provide spiritual care and point people toward Christ.
Jeff Nene, National Spokesperson, Convoy of Hope: What the faith-based community brings to the table is the ability to do something beyond just say, "Here's a basket of food or a case of water." We listen to people.
We say, "Tell us your story. Tell us about what's going on in your life right now" and then we can comfort them and give them hope. If people don't believe that tomorrow is going to be better than today, then they lose hope and it takes away their reason to carry on.
The biggest thing for us is working with local churches to do just that. They can share with people why we do what we do. Our faith doesn't dictate who we supply, who we help, who we support; instead, our faith dictates why we do it.
Jamie Aten, Founder & Director, Humanitarian Disaster Institute: When disasters strike, Christians are often one of the first groups of people on the ground helping alongside their congregations to provide care. When agencies and organizations start pulling out over time, it's still the Christians in their community that most often play a critical role in helping make sure unmet needs are addressed.
I believe the Church is the most amazing social network in existence. Where else can you find such a diverse group of people from all walks of life coming together? In times of disasters I've seen this network jump into action with unique callings, ministries, spiritual gifts, and resources coming together in an incredibly and powerful way.
Christians are uniquely posited to help because they know their community, especially the vulnerable. Congregations can reach people in need that other groups and agencies cannot reach, and thus help those who would otherwise go un-served. That is, congregations can advocate on behalf of the marginalized and vulnerable to make sure help gets to where it is needed the most.
Ed: What is one story, or one thing you learned about the Church from being involved in these relief efforts?
Johnson: I have learned that when a church shows mercy in their community after times of tragedy, it is almost always received well by the community. I have also learned that through mercy projects, the congregation and pastor can make connections with people who would have never normally come to the church for a worship service on Sunday morning.
For example, as congregation members are welcomed into someone's home to help them "muck it out" after a flood, the pastor is almost always welcomed and the pastor and elders have the ability to have informal spiritual conversations as the congregation demonstrates Christian love in action.
Melber: We have visited this week with several pastors and church members who have been serving the community from the time the waters started rising. One pastor was sandbagging houses. His church has been feeding hundreds every day since the flood occurred. Their church gymnasium is filled with clothing, home goods, food, and cleaning supplies.
Many of those serving have homes that are flooded. They are serving anyone in need. This is the Church being the Church.
Nene: I met a man who had lived in his neighborhood for 63 years and it had never flooded until now. Another gentleman right down the street had been living there for several years and went to bed thinking, "It's raining outside and it's raining pretty hard." He woke up to two feet of water in his bedroom.
I can't imagine what kind of a shock it is to roll out of bed and put your feet down into two feet of water when you're not expecting it. The size and the scope of the impact is incredible.
But the local church is in the perfect position to help meet the needs of these flooding victims because it gives us opportunities to build long-term relationships with people in need. When the immediate needs have been met, our trucks will return home. But the local church is the perfect position to continue that ministry.
I have seen the local church in action and I'm excited about the future! These folks want to reach outside their walls and minister to people. They have the heart and the desire. They just need someone to teach them and point them in the right direction. And that is what Convoy of Hope is trying to do.
Aten: From over a decade of helping after disasters around the globe, the biggest lesson that I've learned is that God is capable of redeeming our pain. I speak about this not just as a disaster psychologist, but also as someone who has gone through a mass disaster.
My family and I moved to South Mississippi just six days before Hurricane Katrina struck. This disaster changed everything. In many ways, it broke my life into segments of, "before Katrina" and "after Katrina."
Yet, this experience taught me that God can work with our brokenness. As Rick Warren reminds us, "Our deepest life message often comes out of our deepest pain."
Tomorrow we will continue with the third and final part of this series.