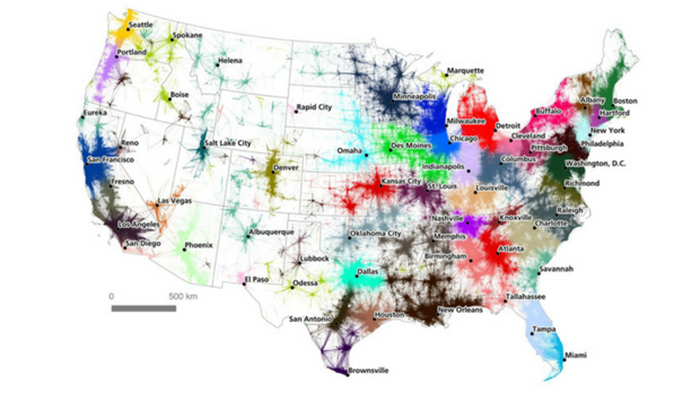 What happens when you plot four million commutes on a map? No, this is not a bad joke. The answer is not exhaust clouds, headaches, or road rage. What you actually get is a different picture of the mega-regions—a cluster of interconnected cities.
A few years back, The Guardian wrote about this "endless city" phenomenon and how the mega-regions of this world are possibly going to be one of the most significant and problematic trends in the next 50 years. I mean, just consider the fact that Anna Tibaijuka, former director of UN-Habitat, discovered that half the world currently lives in cities, and by 2050, it's estimated that 70% of the world will.
While moving into the city is definitely trendy, and a choice that many are making today, it's not always affordable or the particular lifestyle choice that everyone wants to make. In fact, this is one of the reasons many millennials, according to 2014 U.S. Census Bureau data, are actually moving the opposite way—from the cities to the suburbs. (Think Millennials Prefer The City? Think Again.)
...which is why this new research on commuting and mega-regions is so insightful for church leaders.
While individuals may choose to move to, or stay in, suburban or rural areas, they are still commuting into the city for work. Hence, the rise of mega-regions.
Just take a look at the map from research that Garrett Nelson of Dartmouth College and Alasdair Rae of the University of Sheffield did using census data on more four million U.S. commutes.
What you see here is not a decline of the city, but an expansion of it, because of commuting.
Instead of abandoning the suburbs or rural areas to move into the cities, many are just choosing to commute instead. This is why, as you'll see on the map, the commute distance into many of these cities can be quite long.
For the commuter, they are not paying attention to city or county lines. Instead, as long as they have a road and a means of transportation, they will commute.
The Same is True for Our Churches
Why are we okay driving to church? Why do we commute to community? Why do we often pass several, if not dozens of churches, on our way to our church worship service on the weekend?
I've lived in cities my entire life. From the 2.5 million Greater Vancouver area that I grew up in, to the 4 million Greater Montreal area and 24 million Seoul capital area that I pastored in, to the 1.8 million Nashville metropolitan area where I now reside. If there's one thing I know and have experienced, it's city life. In fact, long commutes have always been a part of my life. So instead of dreading it, I've just grown accustomed to it and have learned to leverage that time. My wife, Christina, likes to call it time in the margins. So, while on the bus or train, I read. While driving, I listen to audio books, podcasts, and the Bible. And while walking from one location to the next, I pray.
As a result, when we moved to Nashville, we decided that I would commute to work, but not to church. We did not want to commute to community.
Unfortunately, it hasn't always been this way for us. In the last two cities we lived in, we were at least 30 minutes away from our church. Growing up as children, my wife and I both remember 45 minute long commutes to church every weekend.
So how is it that people can commute to your church from a neighboring city or the complete opposite end of your borough, district, county, or however else your region is divided, and still feel like they belong?
It goes back to mega-regions. Commuting is just a normal part of life. Just like people are willing to commute to work, many are still choosing to commute to church.
A Church in Every Neighborhood
Instead of kicking long-distance commuters out because you now have a neighborhood-missional-incarnational approach to church, what if you had a church in every neighborhood? What if, instead of just having a heart for your community or city, you developed one for your mega-region? A missional-incarnational approach for your mega-region?
Have you ever plotted your membership roll on the map to see where everyone is coming from using a website like batchgeo.com?
If you discovered that you had a concentration of individuals who lived in a particular area of your mega-region, what would you do? Form a small group or mid-size community and leave it at that? Or would you mobilize that community group to be a potential launch team, or core group, for a future campus or church plant?
In most cases, long-distance commuters aren't making the trek to your church because there aren't any other churches around. They're doing it because they connect with your DNA and what your church is about. They're doing it because they have relational connections and feel like they belong.
Instead of enabling their commute to community, in which they would probably never invite a neighbor to your church because the commute is too long, what if you saw their presence in your church as a seedling for a future campus or church plant in their neighborhood?
Rather than rejecting the mega-region for the sake of incarnational and missional ministry, what if you figured out a way to leverage it?
The Exchange is a part of CT's Blog Forum. Support the work of CT. Subscribe and get one year free.
The views of the blogger do not necessarily reflect those of Christianity Today.