Feb 26, 2016
Evangelism
Revitalizing Church—Steps to an Outward Focus
Churches must understand—and move toward—an outward focus |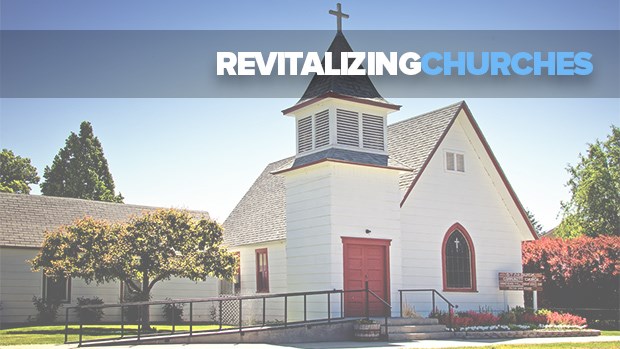 If we aren't preparing people to engage in God's mission to the world, we are preparing them to fail in that mission.
Many leaders realize their church is plateaued or declining. Most don't like it, but struggle with how to break the cycle. How does a church come out of the tail spin? One solution is for the church to develop an outward focus. God didn't design churches to be healthy by only looking to ourselves and meeting our own needs.
If we aren't preparing people to engage in God's mission to the world, we are preparing them to fail in that mission.
Properly define success
The goal of a healthy church is seeing the power of Christ transform lives. That includes men and women who are without Christ, dead in their trespasses and sins, hearing the good news of the gospel, and becoming followers of Christ by the grace of God.
Many churches are like a carousel. They spin around with lights and music. But when the ride stops, no one has made any progress. They leave the ride where they boarded. Our desire should be to see genuine transformation take place.
The central command of the Great Commission is to make disciples. The teaching and, therefore, the function, the mission of the church must be disciple-making.
Too many churches simply exist because they existed last year. That is not success. That is merely sustaining. It could be life-support.
Instead, we need to know success that transforms individuals, churches, communities by and for the gospel.
Define your present reality
Dying churches don't seem to know they're dying until the bank forecloses on them, and then they're shocked. They're shocked, but the people in the community, who've seen the cars in the parking lot dwindle to a handful, are not shocked.
The people of the church don't know how they could go from healthy to dead overnight. But no church dies overnight. It's the result of a protracted and untreated illness. A sick heart can still beat. For a while.

Doing a few things well can achieve success, while doing many things poorly can achieve failure. Sadly many churches don't have the guts to hear the hard things, even if they already know the truth about themselves.
If your church hasn't had a single community outreach project in a year, you are in decline.
If you don't have positive, gospel conversations with people in your community regularly, you are in decline.
If your people don't view sports teams, civic organizations, and public schools as places of ministry, you are in decline.
How often do people in declining churches sit and wonder why the community doesn't come to their worship services? Worse yet, they blame the community for not caring about the church.
God didn't put the world here to care about and reach out to the church. He put the church here to care about and reach out to the world. The church needs a reality check.
Prepare for future success
People in transformational churches receive on-mission training. Part of the challenge is that too many churches function with a surface-level orientation. Some leaders have no desire (or perhaps, ability) to lead and teach people to engage in God's mission. We need to move from that surface-level orientation to intentional training.
This may require a change for you. From my experience as a pastor and working with many pastors, I've noted that most are unaware of their leadership gifts, their strengths, and their weaknesses. So we remain unsure as to why things aren't happening the way they should.
Yes, stubborn and rebellious people fill some of our pews. But another component is the lack of pastoral leadership. Sometimes our people aren't prepared to live on mission with an outward focus because we as leaders haven't prepared them to do so. You cannot lead what you do not live.
You can say, "My church isn't reaching people. It isn't evangelistic." But then I would ask you, "Are you personally evangelistic?" If you aren't showing and sharing the love of Christ to your neighbor, then your church will, most likely, not do that either. They'll resemble you. People will follow your lead.
You cannot lead what you do not live.
Real-life mission produces real-life examples and real-life conversations. So if you are faithfully engaging in a life of outward focus, it will open doors for you to teach and challenge your church in that lifestyle. Being on mission in your community, reaching out to the lost, sharing the message of hope and holiness will be a great help in getting your church back on mission.
Move into the community
Transformational churches build a good reputation within their town or city. This will probably involve moving into a totally different line of thinking. Churches should seek significance in a city, not signage.
This question needs your answer. If your church disappeared from its community, would the people in the community miss it? For many the sad but true answer is "no." No one in the community would miss the church because the church has never impacted the community.
Your church should be essential to the community. For this to happen your church must move outside the building; it must be outward focused.
Many churches in transitional communities, rather than reorienting themselves, move out of the town. God's call is for us to reach our host communities. Healthy churches do that. We should want to be near the people God wants to reach. You cannot transform people you are avoiding.
God doesn't just reach out to communities. God reaches into communities. Isn't that precisely what the incarnation was all about?
Celebrate the wins
Healthy transforming churches celebrate people who engage in the community through service. What you celebrate, you become. So for you, standing before your church and saying "We are so thankful for what God is doing. Alicia has gone out and she's been serving the poor and the hurting. She is making a Kingdom difference in the lives of people in our community."
Celebrate that activity. Why wouldn't we? Partly because we tend to celebrate what is going on inside the church, we forget to celebrate those who serve outside.
People regularly become Christians when we serve. Service opens doors for proclamation of the gospel.
Jesus said we are a light in darkness, and we should let our light so shine among people that they see our good works and glorify our Father who is in Heaven (Matthew 5:16). Our churches shouldn't have an outward focus simply so we can do good works for people, but rather to glorify God.
Support our work. Subscribe to CT and get one year free.