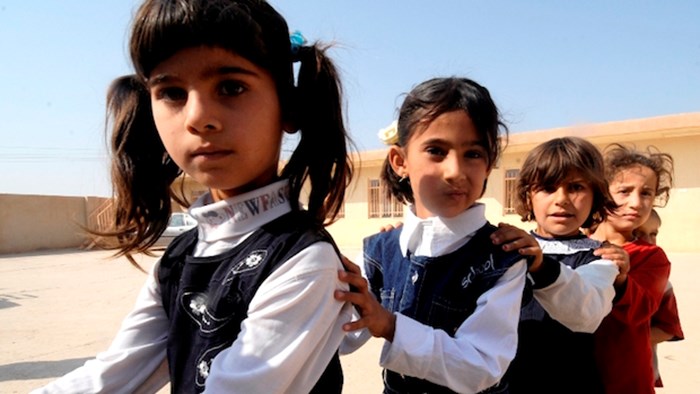 Image: Chuck Simmins / Flickr
Three months after the fall of Mosul (Nineveh) to ISIS, and a visit to the region, we started The Cradle Fund at IGE: we work to rescue, restore, and return Middle Eastern Christians and other religious and ethnic groups to a home where they can live and practice their faith free from fear. We have learned much as we have tried to help. It is the most complex situation I've ever seen, and yet it is the most simple.
For example, in December of 2014, I met Sarah. She was 95 years old, living with five other families in the upstairs "rec room" of the Assyrian Youth Center in Erbil. She had fled ISIS with her neighbors. She was just 30 miles from her ISIS-occupied home. And now her home was a 3'x8' space with no privacy. I couldn't help but kiss her as she told me: "I didn't want to be here at this age. I want to be in my home." She went home to the Lord, three months later.
The resilience of the people continues to astound me. On one of my first trips, I handed out a food package to a man named Sadik at a sports center in Dohuk (in northern Iraq). I then walked through the center, eventually making my way to the basement, where I met him again, along with his family. They invited me into their corner of the basement for lunch, serving the food that I had given them!
I asked him to tell me his story. Sadik shared that he was ethnically a Turkmen of the Shia tradition in Islam. When ISIS came to his town—killing everyone who did not believe according to their version of Sunni Islam—they fled. He had an opportunity to flee further to southern Iraq, where Shia believers are the majority. But he stayed because he was a teacher. I asked about his students, and he told me that they were all of the Yezidi religion, and that he had not been paid in months but he still felt obliged to teach them. Just amazing.
One of our best partners—we always work through local partners who know the situation and the needs better than we ever will—are the Dominican Sisters in Erbil. They themselves fled ISIS, but now they serve all those who fled ISIS. They are the suffering Church serving all those who suffer. I love them so much: Sisters Maria, Diana, and Ban. They are the hands of Christ amidst the persecution.
Anyway, when I was diagnosed with Stage IIIc metastatic melanoma cancer over Thanksgiving, I let them know that I might not be able to visit with them for some time. (I went to Erbil six times between October 2014 and October 2015, always visiting them and their incredible work.) And you know what they did? They asked for permission to let all the children at one of the schools we helped support pray for me every Saturday morning!
Like Sadik, they have nothing, yet they are focused on loving their neighbor. It is impossible not to be attracted to the simplicity of such love. And to believe in the power of that love if given a chance to serve.
Which brings us to the multi-layered complexity of the situation: How to help create a context such that people can return to their ISIS-occupied homes 30 miles away? We spent a lot of time listening. The words that kept coming: Rescue. Restore. Return. So we designed a long-term strategy, consistent with their environment, that builds on short-term impact:
Rescue: We wanted to help those in immediate need, providing relief to them so that they could make it totomorrow. In so doing, we were also able to discern who was doing the best work locally, like the Dominican Sisters, or Assyrian Aid Society (which is just incredible). Besides helping people, we found partners whose yes is yes, and no is no. We are in relationship with them. We trust each other in a part of the world where there is no trust.
Restore: All of those who have fled ISIS have been traumatized in some fashion. They need a way to address the internal if they are to become whole again, and thus serve as peace-builders in a post-ISIS world. So we have sought to invest in education as well as trauma training, seeking to build internal reconciliation such that external reconciliation might one day take place.
Return: This is the tricky part, on two counts. First, how to develop some kind of consensus thinking that mobilizes the right kind of action? We have spent a great deal of time on this issue, writing to and speaking with very diverse audiences, learning as we go. Second, how to get believers to care about geo-politics, when it can be sometimes easier to deal with the symptom—give some food, for example—instead of the roots (ISIS), so that the symptoms go away? As you will see below, we address both issues through a humanitarian call to strengthen Kurdistan, and to develop a Safe Haven on the Nineveh Plain.
So what's the bottom line? Since October 2014, we have spent $2,630,664.00 directly impacting 121,764 people, in Iraq, Syria, Lebanon, Jordan, and Egypt, operating through 13 local partners. We have initiated trial trauma programs, and we have done much to test and advance the idea of a Safe Haven. In particular, we have been blessed to come alongside our partners through the following opportunities:
Rescue:
· Supported the ancient churches as they: distributed food parcels to refugee families in Jordan, relieving local churches and host families from a small part of their financial burden in supporting refugees; funded clergy, staff members, and students in Syria so that they could help their communities; and enabled such additional activities as housing assistance and/or emergency food.
· Worked with partners like the Dominican Sisters, Assyrian Aid Society, Heart for Lebanon, Canon Andrew White's American Foundation, International Orthodox Christian Charities (IOCC), and Preemptive Love Coalition to provide immediate relief through the disbursement of food, fuel for heaters, and winter clothing in order to survive the winter; and, worked with partners like IOCC to alleviate suffering and improve the living conditions and dignity of newly arrived Iraqi refugees in Jordan through the provision of cash-for-rent assistance for up to three months.
Restore:
· Funded partners who developed a trauma training program that brought Eastern & Western Christians together for an 'Initial Equipping Session,' a 5-day community based, holistic workshop to explore their trauma and learn how to help others do the same.
· Supported Cradle Partner Yazda as they work among the traumatized Yezidi people, who have suffered the most at the hands of ISIS, by funding a staff psychologist to rehabilitate and empower female survivors of abduction, systematic sexual violence/rape, and enslavement, as well as an increased local capacity to respond to sexual violence in northern Iraq and the prevention of repeated instances of similar gender based violence.
· Provided educational support to the schools established by the Dominican Sisters, and transformed lives of Syrian refugee children (and their parents) in Lebanon with education by teaching Arabic, English, Math, and a Biblical Character Curriculum, surrounding them with the love of Jesus Christ through Heart For Lebanon.
· Rebuilt homes for the families and (some non-Christian) neighbors of the 20 Egyptian Christians beheaded on Libya's beaches.
Return:
· Written extensively[1] about the need for practical steps toward a long-term solution, such as a Safe Haven: 5 Principles for a Post-ISIS Plan in the Middle East (April 2015, WEF); The Last Gasp of the Cradle Christians? (June 2015, CT); Three Ways to Help the Middle East's Refugees (October 2015, WEF); and, The Case for a Safe Haven for Refugees in the Middle East (October 2015, WEF).
· Spoken to diverse audiences on the situation: Telos; The National Security Agency; and, The Gathering.
· Provided input to: The World Economic Forum; The Vatican; The U.S. Government; The World Evangelical Alliance; and Christian Foundations and organizations.
· Catalyzed working groups: On the Middle East at the International Religious Freedom Roundtable,and, on a Safe Haven.
· Invited to teach a mini course on these issues at Gordon College this April.
Looking ahead, we will continue to help those who need it most, through our local partners, with specific emphasis on deepening and expanding our impact in Lebanon and Kurdistan. We will have follow-up trauma training in Dohuk, and we are exploring how best to partner in other trauma training efforts. Finally, we are working closely with the Kurdish government in Northern Iraq to demonstrate the viability of their region and why the world needs it to succeed. We will bring new potential partners together in Washington and in Erbilthis spring to discuss "Co-Existence, Stability and Reconciliation."
Incredibly, the Kurdish Foreign Minister, a Sunni Muslim, wants us to address the topic of forgiveness. Please pray for this strategy as we move forward, as we seek to come alongside those whom God has anointed, and appointed, for this time.
[1] See our TCF resource page for a full list of related writings as well as photo blogs and other materials.
The Exchange is a part of CT's Blog Forum. Support the work of CT. Subscribe and get one year free.
The views of the blogger do not necessarily reflect those of Christianity Today.