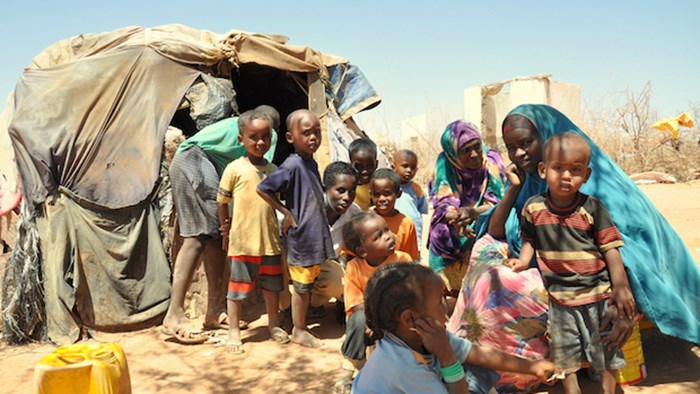 On December 17th, a number of evangelical leaders gathered together to meet about how churches might engage the refugee crisis in a Christlike way. At our meeting, we drafted and signed the following statement:
Impacting nearly 60 million people, the global refugee emergency is a humanitarian crisis of unprecedented size. Never have so many people been recorded as being displaced, put in danger, and sent on the move. In Syria alone, more than 13 million children and their parents need humanitarian aid. Nearly 4.4 million have been forced to flee to neighboring countries for safety.

Moments like these are when Christians cannot remain silent and still. In light of this crisis, we commit ourselves and our churches to actively care for and minister to global refugees with mercy and compassion, both here and abroad, based on God's compelling concern for all people in need and especially refugees.

In light of these concerns, we affirm the following:

Refugees possess the image of God and, as such, are infinitely valuable to God and to us. We are commanded to love our neighbor, and it is our privilege to love refugees. As Christians, we must care sacrificially for the refugee, the foreigner, and the stranger. We will motivate and prepare our churches and movements to care for refugees. We will not be motivated by fear but by love for God and others. Christians are called to grace-filled and humble speech about this issue.

In light of these Christian principles, we cannot allow voices of fear to dominate. Instead, we commit to actions of love and compassion for refugees who have been admitted into our nation(s) in refugee status.

We acknowledge that there are genuine security concerns and encourage governments to be stewards of safety, but we also observe that choosing to come to North America as refugees would be among the least effective ways for those who intend to do us harm.

So, as governments oversee matters of security, we will care for the hurting, calling Christians to embrace refugees through their denomination, congregation or other non-profits by providing for immediate and long-term needs, such as housing, food, clothing, employment, English language classes, and schooling for children.

We distinguish that the refugees fleeing this violence are not our enemies; they are victims. We call for Christians to support ministries showing the love of Jesus to the most vulnerable, those in desperate need, and the hurting. This is what Jesus did; He came to the hurting and brought peace to those in despair.

Critical moments like these are opportunities for us to be like Jesus, showing and sharing His love to the hurting and the vulnerable in the midst of this global crisis. Thus we declare that we care, we are responding because our allegiance is to Jesus, and we seek to be more like Him, emulating His compassionate care for the most vulnerable.
The document was drafted by the following:
Ed Stetzer, Executive Director of LifeWay Research
Rich Stearns, President of World Vision
Stephan Bauman, President & CEO of World Relief
Jo Anne Lyon, General Superintendent of The Wesleyan Church
Frank Page, CEO of the Executive Committee of the Southern Baptist Convention
Alton Garrison, Assistant General Superintendent of the Assemblies of God
Jamie Aten, Director of the Humanitarian Disaster Institute
Sue Elworth, Vice President of Development, Marketing & Communications of the Willow Creek Association
Paul Ericksen, Interim Executive Director of The Billy Graham Center for Evangelism
Jenny Yang, Vice President of Advocacy & Policy of World Relief
Amanda Bowman, Director of Church Mobilization of World Vision
Micah Fries, Vice President of LifeWay Research
On January 20th, we are holding the 2016 GC2 Summit on the Church and Refugees, which I wrote about earlier this week. Please join us on January 20th in Wheaton, IL if you can. Click here to learn more about our gathering.
At that conference, we will address things mentioned in the declaration like legitimate concerns about security issues, ways to help in the Middle East (where most are and want to stay), how to minister to refugees here, and more.
Here are some thoughts on the statement from some of the key leaders in organizing and writing it. I hope you find their passion for the refugee encouraging, as I did. The statements come from a press conference following our December meeting.
Why most of the effort needs to be to help those overseas, in the Middle East:
Kent Hill, World Vision: We're primarily involved in helping people understand that many of the refugees are not just the ones that come to the United States or to Europe. But the ones, the overwhelming majority, who are in the Middle East. And we've been working in Lebanon, Jordan, Turkey, Iraq, for a number of years helping there. And so there's much the church can do and should do to help the Christians and others in distress in these areas.
On how churches that want to be engaged in sponsoring refugees can be:
Jenny Yang, World Relief: I would say two things that we want churches to take away from the statement. The first is we really want to create a deeper discipleship around refugees and how Jesus would actually respond to the refugees. So developing resources for pastors and church leaders to actually educate their congregations on what's happening in the Middle East and how as a Christian they should respond.
The second thing I would say is just to build relationships. There is many refugees overseas that are being served by churches in really difficult situations and hearing their stories as well as even building relationships with refugees that are living in their own neighborhoods here in the United States is really important to shape that discipleship. And so building relationships, I would say, is the second thing that we would like churches to do.
On the document and making plans:
Jo Anne Lyon, The Wesleyan Church: This document, I think, is well done. It has some theological depth to it and biblical base to it and then some action plans. And so, in that way, congregations will begin to understand what is their place. Where do we go in this? And then, pathways to this so we can work with World Relief here and we can work with – overseas and work with World Vision overseas and our own people that are working overseas, to begin to build unity around this issue that we're dealing with in our world today.
On genuine security concerns:
Frank Page, Executive Committee of the SBC: We recognize that security is a serious issue. And we know that many of our people do have fears and we do not believe that they are acting irrationally but when they're confronted by the true facts... they'll realize that the refugees about whom we're speaking are people who desperately need ministry and are not persons that we need to fear.
On research:
Jamie Aten, Humanitarian Disaster Institute: Our Institute has been doing research and hoping to equip churches respond to refugee needs both internationally as well as in the US. One of the main reasons that I am supporting this statement is because I really believe in equipping and helping to mobilize the church to be able to show God's grace in a time of great suffering for so many. Also, we helped to write a paper with World Evangelical Alliance that was submitted as a policy brief for the United Nations World Humanitarian Summit. And we were able to see firsthand from our global evangelical leaders about the important roles that the church plays in humanitarian issues overseas. And I hope that we will be able to do the same here domestically.
The Exchange is a part of CT's Blog Forum. Support the work of CT. Subscribe and get one year free.
The views of the blogger do not necessarily reflect those of Christianity Today.