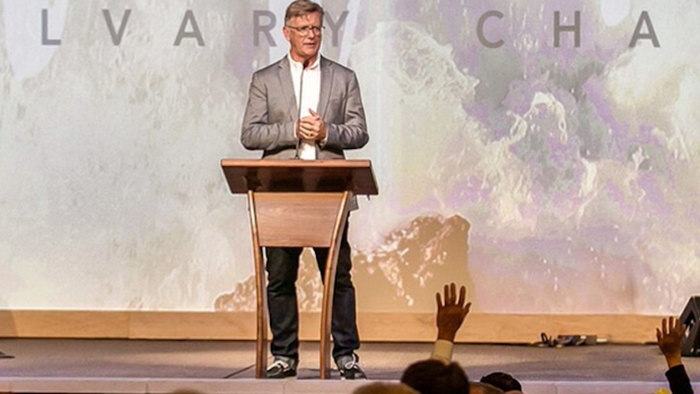 Image: Calvary Chapel Costa Mesa
ES: What do many Evangelicals often misunderstand about your movement?
BB: One of the most common misunderstandings about Calvary Chapel that I've encountered is on the issue of the ministry of the Holy Spirit. It seems that the non-Charismatics think we are Charismatics, and Charismatics think we are non-Charismatic. Or, the Baptists think we are Pentecostals, and the Pentecostals think we are Baptists. As already mentioned, we believe in all the gifts of the Holy Spirit for today and give room in many of our services for ministry in the gifts to take place; but we are very careful to maintain an orderly environment.
Another subject of misunderstanding would be in relation to the Calvinism / Arminianism debate. This is one more area where we seemed to have landed in a bit of a different place from other Evangelicals. We are not Calvinists, yet we enjoy fellowship with and glean much from our Calvinist friends.
However, we are not Arminians either, and we also enjoy fellowship with and glean from our Arminian friends. What we have sought to do when it comes to the subject of soteriology is to be as biblical as we can. This endeavor has landed us in somewhat of a middle position on the issue.
As a young pastor in training, I was given my first library by my pastor and father-in-law, Chuck Smith. In it were books by Calvin, Luther, Whitefield, Wesley, Spurgeon, Moody, Griffith-Thomas, Torrey, Lloyd-Jones, Campbell Morgan, Tozer, and other similar Evangelical giants. All of these and others have shaped our understanding of doctrine and brought us to the firm conviction that salvation is of the Lord.
ES:What do you wish Christians knew about your movement?
BB: I'd like others to know that we are very much a church-planting movement. I'm of the personal conviction that every community on the planet should have a Jesus-loving, Gospel-preaching, Bible-teaching fellowship to be able to plug into. Presently, we have approximately 1,700 churches worldwide. Two hundred of those have been planted in the past couple of years. This has been part of our DNA as a movement, and we are continuing to actively send out church planters all around the world.
Church planting has been a personal passion of mine for the past thirty years.
Many of those we send out have already served in a pastoral role in the home church and have been trained and equipped through that experience. We also use our Bible colleges and School of Ministry to equip men to go out and plant new churches.
We (Calvary Chapel Costa Mesa) are currently in the process of starting a new Pastor's School. These men will receive specific training that they might then be sent out to plant churches both nationally and internationally.
Church planting has been a personal passion of mine for the past thirty years, and that passion is held by many, if not most of the guys, pastoring churches in our movement.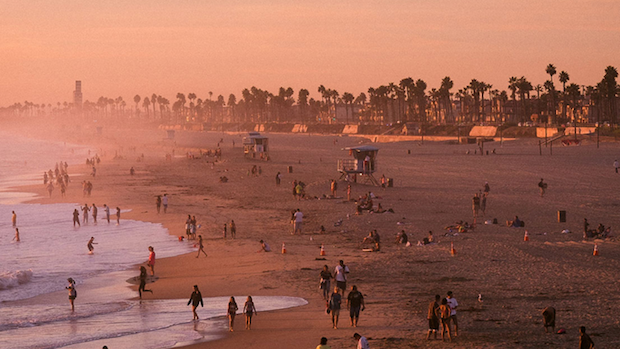 Image: Calvary Chapel Costa Mesa
ES: How does your history impact your practices?
BB: Our history continues to have a large impact on our practices. Having been birthed (so to speak) in an extraordinary outpouring of God's Spirit (the Jesus People Revival), we continue to put an emphasis on the things we've practiced from the beginning. Evangelism has always been a big part of our ministry, including encouraging personal evangelism, taking short-term missions trips, hosting local evangelistic outreaches in the community, and participating in larger scale evangelistic outreaches like the Harvest Crusades with Greg Laurie.
Calvary has also been very much a "faith ministry" from the beginning. By faith ministry, I mean that we depend heavily on the Spirit to guide us and to provide all we need to fulfill the ministry He has called us to. Pastor Chuck Smith coined the phrase: "Where God guides, God provides." This has been a foundational principle for many over the years and still is today.
Calvary has also been very much a "faith ministry" from the beginning.
Another area where we continue to see our history impact our practice is in the area of music ministry. Calvary Chapel Costa Mesa was the place where much of the "Jesus People Music" originated.
In the early days of the Jesus People Revival, Pastor Chuck Smith, along with a handful of musically gifted young men who had become part of the fellowship, started a recording company they called Maranatha! Music. The tradition that began then—producing good music that glorifies God and blesses His people—is one that we are still cultivating today. It's thrilling to see how God continues to raise up new generations of young men and women to minister in and outside the church through music.
ES: Why should Christians want to be like you? In other words, make the case for your distinctives.
BB: I wouldn't necessarily seek to make the case that other Christians should be like us. Rather, I would appeal to other Christians, especially pastors and leaders, to hold fast to the vital doctrine of the inerrancy and authority of Scripture, to faithfully preach the Gospel and teach the Word, and to do so in the power of the Holy Spirit. Any denomination, movement, church, or pastor who does that will do well in advancing the kingdom of Christ, and that is what all of us are to be about.
The Exchange is a part of CT's Blog Forum. Support the work of CT. Subscribe and get one year free.
The views of the blogger do not necessarily reflect those of Christianity Today.