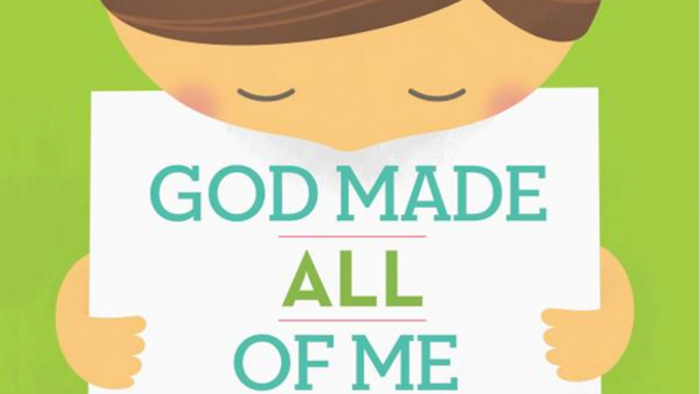 Q: Why did you write God Made All of Me? For what age range is it written?
The book is for 2-8 year olds. We wrote it because we have two young children and know that parents need tools to help talk with their kids about their bodies and to help them understand the difference between appropriate and inappropriate touch. It allows families to build a first line of defense against sexual abuse in the safety of their own homes. Our goal is to help parents and caregivers in protecting their children from sexual abuse. Because private parts are private, there can be lots of questions, curiosity, or shame regarding them. For their protection, children need to know about private parts and understand that God made their body and made it special.
Q: What do the statistics about child sexual abuse tell parents about the importance of talking about this topic with their kids?
Child sexual abuse is more prevalent than most people think and the offenders are usually people parents and the children know, not strangers.
Approximately 1 in 5 children will be sexually abused by their eighteenth birthday. A child is much more likely to be sexually abused by a recognized, trusted adult than by a stranger. Most victims of child sexual assault know their attacker; 34% of assailants were family members, 58% were acquaintances, and only 7% of the perpetrators were strangers to the victim.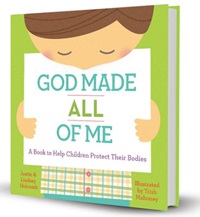 Of child sexual abuse victims, approximately 10 percent of victims are age three and under, 28 percent are between ages four and seven, 26 percent are between ages eight and eleven, and 36 percent are twelve and older.
Q: You were intentional about using the terms "appropriate" and "inappropriate," when referring to kinds of touch, instead of the words "good" or "bad." Why?
It is important to be clear with adults and children about the difference between touch that is appropriate and touch that is inappropriate. Experts discourage any use of the phrases "good touch" and "bad touch" for two main reasons. First, some sexual touch feels good and then children get confused wondering if it was good or bad. Second, children who have been taught "good touch" or "bad touch" would be less likely to tell a trusted adult as they perceive they have done something bad.
To your child say something like: "Most of the time you like to be hugged, snuggled, tickled, and kissed, but sometimes you don't and that's OK. Let me know if anyone—family member, friend, or anyone else—touches you or talks to you in a way that makes you feel uncomfortable."
Q: How do you talk about this issue with your own children?
We started by teaching them the proper names of their private parts at an early age and telling them that their bodies are strong, beautiful, and made by God. We read books to them from an early age on this topic and would talk about who can help them in the bathroom or bath and that it was OK for the doctor to check their private parts at appointments when mom or dad is present.
We would also roll play different scenarios to get them thinking what they would do if someone approached them and wanted to touch their private parts, show theirs, take pictures, etc. Play the "what if" game with them at the dinner table with different scenarios to see their thinking and problem solving skills. "If someone asked you to show them your private parts and promised to give you candy if you didn't tell anyone what would you do?" Remind them that they can tell you anything and anytime without fear of getting into trouble.
We've also tried to instill a sense of control our kids have over their own bodies. We would tell them to say "no" or "stop" when they were all done being hugged, tickled, or wrestled. We encourage them to practice this with us so they feel confident saying it to others if the need arises. We also tell them they don't have to hug or kiss a family member if they don't want to and teach them how to express this without being rude. It is important to empower children to be in charge of their bodies instead of at the mercy of adults.
Q: What are some practical things parents can do to protect their children from sexual abuse?
In our book, the last page is to parents and called, "9 Ways to Protect Your Children from Sexual Abuse." Some of the key practical things parents can do are: teach proper names of private body parts, talk about touches, throw out the word "secret," and identify whom to trust. You can read about all 9 here.
For more about the book, visit www.godmadeallofme.com. To keep up with Justin and Lindsey Holcomb, you can follow them on Twitter (@justinholcomb and@lindseyholcomb).