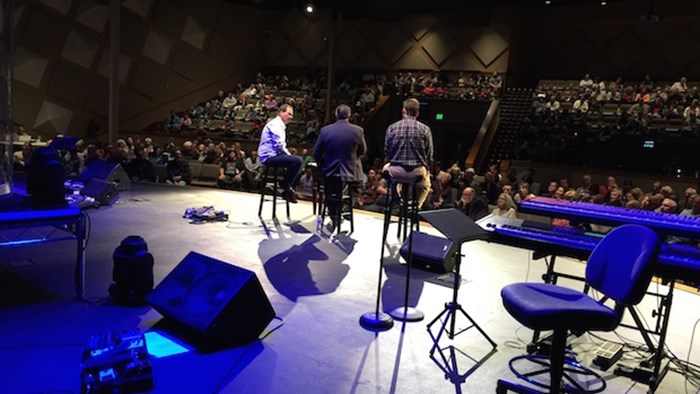 I was recently in California for a conference called "Organic Outreach."
Kevin Harney is doing a great job and I was glad to be small part as a speaker. (The pic above is from that conference.) Kevin has written a series of helpful books in this theme. He's helping people to focus on evangelism again.
But, my article here is to point out that evangelism has fallen on hard times—and conferences have as well. Yes, some denominations still have them, but they seem to be shrinking in attendance and enthusiasm among many who do have such conferences.
That was not always so. A few decades ago, such conferences were booming. Stadiums were often full. Evangelism training in churches was well attendend. And more...
Now, I don't think more evangelism conferences are always the answer, but the lack of many is a symptom of a larger problem.
Let me explain.
Evangelism Tools
Over the years, evangelism was generally defined by its tools. For example, the best known might be Evangelism Explosion and it's famous question, "If you were to die today, do you know if you'd go to heaven or hell?"
Or, maybe the bridge illustration.
Or, the Roman Road.
Or, bracelets.
Yet, and there is the point, most people I know are more likely to roll their eyes at the tools, rather than use them. But, they don't have an evangelistic alternative—all they have is an evangelistic angst. And, angst does not help. The tools may seem outdated, unhelpful, or cheesy to you, but the Roman Road is probably more effective than rolling your eyes.
And, before you make assumptions, be sure to take a look at what Evangelism Explosion has done recently.
Conferences
So, back to the conferences. Since tools were ready-made for conferences, we had many conferences. But, now tools are less appreciated and conferences are less common. Now, I am a believer in tools used well. I've even written a bit on them.
But, as tools lost their favor, the goal lost its means. In other words, tools (and conferences) helped us do evangelism, which was the goal. The goal was sharing the gospel.
Now, people roll their eyes at tools and don't go to training conferences, and the end result is a lot of angst about evangelism but not a lot of, well, evangelism.
It reminds me of that famous statement of D.L. Moody, "Well, I like my way of doing it better than your way of not doing it!"
Good Stuff is Happening
In a partnership role through LifeWay Research, I am privileged to be the Senior Fellow of The Billy Graham Center for Evangelism (BGCE) at Wheaton College. In that role, I work alongside a number of gifted people who want to use the talents and energies the Lord has given them to show and share the love of Jesus with others.
How can we help the body of Christ get on mission and share the gospel like we once did?
To elevate the focus of evangelism, we are now launching a partnership with Outreach Magazine. Outreach has always been about, well, outreach, but this will help us elevate evangelism in a fresh new way.
Just this past month, two of my friends at the BGCE published articles as part of that partnership. Here is a peek at just two of the great minds working to spur others on to share their faith.
Jerry Root wrote an article called, "What Can We Learn From Early Church Evangelism?" Here is an excerpt:
There has been no perfect period in church history. The First Century church must not be over-idealized. According to theologian Walter Elwell, in the New Testament epistles alone, the church had to be corrected some 150 times. We must always be careful to avoid projections and over-idealizations of any time or place...

Does the early church contribute anything to today's church relative to its mission in the world?

What are the ways Christians in the past shared their faith in Christ, and can that positively affect the ways Christians share Christ with others today?
Rick Richardson shared about his recent trip to Burning Man, with an article called, "Re-Engaging the Dechurched: Lessons From Burning Man." Here's a bit from him:
A team from the Billy Graham Center for Evangelism (BGCE) journeyed to Burning Man earlier this year to learn more about this community, research the dechurched and share God's love. Many of the 70,000 people who attend Burning Man attend the event in order to express their creativity, find community and seek spiritual encounters. Ninety percent of the people the BGCE team interviewed were from mainline Protestant and Catholic backgrounds. They are, at this point, very dechurched. Most attended church in high school and earlier, but were never captured by the church. They are not hostile, just disinterested. They are spiritual, but not religious.

Here are three themes that emerged as we interviewed "Burners." We believe these can help us better reach out to the younger, dechurched, spiritually seeking generation.

1. Many Burners are looking for the opportunity to express, in a context of radical acceptance, sides of themselves they have ignored, repressed or discounted. The church is not often perceived as a place of radical acceptance (or radical grace) toward people as they are. The church for Burners will have to practice a radical grace and acceptance that will be surprising for people who long to express "new" selves.
So, evangelism IS going on. I could list a dozen other leaders passionate about gospel proclaimation.
Yet, and I think most of us feel it: evangelism has fallen out of style in much of evangelicalism in America the last decade or so. Today, too many of us roll our eyes at evangelism strategies, calling them hokey and ineffective, and, instead of coming up with other evangelism strategies, we just don't evangelize.
This is a problem, and we need to fix it.
Goals
I'm convinced that a lot of people are noticing this fact and are concerned. So, this summer, we are going to do a conference and convocation where people come and learn about mobilizing the church to evangelism.
We will do it this summer, June 28-30, 2016.
We don't expect thousands, but I am bringing key evangelism leaders together for a conference to ask, "How can we help the body of Christ get on mission and share the gospel like we once did?" In other words, tools and conferences aside, "How can we get focused on the goal?"
We already have some amazing speakers lined up (and will start releasing names soon) and it will be on the campus of Wheaton College in Wheaton, IL. (That means dorm lodging is available if you need inexpensive accomodations.)
I hope you'll plan ahead. We won't be promoting the creation of new tools, but learning about what others are doing (including new tools), but also a lifestyle of showing and sharing the love of Jesus.
To get on our list for more information, you can email info@amplifyconference.tv.
The Exchange is a part of CT's Blog Forum. Support the work of CT. Subscribe and get one year free.
The views of the blogger do not necessarily reflect those of Christianity Today.