Jul 22, 2016
Books
20 Truths from The Church as Movement by JR Woodward and Dan White, Jr.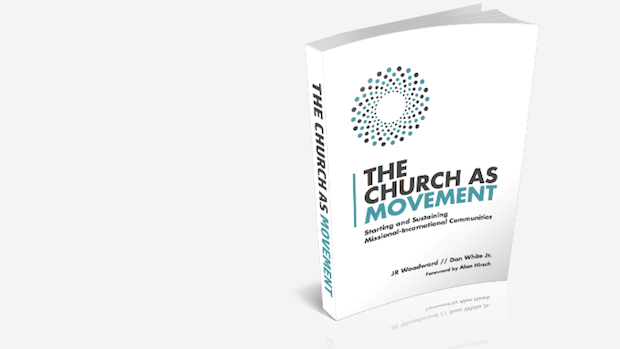 1. God made us as relational beings, and he brings understanding through interaction and reflection. (16)
2. The Church as Industrial Complex is a resource-driven form of church that has a gravitational pull that unintentionally turns spirituality into a product, church growth into a race, leadership into a business and attendees into consumers. (25)
3. All church planting movements start with life in God. (27)
4. Jesus didn't say, "Well done my good and fruitful servant." He said, "Well done my good and faithful servant." (33)
5. We join God's mission in the world, we don't ask him to join ours. (34)
6. We must live into community with each other that models a mosaic of voices even if it causes us to slow down our pace. (67)
7. As we pursue a life in God, we discover that it is often through our struggles and suffering that we find God in new ways. (75)
8. Discipleship cannot be microwaved because people are fragile and each of us has a unique story that makes the process difficult. (104)
9. We must embrace a view of the Spirit that is available and alive in the space of discipleship. (106)
10. When the gospel is reduced to a private affair between us and God, it not only seems self-serving, but it becomes irrelevant to the world around us and the problems we face a humanity, whether it be poverty, senseless violence, ecological disasters or the break up of families. (120)
11. God has placed us into a family that crosses every boundary made by people, people from every tribe, tongue and nation. (146)
12. Taking time to weekly meet with people who don't self identify as Christians is a practical way for someone like me who works with a lot of Christians, to build strong relationships with agnostics, atheists and people who don't know Christ. (154)
13. We don't invent our mission; it is something we receive from God as we listen to his voice through the Holy Spirit breathed scriptures. (165)
14. We cultivate a welcoming environment by following Christ in extending the table of fellowship to those whom society has marginalized by being witnesses of his great love. (181)
15. Maturing as a disciple is learning to be still when you want to be defensive. (186)
16. Conversation with reconciling intent is the most powerful way for a community to discover God's spirit in our midst. (186)
17. The more we understand the culture of our missional context, the better we can bear witness in word and deed to that context, bring the transforming power of the gospel, and make the invisible kingdom more visible. (195)
18. The church is not a commodity to be franchised into a new city with its style of music, its celebrity pastor and its logo. (204)
19. To be a place-based community we must invite Disciples on a journey that no longer sees their neighborhood as a prop in the background. (205)
20. Making disciples, planting churches and growing movements is one of the toughest things we will do in life. (218)
Support our work. Subscribe to CT and get one year free.