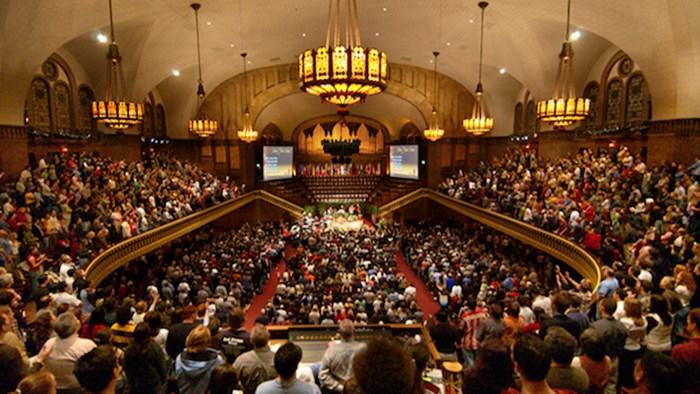 Normally in this space, I share about places where I've been preaching, to point out something helpful or instructive in that context. I plan to catch up on that soon.
However, my outside preaching and teaching will soon be drastically reduced as I do something I have always enjoyed—serve as an interim.
An interim is a pastor who serves between pastors, helping the church to have consistent Bible teaching, while they search for a new pastor.
As you may know, long-term pastor Erwin Lutzer retired earlier this year. He's a well-loved and globally known pastor, with a global radio ministry. Actually, the church has been on radio for decades, including Dr. Lutzer's Running to Win, the Moody Church Hour, and Songs in the Night.
They are currently searching for a pastor, and that can take some time.
So, it was announced this morning, that starting September 11, I'll be serving as the Interim Teaching Pastor at the Moody Church in Chicago. I'll be speaking three out of four Sundays, preaching the morning service.
Pray for Moody Church as they continue to search for a senior pastor. I am not a candidate. I'm called to Wheaton College. And, I'm not going to be providing day-to-day leadership in the interim. Bill Bertsche is the Executive Pastor, and that's his role.
I will teach the Bible and encourage the church.
If you are so inclined, pay us a visit at Moody Church. It's a landmark in Chicago, and tourists from around the world visit, but it's also a thriving congregation, seeking to make much of Jesus in the heart of Chicago. I'm glad to be a small part of that effort and to encourage them in this interim time.
The Moody Church campus is located at the corners of North Avenue, Clark Street, and LaSalle Street in Lincoln Park (1630 N Clark St, Chicago, IL 60614). The auditorium is a marvel. From Wikipedia:
The resulting building remains the largest non-pillared auditorium in the Chicago area, and has permanent seating for 3,740 people, 2,270 on the main floor and 1,470 in the balcony. The curved balcony was one of the earliest examples of cantilevered construction, and its curvature – as well as the rest of the layout of the auditorium – was designed so that all lines focus on the pulpit. Designed in an era before modern sound systems, the building has almost-perfect acoustics, and it is reported that the only element detracting from this aspect is the floor carpet.
Sunday AM services are at 10:00. I'd love to see you there.
Whether you can make the services or not, I'd appreciate prayer as I take on this ministry.
My main role is at Wheaton College, the Billy Graham Chair, and the Billy Graham Center. However, I've been preaching at my church, Grace Church, for an average of 3/4 Sundays over the last five years, so I'm accustomed to that routine.
Of course, the big difference here is that I will be preaching in the pulpit of D.L. Moody, Warren Wiersbe, and Erwin Lutzer (and many others-- in hindsight, I should not have looked at this list!).
No pressure, eh?
So, pray for me. We are going to preach through a book of the Bible, make much of Jesus, focus on the gospel, and encourage the church as they continue their pastor church.
And, of course, I love the city, and I love a church that loves the city.
Finally, to the folks at Moody Church who may be reading this, I look forward to serving you through the teaching of God's word and a continued focus on the gospel. You can find more about me on Twitter, Facebook, and what I do at Wheaton College right here. I look forward to serving you and Moody Church as we make much of Jesus together.