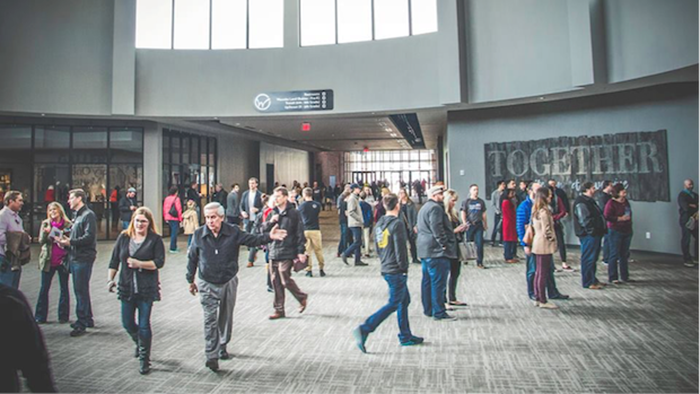 Image: Woodstock City Church
Following building trends isn't necessarily a hobby of mine, but it is quite interesting. For instance, micro-housing or tiny houses have become increasingly popular, particularly among millennials, and in urban areas with a high cost of living.
But what about church buildings? Are church building designs changing over time? Are there trends we can identify today?
I think so.
Small is the New Big, for Larger Churches
In the past, people thought about church buildings like television manufacturers today think of TVs—make them as big as possible. If you look around the U.S. today you'll find some "giga" church buildings—buildings that can accommodate 10,000+. Probably the most well-known giga-church facility is Lakewood Church, which meets in the former Compaq Center where the Houston Rockets NBA team once played.
While you can find other churches that have some rather large facilities like First Baptist Church Jacksonville (FL) and Southeast Christian Church (Louisville, KY), the growing trend—set years ago by churches like Saddleback, Willow Creek, and North Point Community—is to build smaller buildings than you need, not bigger buildings than you need, then to do multiple services of multiple sites, rather than one (or more) big services.
Now, this is not true everywhere, and there are reasons that churches go one way or another, but there does seem to be a trend—fewer churches are building 3, 4, 5000 seat sanctuaries today.
What has influenced church facilities in large churches to trend smaller rather than bigger? There are a lot of reasons that may factor into a church's decision to build small, but here are two important ones.
It's easier on the budget to build modestly than massively. With churches adopting the strategies of multi-services and multi-sites, they are spreading their people out rather than spending more money on square feet. Many view this practice as one of stewardship and frugality.
For instance, J.D. Greear, pastor of the Summit Church in the Raleigh-Durham area, described their desire to have a low-end functional space that left more money at the end of the month for mission. Summit wants to put more money in mission rather than in the building.
It's easier to fill a smaller room than it is a larger room. I've heard a number of pastors with very large facilities share that they wish they wouldn't have built such a big building. Why? Practically speaking, it's easier to fill a smaller room.
Think about it. If a church has a 3,000 or 5,000 seat auditorium that is 75 percent full, and decides to begin another service, how long will it take (and how difficult will it be?) to fill that auditorium a second time to the point it won't feel awkward? For most churches, this will take a significant amount of time. During that transitional phase, many visitors may be turned off by a half empty building.
The same is true for a church that builds a huge worship area. They may struggle to fill it, which could create pressure to bring in people to occupy seats (leading to ministry issues) instead of a godly desire to reach people with the gospel.
Common Areas in Diverse Buildings
In addition to large churches building smaller, many churches are building practical with spaces designed for more than merely meeting on Sunday. Although each church building has their own quirks and charms that make them unique, there are a couple of common areas, outside the worship area and children's area, many churches (regardless of style, denomination, or location) are placing within their facilities.
Community (People) Space. If you look closely at old modern church architecture, there isn't much of a lobby or gathering place for people to congregate before proceeding into the worship space. Step in, grab a bulletin, step forward, and you're in the back of the auditorium.

Community space is a designated area where people can congregate and fellowship prior to entering the auditorium. Many churches have large lobbies or foyers with standing and seating areas. Others have created full coffee areas and cafés where people can grab refreshments before and after the service. For instance, Saddleback has an area called "The Patio" and 12Stone Church in Lawrenceville, GA has a fully operating Starbucks. These churches, along with many more, offer welcoming places to meet, greet, and fellowship with one another before and after the worship gatherings.
Connection Space. Another common area in church buildings today, regardless of the kind of church, is a connection space. A connection space is a designated area where people can find information about the church. This could range from a Welcome Desk for first time guests to larger areas that include information on small groups, children/youth ministries, and mission opportunities. For instance, North Point Community Church's newest campus (Woodstock City Church) created "The Gallery," which is a nicely designed area for guests looking for more information about the church.
Here are some pictures of Community and Connection spaces in churches: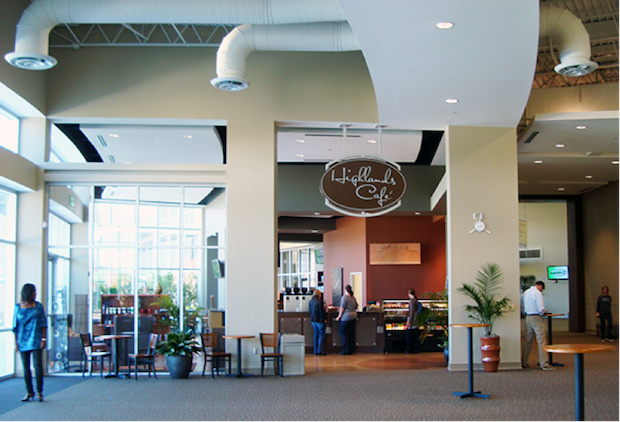 Image: Live Design Group
Church of the Highlands, Birmingham, AL, main campus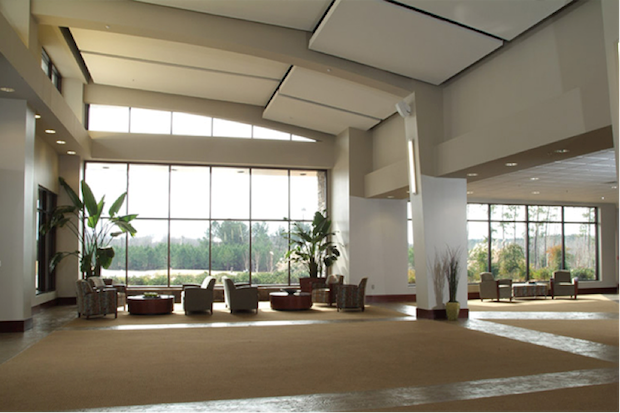 Image: Live Design Group
Pinelake Baptist Church, Brandon, MS
Image: Van Winkle Construction
Starbucks in 12Stone Church, Lawrenceville, GA, main campus
(At the top of this article is a photo of the atrium at Woodstock City Church.)
Small being the new big, even for large churches, is still trending in church buildings. In addition, churches are intentionally designing space to promote community and connection within their facilities.
So, if you are thinking about a new facility or contemplating how you can renovate your existing one, you may think about spending less on square footage and spreading more of your people out—whether it is through multiple services or multiple locations—and creating spaces of community and connection.