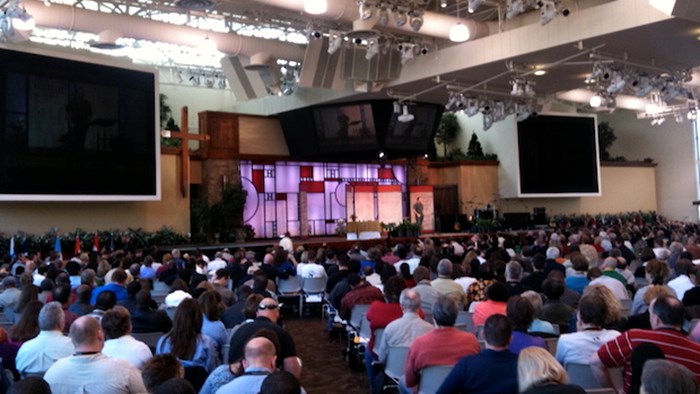 At one point in the church growth era, there was a trend in constructing multipurpose buildings. For the most part these could be used for a variety of purposes—an auditorium, gymnasium, or fellowship hall.
Later, the space was used in attempts to reach the community during the week. While this is still common, another building project is growing in popularity—the "third place."
In this two-part article I want to introduce you to the concept of third place, provide a brief list of the benefits of third places, and offer some examples of churches that have created third places.
Concept of a Third Place
Ray Oldenburg, retired sociology professor of the University of South Florida, coined the term "third place." In his book The Great Good Place, Oldenburg describes third places as: "A generic designation for a great variety of public places that host the regular, voluntary, informal, and happily anticipated gathering of individuals beyond the realms of home and work."
He emphasized that third places are gathering places that can be described as "homes away from home":
All great cultures have had a vital public life and, necessarily, they evolved their own popular versions of those places that played host to it. … Thus, its profusion of sidewalk cafes seems to be Paris, just as the forum dominates one's mental picture of classic Rome. The soul of London resides in her many pubs; that of Florence in its teeming piazzas. Vienna's presence is seen and felt most within those eternal coffeehouses encircled within her Ringstrasse. … In cities blessed with their own characteristic form of these Great Good Places, the stranger feels at home—nay, is at home—whereas in cities without them, even the native does not feel at home.
According to Oldenburg these public places add tremendous value to the overall vitality of cities, communities, and the people who live there. Third places are public places where community is formed, relationships are established, bridges are built, basic human needs are met, and communities and cities are enriched.
Interestingly, the contemporary concept of third places wasn't a foreign concept in antiquity. In fact, in New Testament times, the agora or marketplace, functioned as a third place. The agora was where community was formed, relationships were established, and the lives of individuals intersected. It was the focal point of Roman civilization.
Everett Ferguson, in Backgrounds of Early Christianity, describes the role of the agora:
In those cities influenced by Hellenistic town-planning, the marketplace was a large open area, rectangular in shape, given over to public monuments and statues. It was surrounded by a covered porch, which had shops and offices behind. Life then, as now, in Mediterranean countries was lived mostly outdoors, and the town marketplace was the center of life—a marketplace of conversation and ideas as well as of economic activities.
It's only been in recent history, particularly in Western civilization, where homes have been treated as isolated enclaves to retreat from others. Third places have the ability to draw people out of their homey dens because they provide something people so desperately need—connection.
Understanding the value of third places and the connection opportunities they provide, some churches have entered into this concept by creating third places—outside their local congregational gathering place—such as community centers, coffeehouses, parks and playgrounds, restaurants, and theaters, and cultural centers.
Three benefits of Third Places
Participate in the cultural mandate
Third places can be a way churches participate in the cultural mandate found in Genesis 1:28. This mandate means we should cultivate the raw materials around us to subdue and exercise dominion over the earth by developing a God-honoring culture. Third places can play a role in that.
By establishing a third place, churches display the goodness of culture and create a plausibility structure by which the Christian faith can become more relevant. In a skeptical and pluralistic culture—but one still in search of meaning, beauty, and purpose—third places demonstrate the beauty of the gospel. In To Change the World, James Hunter calls for believers and churches to create common space for both the church and the community that foster meaning, purpose, truth, beauty, and belonging.
Whether schools, daycares, coffee shops, restaurants, art galleries, community centers, counseling centers, workout facilities, or gyms, churches can exemplify what it means for the people of God to cultivate culture to the glory of God and the flourishing of the city, thereby displaying the goodness of culture and the relevancy of the gospel and Christian faith.
Bless cities
Third places are also avenues by which the people of God can bless the cities and communities in which they live. This principle is rooted in the call of Abraham and displayed in the Babylonian captivity.
The call of Abraham marks the beginning of the mission of God and the mission of God's people. Contextually, it follows dark moments in the early history of humanity. Genesis 3-11 contains a heightened crescendo of the effects of a fallen world, one that houses broken relationships, violence, murder, arrogance, pride, and confusion.
Through Abraham, God poured out his grace and blessing, not only touching Abraham and his future descendants, but also promising to extend blessing to all the families of the earth.
Therefore, part of the call of God's people requires them blessing "all families of the earth"—cities, communities, and peoples, through seeking the welfare of the city and being salt and light to its communities.
Of course, the church is to share the gospel with all people, which is the primary way we bring blessing to others. I see the creation of third places as ways the church can demonstrably show the gospel and bless the community.
National Community Church, under the leadership of pastor Mark Batterson, blessed the city of Washington D.C. by creating the third place, Ebenezers Coffeehouse. In restoring an historic piece of property to a communal use, The Committee of 100 on the Federal City gave NCC a Vision Award.
When churches create third places such as Ebenezer's they model what it means to not only create and renew cultural artifacts in a manner that glorifies God, but to create an entity that blesses their city and community.
Build bridges
Third places can also bridge the gap for those who would never come to a traditional church structure. Many churches are structured under an attractional structure that essentially features a "come and see" strategy to reach people rather than a "go and tell" one. There is nothing inherently wrong with this strategy. It still works in some places.
While there are and will always be people who will attend a local church through invitation, there are those who simply will not come to a church service. To reach these types of people, no matter how small the segment, will require a "go and tell" strategy—a strategy that seeks to establish relationships and builds bridges.
Creating third places is not about what a church wants to do, but a result of the church listening to and observing the needs of the community and determining how it can create a "watering well" where people gather. Such strategies will require embedding our lives into Third Places, listening and learning where God is at work, and allowing Him to use us as ambassadors of the gospel.
In short, third places—whether through the creation of businesses or community spaces—can be a "go and tell" strategy that models culture making, blesses the community, and builds bridges with people far from God.