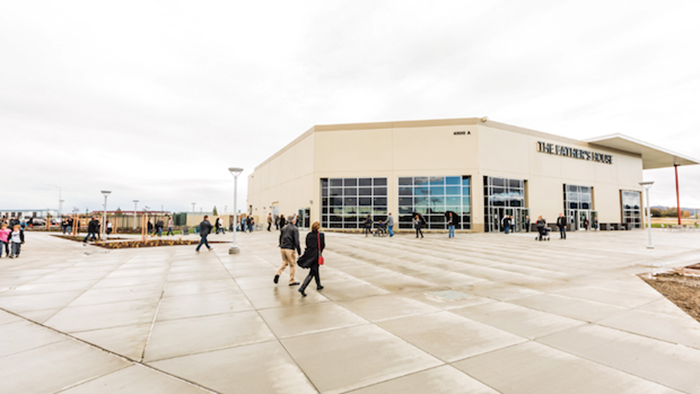 Image: Visioneering Studios
"The medium is the message" is a phrase coined by Marshall McLuhan. This means "the form of a medium embeds itself in the message, creating a symbiotic relationship by which the medium influences how the message is perceived." To say it another way, buildings, style, furniture, decor, and landscaping actually communicate. A physical structure can communicate as much as the sermon that is preached inside it.
I believe church buildings can and should be missiologically discerned. It should be a positive representation of the church to the surrounding community. Buildings and property can communicate the goals and priorities of a church before a person in the community ever steps foot inside.
But in order for a church building to be considered an effective missiological tool, church leaders should ask themselves four questions.
Is our building cultural?
At the World of Coca-Cola museum in Atlanta, GA, you can taste Coke products from around the world. While each drink has the consistency of a soda, each has a distinct taste that makes it unique for the location where the drink is available. All the drinks have universal qualities that are the same around the world, and each individual drink is cultural appealing to its local context.
Church buildings should be the same way. While there will be similarities and consistencies of buildings regardless of the location, each building (inside and outside) should seek to appeal to its local context.
For instance, I recently preached at Johnsons Ferry Baptist Church outside of Atlanta. Aside from their beautiful traditional brick building and their nicely manicured lawn, I noticed they had marble floors from Italy inside their sanctuary. Both the inside and outside seem to fit Johnsons Ferry's cultural context—an affluent, Southern suburban area.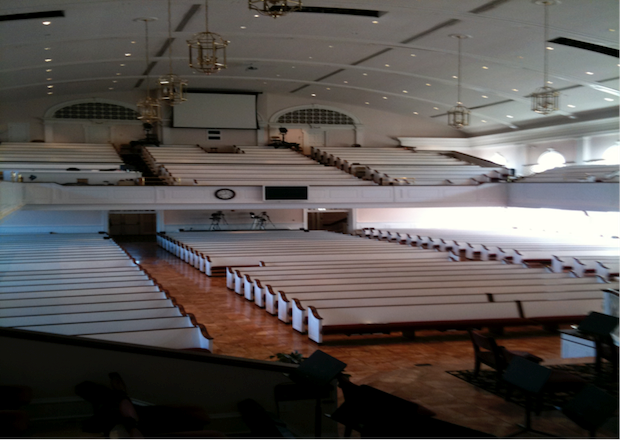 Is our building hospitable?
Starbucks' first company value is, "Creating a culture of warmth and belonging where everyone is welcome." If you've ever been in a Starbucks, you've probably noticed the environment and baristas are friendly and welcoming. With the comfy chairs and couches to the tables and high-backs, the environments Starbucks create speak volumes about their desire for customers to come in, sit, and relax.
If church buildings are to be missional, they, like Starbucks, must be places that exuberate a welcoming environment. Reggie McNeal in Missional Renaissance simply states that church facilities should tell guests, "You are welcome here in every possible way." Practically speaking, for church buildings to be welcoming Thom Rainer suggests they be clear of clutter, have nice curb-appeal, have directional signage both outside and inside, have fresh paint, and have fresh clean bathrooms.
In a very real sense, when people come on church campuses, they are coming to the physical home of that local church body. Therefore, those homes should be a place where outsiders, foreigners, strangers, aliens, and sojourners—where guests of all types—are welcome.
The Cathedral of St. Luke Episcopal in Orlando, FL, welcomes people to free concerts open to the public, and is home to both a library and bookstore.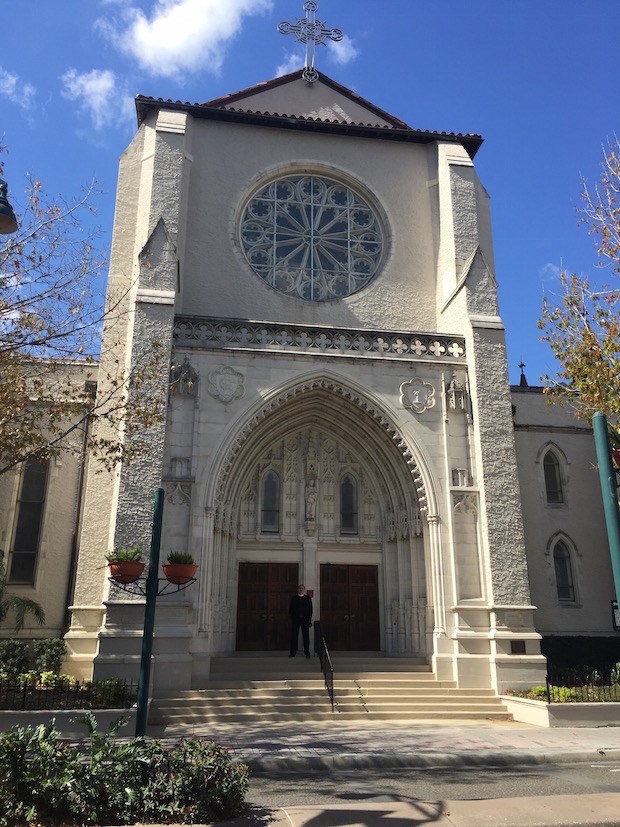 Is our building externally useful?
Have you ever thought about the purpose of public parks? They do not exist for those who build them, but for the general public. In other words, they are created for the good of the community.
McNeal encourages those who are thinking about building or who already have a church building to consider, "How can we build buildings to bless our community and then figure out a way for the church to use them? How can we use what we already have to bless the community?"
Whether it is housing a full functioning café space or children's education center, or allowing AA or a local HOA to use meeting space, or partnering with the local YMCA to run their sports leagues on the church property, churches can find ways to leverage their facilities and buildings to be externally useful for the good of the community.
Is our building accessible?
For a church building to be missional, it must be accessible. God is not a product, but neither is He to be placed by believers out of reach to people far from Him. When God placed Israel in the Promised Land, He placed them in the middle of the world. When Paul embarked on his missionary journeys, he mainly went to cities where he would be in close proximity to lots of people.
Accessibility is about being in proximity of the people God desires us to reach. In addition, accessibility is about being easily available (or noticeable) to those around us. Thus, our buildings and facilities should be in close proximity to the people and community God desires for us to reach. They should also be easily noticeable and accessible. This does not require they be ostentatious or have a gaudy sign out front. It does mean having good sight-lines, entrances and exits, and nearness to traveled areas is important.
I believe space really matters. Thus, I believe that our buildings, although a tangible tool, can be used for missional purposes. However, let me be clear, buildings don't reach nor win people—other people do. And we must remember that God is not as concerned with churches building great facilities as He is with them building great relationships with people who have yet to belong.
The Exchange is a part of CT's Blog Forum. Support the work of CT. Subscribe and get one year free.
The views of the blogger do not necessarily reflect those of Christianity Today.