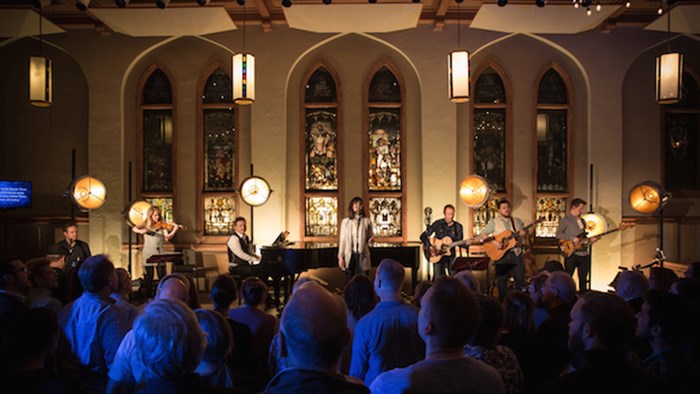 Ed Stetzer: Tell us a little bit about how you put together the album in the first place. It's very diverse.
Keith Getty: It all comes out of the Facing a Task Unfinished hymn, written by Frank Houghton, 1931, in the context of mass persecution in China. He writes this hymn as a call to 200 people to come preach. China, the context, was very anti-Christian, the minimizing of Christian rights, the murdering of Christians and indeed worldwide global recession.
A lot of things actually quite similar to our own times, but serious persecution.
So, he writes this hymn, sends it round as a call to missionary commitment. He gets a response of 204 people to go.
ES: Response to go as missionaries?
KG: That's right.
He understood—foundationally—that what we sing affects profoundly how we think and how we live. So deep Christian songs, sung by real believers to each other, breeds and helps contribute to breeding deep believers.
ES: A lot of church have gone with simpler choruses, rather than hymns, with streamlined music, simple tunes, and a more concert-driven sort of worship.
Are they wrong?
KG: We have to remember that all of us as individuals are at different stages of growth in our lives and similarly and by extension all of us as churches have different strengths, different weaknesses, and have different stages of growing.
What I've noticed about most church movements as they have grown and deepened, so has the songs they sing.
I'm a child of the modern worship movement like you as well. And so we have to understand that we're all kind of in a stage of growing rather than standing on some self-righteous soap box somewhere. I don't really see that as being appropriate, or even authentically Christian.
The challenge for us (and our children) is going to be greater than it was for us. That's I think fairly indisputable. So, for us to actually build believers who are going to survive, never mind flourish, never mind fund the next Harvard, cure the world of slavery, write the next Brandenburg concerto, we're going to have to build deep believers.
So we have to ask—how do we build deep believers?
Part of that is being able to sing songs that are deep and rich about Christ.
That doesn't mean they're boring. That doesn't mean they're all from the 16th century. That doesn't mean you certainly have to read music to sing them.
So for me as a writer that's a constantly a challenge because my music is very much inspired by classical hymnody. With this project we took a lot more global influences and worked with some of my friends who have been real masters in the modern worship song, like Chris Tomlin, Jonas Meyer, and these kind of guys.
They were great helping me re-shape my songs a little bit to make them a little bit more communicative. But it's an exciting point—I think it's the most exciting point in history to be born.
I was interviewed at a choral convention a few years ago and actually they said actually the same thing. They said, "Well done Keith; if you'd been born in a different generation, you'd be a multi-millionaire."
I said well you know what I've never wanted to be born in another generation because the opportunity for global witness, and the need for a global hymnody, at this moment in history, greater than ever.
Here's the video of Facing a Task Unfinished compiled from churches worldwide during the Global Hymn Sing. After watching, check out For the Cause (written by the Gettys and Stuart Townend), the new official hymn of Southeastern Baptist Theological Seminary.
The Exchange is a part of CT's Blog Forum. Support the work of CT. Subscribe and get one year free.
The views of the blogger do not necessarily reflect those of Christianity Today.