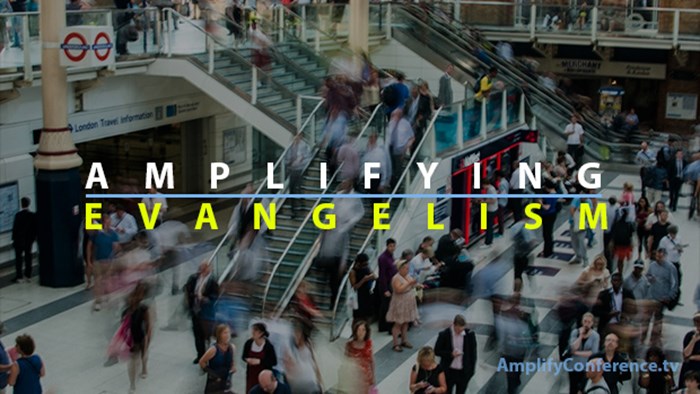 Our first public service for Church of the Beloved launched on a cold Saturday afternoon in the diverse Near West Side of Chicago, surrounded by different African American, Mexican, Chinese, even historically Italian neighborhoods. Within walking distance is the University of Illinois at Chicago, one of the more internationally diverse universities in the country. We didn't know it at the time, but from this location we started a church that would welcome people from different cultures and backgrounds.
Within a few months of planting, I felt prompted to ask my new congregation to stand if they were born outside of the States. I wondered what God was up to when more than half of the church stood up. The nations were coming to our church.
Our first conversion was a Thai American anesthesiologist. The day after his conversion, he shared his testimony with a group of international students who had just moved from Thailand. Through a translator, I was also able to share the gospel in their heart language. Only one person in the group had an idea of who Jesus was. This was their first time ever hearing of Jesus and it was in Chicago!
As I was finishing my gospel presentation, one of the students cut me off, exclaiming, "If this is the gospel, it's too good to be true!" I replied, "Then you understand the gospel!" In that group of Thai students, one of the students turned to Christ and was baptized five days before she moved back home.
Soon after, a group of students who had moved from China that week walked into our church and filled up two rows. After the service, they approached me and said they had never been to church until that day. Because their English (especially theological English) was limited, they asked me if I could send them my sermon notes earlier in the week so that they could study them before our church service and understand more of my sermon while it was preached. I was blown away by their curiosity, and secretly crushed at the thought of having to finish my sermons earlier in the week.
We started a Bible study with those students and gave them Bibles. Two weeks later, I asked one of them if she had started reading the Bible. She hung her head in shame. Embarrassed, she said, "I have only read Genesis and John." I was astonished at both her diligence and the fact that she was ashamed by what she perceived as laziness. She had probably read more scripture than most of my church leaders in those two weeks!
After this, I was able to show her the connection between Genesis 1 and John 1. When I casually told her that Jesus from John 1 was the Creator God of Genesis 1, her eyeballs enlarged and she loudly exclaimed, "Jesus is God!?" No one had ever told her, and her response reminded me of how extraordinary the truth about Jesus is to those who have never heard.
Since those early days God has blessed us with 35 nations attending our church, with people from Nepal, China, Brazil, Colombia, Nigeria, Uganda, Turkey, Kyrgyzstan, South Korea, Malaysia, Japan, and yes, even Canada. This fall we are launching a multilingual international service to reach people whose heart language is not English. The beauty of the service is that many of the people helping to launch it are themselves internationals.
God made a promise to Abram many years ago that all nations would be blessed through him and his descendants. God is fulfilling His promise by bringing the nations to our own neighborhoods. According to one recent study, there are over one million international students who are studying in our universities and colleges, up 9% from the previous year.
Whenever I go to church-planting conferences that speak of how hard it is to reach people in the States, I often think to myself, "Which people?" In four years of planting, we have seen people from all over the world come to Christ and receive baptism. The nations have come to our cities! I love seeing new believers from different countries worshiping and serving where once they had not even heard the gospel.
How can we join in with what God is doing in our cities? We didn't plan on being this international, but looking back, I see a few things we did that brought about a church for the nations.
First, we contextualized the church culture to be welcoming to both people who grew up Stateside, and those who grew up in other contexts. When I travel the world, I find that the Church preaches the same gospel, but the Church looks so different. Many of us who grew up in different cultural contexts knew church to be an all-day affair that included one or two meals. Because of this, we put a meal after our service, and the majority of people stayed for two to three hours to eat and talk, and we discovered that urbanites are hungering for community.
Second, in many of the nations represented in our church, instead of coming from individualistic, guilt-oriented cultures, they come from collectivistic, shame/honor cultures. Because of this, many of the sermons and small group discussions address the beauty as well as potential idols that come from living in both types of cultures. When I recently shared about how my mom would pull out gourmet food from secret compartments when guests would come over, many in our church nodded in heartfelt agreement. They resonated with the importance of honoring guests because of our hospitality culture, similar to the context of the Bible. But when I gently spoke to our desire to save face at the expense of being vulnerable and authentic about our brokenness and pain, it also connected with them on a visceral level.
Third, not only did we choose not to do church "the Western way," we thought through how life would be for an international in Chicago. I remember living overseas in Southeast Asia and how lonely I felt during Thanksgiving and Christmas. When I noticed how important Lunar New Year was to many in our community, we planned a party during that time. The first year we hosted it, 120 people came, and more than half were non-believers.
We have celebrated this every year, and we set up dumpling-making stations, sang songs in Mandarin, and perhaps most importantly, created an epic karaoke station.
Fourth, in our church services, we regularly sing songs in the language of our congregation members, and we hear Scripture read in their heart languages.
Fifth, we want them to feel at home in our church, and part of that means placing them in positions of leadership and influence within our church. Key leaders in our church include our worship leader from Nigeria, our international ministry director from Malaysia, and our hospitality team director from East Asia, who became a believer through our church. Empowering them to lead sends a clear message to other internationals that they are welcome and honored in our church family.
Last, we pray fervently that God will bring the nations to our church, and over the four years since our church was planted, He has been faithful to answer us. This past Easter, we had the privilege of singing a worship song in multiple languages. It was a small glimpse of heaven as many nations worshiped Christ in an Asian, African, and South American dialect. I saw people from different nations worshiping with joy in their heart language. I felt blessed to be part of a church that was welcoming to people from all over the world.
May more churches be led to pray, contextualize, and warmly welcome foreigners, just as Christ welcomed us with open arms. In doing so, we will bring God the glory, and in return, our church (and your church) will receive much joy!
The Exchange is a part of CT's Blog Forum. Support the work of CT. Subscribe and get one year free.
The views of the blogger do not necessarily reflect those of Christianity Today.