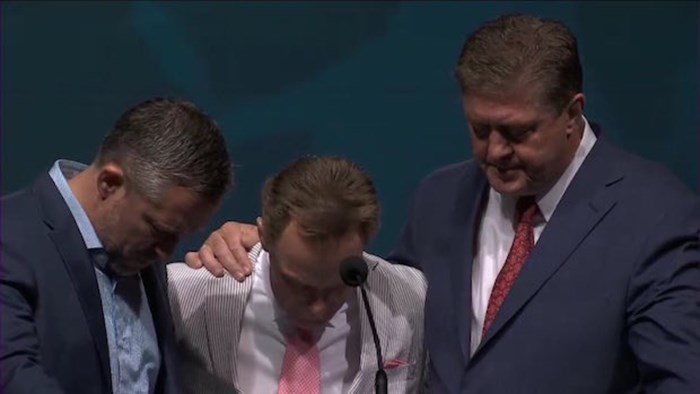 Image: @da_horton / Twitter
The SBC annual meeting is the human equivalent of a potluck dinner. A unique assemblage of small and large church pastors, deacons, heads of local church WMUs, bi-vocational pastors, seminary professors, mission board presidents, and "everyman" church members, with every business session an Open Mic Night at Laugh O'Rama with at least one motion—guaranteed—that makes absolutely no sense to anyone in the room, and at least one resolution nearly everyone wishes hadn't been offered.
Some years it's easy to look back after two days of preaching and two days of business and reports and think, "Did we do anything of eternal value at all?" Other times it's clear God has done a work and we were privileged to be a part of it.
This year, we were blessed to be in the second category.
The Pastors Conference
This year a group of small church pastors proposed a different strategy a couple of months before the annual meeting: small- and medium-sized church pastors would make up the entirety of the program. No "celebrities" would be on the card, nor would any non-SBC pastors.
They hoped to reflect the makeup of the vast majority of Southern Baptist churches.
They ultimately drafted Iowa pastor Dave Miller (who moderates the blog where the proposal was first made public). Miller won the election on the first ballot, to the surprise of many in SBC leadership.
Now, I think Dave may have a tiger by the tail, since an event like this costs hundreds of thousands of dollars (and the pastors conference does not charge attendees), but it's a reminder that Southern Baptists are a denomination of small, rural church pastors. Sometimes leaders can forget that and this should be an important reminder.
This was the first of several surprises.
"We Are Resolved"
The annual meeting typically has two kinds of actions presented by the messengers. The first, which I'm not going to talk about now, are motions. These have to do with the actual business of the convention.
The second are resolutions. Resolutions are public position statements that may address almost anything. There may be a resolution thanking a city or organization for a particular action; a resolution stating a position on a moral issue; a resolution condemning certain government behavior; a resolution calling for an emphasis of some kind.
This year among many resolutions, there were two that stood out to me.
First, there was a resolution of prayer and support for Israel. In itself, this was nothing new. The SBC has traditionally been in support of the state of Israel in large part due to the historic theological reasons, but also due to some important geopolitical realities. Although I cannot say for sure, I would be surprised if such resolutions ever garnered past discussion to any degree. This year was different.
A pastor from Arizona who identified himself as an Arab-Israeli spoke against the motion. This Arab-Israeli Southern Baptist pastor spoke against the support Israel resolution due to, among other things, some theological and missiological concerns. This brother had to know his position was not popular, but everyone listened graciously and attentively.
Then a second pastor (from Vermont) spoke against it.
The resolution, as expected, passed with a smattering of "those opposed." As I think through the opposition I can't help but wonder if it's the first time some Southern Baptists have publicly considered our Palestinian brothers and sisters in Christ living in the West Bank and Gaza Strip. They, too, deserve our prayer and support, even while Southern Baptists clearly support Israel.
Then was the most contentious of the resolutions. That Southern Baptists should stand with decisions that have been made to lower the Confederate battle flag.
If you know the history of the SBC it's founding was in support of slavery. Northern Baptists didn't support slave-owning while Baptists from the South did—thus the birth of the Southern Baptist Convention. While the SBC officially apologized many years ago for that racist stained beginning, it's still a hammer of criticism swung by others in the culture at large.
What's interesting is that the SBC took a position that actually was a minority view in culture, since most Americans see the flag as a symbol of cultural pride rather than racism.
There were a couple of messengers who favored the motion and spoke fervently in support. Then Georgia pastor, messenger, and former SBC president James Merritt was recognized to speak. Rather than explaining what happened next, here's the video.
Following Merritt's impassioned mic-drop, the convention voted to pass the strengthened version of the resolution by an overwhelming amount. I'd estimate it was over 90%.
Now, this is not the end all of issues regarding race and Southern Baptists, but it is a good step. Still, too many have been silent at other key times and around other important issues.
However, with its history, if there was ever a denomination that needed to repudiate the Confederate battle flag, it was Southern Baptists. The SBC did—overwhelmingly. And I'm glad.
The presidential election
JD Greear of North Carolina, Steve Gaines of Tennessee, and David Crosby of Louisiana were the candidates for president this year. To win outright in a 3-way race a candidate needs 50% +1 vote is needed. The last time this had happened was in 2006.
A majority was not achieved on the first ballot, so JD Greear and Steve Gaines went into a run-off.
Gaines, in the mind of many, is of the more traditional wing of the SBC. He pastors a historic Baptist church with a storied line of Baptist leadership. Greear would have been one of the youngest presidents in the history of the SBC. He's among the more innovative thinkers in the convention. His church has grown to several thousand in attendance on multiple campuses under his leadership.
In addition to this, Gaines and Greear were seen by many as non-Calvinist vs Calvinist candidates.
Both have a passion for a renewed focus on evangelism, which is essential in the world in which we live.
But, as only Southern Baptists can do it, a two-person race produced no winner. (The details are boring, but believe me it happened.)
Praying that night and into the next morning, Greear—who had received slightly less votes in the second round—decided to withdraw, eliminating the need for a second run-off. This humble move was well received by the messengers, as was Gaines' humble acceptance of election by acclamation.
The most important thing that an SBC president does is appoint agency trustees—it sets the direction of the denominational agencies. During an interivew for the SBC Executive Committee, I asked Steve Gaines about his plan for appointing trustees (and I'll write more about that later). That is the biggest impact of SBC presidents and worth the attention of Southern Baptists.
At LifeWay, we've had amazing trustees for years, because of the good choices of SBC presidents over the years. I trust that will continue.
Missions
I'm convinced that the primary thing the SBC should be about is missions. In other words, the focus should be on God's mission to the nations. If you think the SBC is about motions, resolutions, you may miss the bigger point. That bigger point will be addressed in the remainder of this series.
The Exchange is a part of CT's Blog Forum. Support the work of CT. Subscribe and get one year free.
The views of the blogger do not necessarily reflect those of Christianity Today.