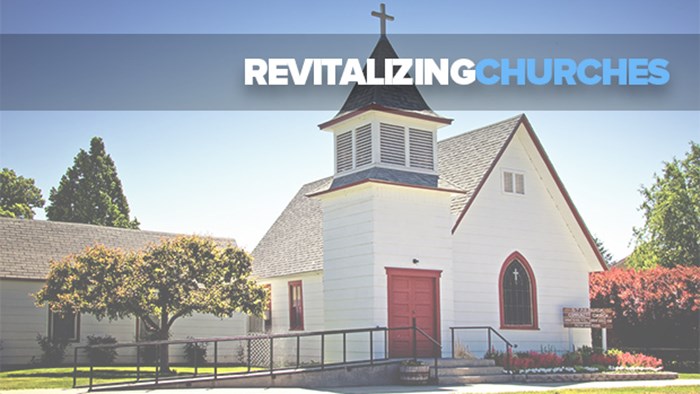 "If the church has been plateaued for more than 20 years, what is the chance of a successful revitalization?"
Honestly, most churches in decline for that long don't see a turnaround. It's not just the longevity of the decline, but the habits in which you are stuck that make revitalization a long shot.
But a church can be in decline for 20 years or 200 years and still experience revitalization.
When researching Comeback Churches, we looked at 324 churches. Our criteria were very specific. Each had to be declining for more than five years before the study. Then each had to be growing between two to five years, but no more than five years.
About 11 denominations shared their data with us. Among the Assemblies of God 1.4 percent of churches met the standard. Among Southern Baptists it was 0.7 percent. All of the other denominations were somewhere in the middle.
That does not mean that only 1% or so come back. That standard had several metrics to be sure the sample met our criteria.
A low success rate doesn't mean we shouldn't attempt to revitalize our struggling churches. There are other factors that can raise the number of successful attempts.
When churches seek to go through a revitalization process, my observation is that between 10-20 percent would successfully make that transition. Don't misread: I'm not saying 10-20 percent of churches who need to be revitalized will be. I'm referring to churches who actually seekto go through the process.
If pastors are willing to train well, engage in leadership resources, and use outside consultants and trainers to assist them along the way, that number can increase.
"I have been brought on staff as an associate pastor for revitalization. How do I engage a senior pastor who is for this revitalization, but has no desire to lead it and has no vision for it?"
To be blunt, you're probably not at the right church. People are highly unlikely to follow the pastor in the second chair into revitalization if the pastor in the first chair isn't facing the same direction.
Many pastors love Jesus and are wonderful preachers and teachers who are faithful to God's Word. Those same pastors may not know how to cast a compelling vision or lead people toward that vision.
Many pastors have a vision for revitalization within their own thinking, but don't know how to cast the vision and lead. Bible colleges and seminaries don't usually teach courses on revitalization.
In a case like that, a staff member like you can help. You can possibly come alongside and say, "Well, pastor, I know you want to do this. I think I have some principles and a plan that will help us achieve this. I believe we can lead this process together." But it will have to be together.
However, when you say that the lead pastor has no desire to lead—or vision for—revitalization, I'm not sure revitalization is doable.
Leading revitalization from the second chair is possible, but it's more challenging. Again, the question comes down to this: does the pastor not have a vision because the pastor does not want revitalization, or because of a lack of ability to express and engage in leadership and vision?
If a pastor lacks giftedness in vision casting, you could be a great help to that process. You can help a willing pastor cast a vision for revitalization and transformation. But if the pastor has no concern for revitalization, then your job will be all but impossible.
"Is revitalization (or should it be) an ongoing process for all churches, even those that are growing?"
Yes. Revitalization addresses a lack of vitality, so something needs to happen to recapture that momentum. A growing church can be vital and not need revitalization currently, but churches always need a sense of revisioning to remain vital.
Most churches begin to plateau and decline at some point in their life cycle. This happens in part because they don't sit down and listen anew to God. What is God calling us to do now? Where is God calling us to go now? Who is God calling us to reach now?
Any church that shifts into neutral will eventually slow to a stop.
Regular revisioning and evaluation is a helpful practice in that process. I encourage churches to have an annual time of gathering, of vision, of conversation about what the Lord is saying to your church in order to address the areas where you are weak.
Consider going through the Transformational Church Assessment Tool. LifeWay Research created this resource based on the research done for the Transformational Church project. It allows you to see how you're doing as a church and adjust accordingly.
These are simply ways to find out where you're growing, and where you're facing some challenges. Maybe you will find that your church is strong in evangelism, but weak in service. This information provides the foundation to ask your team, "How do we build on that this year?" That will likely shape some of what you teach and preach as a pastor.
A better job of evaluation along the way makes it possible to avoid the major slide into lethargy and chaos. Just like with your car, or computer, or body, routine maintenance and tweaking is better than a complete overhaul.
The Exchange is a part of CT's Blog Forum. Support the work of CT. Subscribe and get one year free.
The views of the blogger do not necessarily reflect those of Christianity Today.