Mar 19, 2016
Seminars
Saturday is for Seminars—HDI Disaster Ministry Conference
Velocity, and Disaster Ministry Conference. Find out how to be involved! |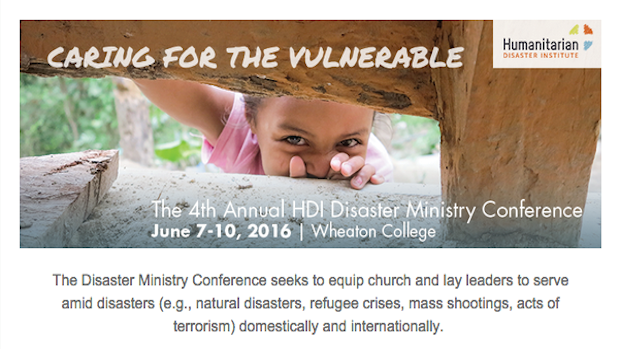 Register for the Velocity Conference, or contact them for questions.
The 2016 HDI Disaster Ministry Conference is themed Caring for the Vulnerable. Speakers include: Bishop Efraim Tendero, Sheryl Haw, Hugh Heinrichsen, Dr. Jamie Aten, Kent Annan, Dr. Kathleen Kendall-Tackett, Dr. David Boan, Rev. Michael Carrion, and me.
From the website:
Register for the HDI Disaster Ministry Conference.
I look forward to being a part of both of these conferences.
Coming Soon
April 8-10, 2016
Colson Center Wilberforce Weekend
Washington, D.C.
April 17, 2016
The Moody Church
Chicago, IL
April 22, 2016
AWANA National Meeting
Streamwood, IL
April 23-24, 2016
Christ Fellowship Miami
Miami, FL
April 26-28, 2016
Exponential East
Orlando, FL
April 27, 2016
Reformed Theological Seminary President's Forum
Orlando, FL
May 19, 2016
National Conference on Preaching
Washington, D.C.
May 20, 2016
American Association of Christian Counselors' The Church and Mental Health Summit
Charleston, SC
May 28-29, 2016
Christ Fellowship Miami
Miami, FL
June 8, 2016
Humanitarian Disaster Institute Conference
Wheaton, IL
June 11-12, 2016
The Journey Church
St. Louis, MO
June 13, 2016
Southern Baptist Convention Pastor's Conference
St. Louis, MO
June 28-30, 2016
Amplify Conference
Wheaton, IL
And, every Sunday I am at home I am at Grace Church where you are always welcome!
Support our work. Subscribe to CT and get one year free.