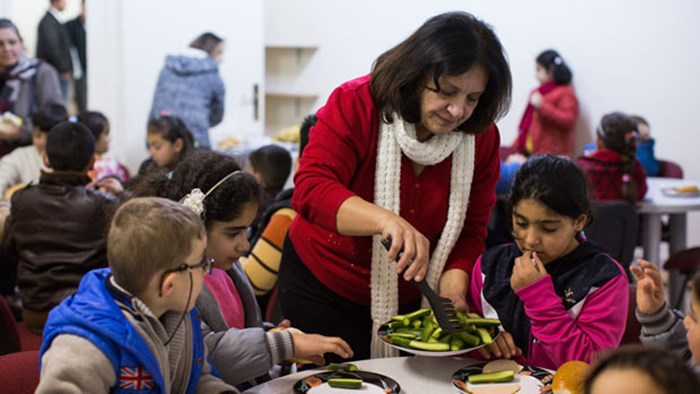 Image: Esther Havens
With the help of local churches and volunteers, World Relief has resettled 271,500 refugees since 1975. The refugees received practical help and a warm welcome in the name of Jesus.
All told, the U.S. has resettled about 3 million refugees in that time period.
Here's how the process works:
Who qualifies as a refugee?

A refugee is someone who has fled their home country and cannot return because of a well-founded fear of persecution based on religion, race, nationality, political opinion or membership in a particular social group. Refugees often are forced from their home by war, violent political conflict, or natural disaster. Refugees often register with the United Nations High Commissioner for Refugees (UNHCR), which determines whether they qualify for refugee status.
All told there are about 20 million refugees in the world, according to the United Nations.
What kind of options do refugees have?

The best solution for refugees is to be able to return to their countries, usually after a war is over and life has returned to some semblance of order. Many refugees desire to go home eventually and are able to do so once conditions are safe.
If their home country is not safe, another solution is what's known as local integration. Most refugees, once they flee to a neighboring country, live in refugee camps or in urban settings, where they may stay for 10 years or more. In those setting, refugees try to build some semblance of a normal life for their families. At that point, many have become integrated into their new country and have adopted that country's values. Seven countries: Syria, Iran, Pakistan, Lebanon, Turkey, Palestine and Jordan—host more than half of all refugees.
Refugees who can't return home or stay in their host country are candidate for resettlement. Less than one percent of refugees will qualify for resettlement. Refugees also cannot apply for resettlement--they are chosen by UNHCR or the governments of one of the resettlement countries. Only refugees who cannot return home or locally integrate are considered for resettlement.
What are some facts about the refugees who have come into the United States in recent years?

The United States has resettled around 70,000 refugees over the past few years. The refugees have come from more than 50 different nations. The median age was 26. Refugees from South Sudan tended to be younger, with a median age of 19. Refugees from Iraq were older, with a median age of 37. About half were women (47 percent.)
About 1 in 10 (10.3 percent) were resettled in Texas. Other top states were California (8.7 percent), New York (5.8 percent) and Michigan (5.7 percent)
Who decides where refugees are resettled?

The (UNHCR) identifies the most vulnerable individuals for resettlement. Among Syrian refugees, this includes victims of torture or women heads of households who cannot safely return home and face challenges in their current living situation.
Candidates for resettlement are referred refugees to countries like the United States. Those refugees then go through a vetting process that takes on average 18 to 24 months. This includes multiple security checks from law enforcement and intelligence agencies; a face-to-face interview with the Department of Homeland Security; a medical screening; cultural orientation; a second security clearance; and a final check at the airport.
What happens after a refugee arrives in the States?

Refugees are matched with one of nine non-profits, like World Relief, who specialize in resettlement. We look at their biographical information and try to find if they have family or other connections to a city. If not, we try to find the best match for that family in one of the 27 different cities where we work.
Once they arrive in the United States, we have 6 to 8 months to help them get on their feet, find a job, and learn English. Most of the refugees do find a job within the first six months or so. They also to English classes and are quickly integrated despite their experience being a refugee overseas.
Our aim at World Relief is to pair every refugee with a local church. This church can then establish a friendship with the refugees, which helps them in their integration. Many churches find working with refugees an incredible joy.
How much does resettlement cost?

In fiscal year 2014, World Relief spent $27.4 million on assisting refugees—from initial resettlement assistance to long-term care for refugees. Government grants covered $12.2 million of those costs. The rest were covered by donations from churches and other supporters.
Refugees also help support the ministry, through the travel loan repayment program. Some also become donors themselves. Many refugees quickly become employed once in the United States and contribute economically, socially and culturally to the their new homes.
Why are refugees required to repay their travel loans?

For more than 35 years, the US government has given interest-free loans to refugees for their travel. By repaying their travel loans, the refugees learn financial management and develop a credit history. Having a credit history helps refugees get a home mortgage or a loan for a car.
Proceeds from the loan payments help to create new loans for future refugees.
World Relief retains a 25 percent commission from the loan repayments. This portion of interest-free loan principal is used to fund additional Word Relief projects that often benefit the refugees and other immigrants World Relief serves.
Why is World Relief collecting on loans?

Refugees develop a trusting relationship with World Relief staff during their first few months in the United States. They pay their loans back to someone they know, and staff are able to assist refugees who face significant financial or medical hardship. World Relief is better suited than the government or an international agency to collect such loans, because we have a relationship with them.
How can I help?
There are so many ways to engage in the refugee crisis. If you're willing to devote your time to helping, consider joining a Good Neighbor team that welcomes refugees and helps them acclimate to life in the United States. Another tangible way to help is by donating Welcome Kits or giving monthly to support the work of World Relief. Prayers are also vital; check out this weekly prayer guide or follow Pray for Refugees on social media.
Last but not least, advocate for refugees by staying on top of proposed government reform and contacting your representatives when necessary, or less formally by debunking myths when you hear them in casual conversations. All that said, following World Relief on social media is an easy way to stay on top of the various opportunities and current advocacy opportunities.
The Exchange is a part of CT's Blog Forum. Support the work of CT. Subscribe and get one year free.
The views of the blogger do not necessarily reflect those of Christianity Today.