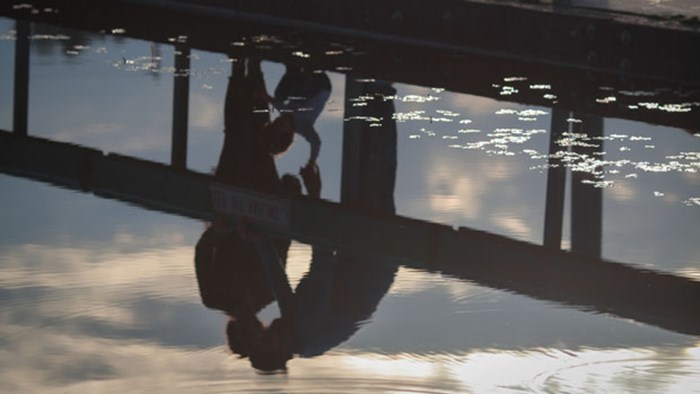 Image: Heidi Isaza / World Relief
At first glance, Abdulrahman may appear like any other Seattle hipster, in a flannel shirt and skinny jeans, with a finely groomed beard, his hair tied into a "man-bun."
Not that long ago, he and his family were refugees, living in Turkey, having left their home country of Iraq. For two years, the 20-something Abdulrahman, along with his wife and daughter, lived in a tightly stacked apartment complex in Sakarya, Turkey.

Their lives were on hold.
Their future uncertain.
Everything they loved had been left behind.
Then one night, Abdulrahman got a call that changed his family's life. That call brought the news that Abdulrahman, along with his wife, Zeena, and their baby daughter would soon been headed to Seattle. There they would be resettled with help from World Relief.
Stay motivated, he tells them. It's not easy, but not impossible.
After hearing the news, Abdulrahman turned on the light, threw open his bedroom window and shouted for joy. He and his family were finally headed to America to start their new lives.
Today Abdulrahman is a certified nursing assistant, a full-time student at Everest College, security guard at Star Protection Agency, husband, father and friend to many.
With the help of World Relief's federal Matching Grant program, he was able to fund his CNA certification and find a job that would accommodate his school schedule while covering the families living expenses.
Abdulrahman's journey to America started early. He began hanging around U.S. troops who were patrolling the streets of Baghdad during his childhood, and looked up to them as heroes. By the time he was 17, he applied to work as an interpreter for the U.S. military, but was rejected for being too young. A year later, he applied again and was accepted on his 18th birthday. He spent the next four pivotal years of his life working alongside Americans in combat situations, learning U.S. military culture and ethics.
"They taught me so many things," he says. "They helped make me who I am today."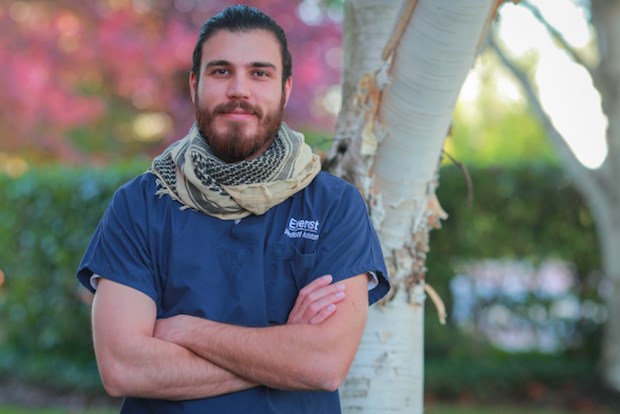 Image: Heidi Isaza/ World Relief
Following his years of service to the U.S. military, Abdulrahman went back to school to pursue a degree in law. But on the day of his final exams to complete his degree, his family was threatened. They were forced to flee to Turkey for safety. Abdulrahman could not finish his law degree after nearly four years of investment. But he refused to give up, and began to search for a new dream.
He got a job working in a pharmacy, and began to learn medical terminology by studying the labels on pillboxes. By the time he was granted passage to the U.S., he had a new dream: a career in the medical field.
Almost immediately after his arrival, Abdulrahman began a certification class as a CNA and less than two months later had enrolled full time as a Medical Assistant student at Everest College in Renton. He now utilizes his phone and Google translator to interpret unknown words and concepts from English to Arabic during class lectures. He spends extra time at home memorizing words and definitions in English while simultaneously learning the concept in Arabic.
"Demonstrations and clinicals are easy for me," he says. Textbook assignments are twice the work.
"They helped make me who I am today."
Abdulrahman came with a clear vision of what he wanted to accomplish when he came to the United States. He was not naïve in thinking it would be easy. Like anyone else new to this country, he has faced definite challenges that come along with confronting a new culture and place so different from your own.
He often relies on lesson he learned while working with the U.S. military: "Put yourself in the hurricane and be a part of it. Stay calm and don't freak out."
In the midst of a whole new world that is swirling around you, Abdulrahman advises all newcomers to the U.S. to have a dream. Stay motivated, he tells them. It's not easy, but not impossible. Unforgettable moments of joy await.
The Exchange is a part of CT's Blog Forum. Support the work of CT. Subscribe and get one year free.
The views of the blogger do not necessarily reflect those of Christianity Today.