Mar 9, 2016
Refugees
World Relief: Involving Churches in Resettlement
The crucial role of volunteers in refugee resettlement |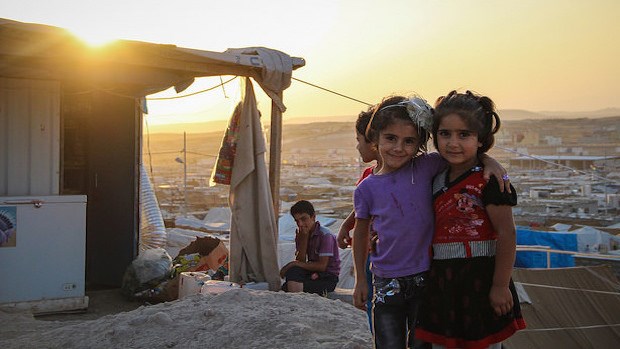 European Commission DG ECHO / Flickr
Lisa, a volunteer from Life Center Church in Spokane, Washington, had never heard of World Relief before she started attending the church.
Then a sermon from Pastor Joe Wittwer caught her attention.
Pastor Joe was preaching about using your spiritual gifts to help others. That made her start wondering—what do I have to offer?
"There were two points that stuck out to me," says Lisa, in a video produced by the church. "The first one was that you shouldn't be worried about what you don't have. Worry about what you do have."
The second point: If you try, you will succeed.
"I thought, I can try," says Lisa, "I don't have a lot to offer but I can try."
Not long afterwards, she had been through volunteer training with World Relief and was matched up with Bushra and her family. They were refugees from Iraq, who'd resettled in the U.S. after fleeing their home country.
Like many refugees, Bushra often felt isolated and alone, far away from the home she'd left behind. The life she once knew—where her husband had a good job and she was surrounded by family—was gone.
"I missed everything," says Bushra in the church video.
Refugees who come to America need practical help, like food, clothing, and transportation, along with assistance in navigating American culture: help with school registration, community orientation, job preparation and English tutoring.
Volunteers like Lisa, who are part of church-based Good Neighbor Teams for World Relief, provided much of this assistance for refugees. But they offer something more important—simple human kindness and friendship.
By valuing the stories, dreams and contributions of refugees, churches and small groups are extending the gifts of friendship, belonging, and acceptance to those who are entering an unfamiliar world.
For Lisa and Bushra, what started as a volunteer opportunity soon turned into something deeper and more valuable—a true friendship.
"If you live alone, and you don't have any family–it's really hard," says Bushra. "She's like my sister now. She's not my friend, she's my sister."
Lisa says that at first she saw volunteer as another job – and wondered if she'd have time to fit it into her life. But volunteering isn't work, she says.
"It's been about being someone's friend," she says. "And as a result, as with any good friendship, you learn a lot about yourself."
Lisa has also come to have deep respect for her friend Bushra and what she overcame as a refugee.
"Bushra is quite possibly one of the bravest people I know," she says. "She resettled her whole family and supported everybody. She is an amazing lady."
Other churches in Spokane, and around the country, have joined World Relief in ministering to the needs of refugees.
The Good Neighbor team at North Church in Spokane, comprised of people of different ages and stages of life, came alongside recent refugees to Spokane, including an 11-member Muslim family from Somalia.
"We are connected to a mission beyond ourselves as we obey the Great Commission," said North Church pastor Mark Mead.
He expected the team would be a blessing to refugee families, but he wasn't expecting the blessings that came to him and his church as a result of serving. In the next year, the church hopes to form six to ten more Good Neighbor Teams.
"We share the mission of Jesus and that is what attracts people to our group," says Pastor Mead. "Thank you, World Relief for helping mobilize the local church to what moves the heart of God."
Sometimes all it takes is a small act of faith, says Lisa.
"It's funny how life goes—you do something little—and sometimes it leads to something big," she says. "And that is what this has been."
Support our work. Subscribe to CT and get one year free.