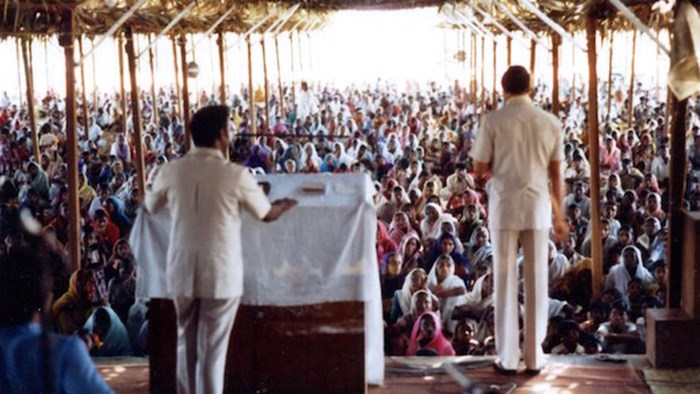 Image: Wikipedia
Ed Stetzer: Brian, why did you think it important to produce Evangelicals Around the World?
Brian Stiller: I was browsing in a bookstore and saw Evangelicals for Dummies. In flipping through the pages I was impressed with their accuracy, but all they wrote about was the United States.
Listening to the news and hearing how Evangelicals have become a voting bloc in North America, I knew then it was time we defined ourselves.
ES: What was the next step?
BS: I contacted Mark Noll from Notre Dame and Chris Wright in England and asked them if a global book—defining Evangelicals—had ever been done. They knew of none. The more I searched, and as I came up against all kinds of misinformation and misalignments, I knew it was time we told ourselves and others who we are in the world.
ES: So how many Evangelicals are there?
BS: About 600 million.
ES: Where do Evangelicals actually fit in the broader Christian tradition?
BS: There are three basic categories: Roman Catholics are 1.2 billion. The World Council of Churches (which includes the Eastern Rite and Orthodox) are 500 million and the World Evangelical Alliance represents 600 million.
ES: Explain a bit about where Pentecostals fit since they "spill over" into other traditions.
BS: There is a debate as to where they fit as members of the Evangelical clan, but most scholars see them as part of the Evangelical family. Although, with their influence in other Christian communions and the wider Charismatic groupings both within the Protestant and Roman Catholic communities, as a group it is estimated to be around 300 million.
ES: How did you go about the project?
BS: I assembled three outstanding scholars and writers: Todd Johnson, Director for the Center for the Study of Global Christianity as Associate Editor, Mark Hutchinson scholar and writer from Australia as Area Editor and Karen Stiller, editor of Faith Today magazine in Canada, as Managing Editor.
Then we scoured the earth, looking for writers who knew about their region or about a topic we saw as being critical. That wasn't easy as so often they are busy, but in the end we were so pleased with the quality of research and writing.
ES: To whom is the book geared?
BS: There are multiple audiences. As I was formulating the idea, my wife and I were in Luxor, Egypt. A church had been burned. It occurred to me, the pastor and his congregation is probably thought of as a cult. "What if the pastor had in his hand a world handbook that showed he was part of a 600 million community worldwide?" I wondered. And what if the pastor took that handbook into the local imam and said, "I'd like you to know who we are and what we believe?" I wonder if that might reposition his church in the mind of those in the community?
As well, researchers, writers and journalists pick up a latest news wire message and jump to all kinds of bizarre conclusions. It was important that we set the record straight.
With the shift of the center of Christianity from the north and west to the Global South, I think it matters that we in the west see the marvels of the Spirit at work in so many other places. Most Christian magazines, television and radio output here are about us, our churches, our problems, our politics. What makes a Christian different is that the Spirit engages us in heart and mind with Christians stretching around the world. Putting facts and faces to our people, wherever they are, can have great effect in opening our hearts to others and what God is doing.
ES: What surprised you the most in writing this?
BS: The incredible richness of our heritage. And the ingenuity of men and women providing teaching, inspiration for spiritual renewal, humanitarian assistance and political engagement. This dynamic grouping of Christians is on the move.
What really caught my attention were the primary drivers expanding and mobilizing the church. First was this: faith is on the rise. While we hear the assumption of western commentators that secularization is the given, that globalization will strip faith of its attraction, power and influence, they're wrong. The opposite is true.
ES: What is the heart of Evangelicals Around the World?
BS: First, and this even surprised me, we lead off with a chronology of 200 events in Evangelical history. This immediately takes you to the people, movements and moments in time, providing a quick bird's eye view by way of following from 1521 to 2010.
Then a superb history, along with primary on our theology. There are stimulating pieces on a whole range of issues with which Evangelicals interact, including Ecumenism, Women in Ministry, Roman Catholics, politics, science, then we tackle each region with a brief history and update.
We have a great piece on statistics which gives a quick view of the numbers globally and by region.
Sprinkled within the many pieces are stories about people, showing the working of the Spirit in diverse, difficult and surprising places.
Frankly it's a thrilling book to have at your side. Probably most won't just read this through in a few sittings, but will have it along side their reading, refreshed by insights, stories, histories and statistics which tell the grander narrative of the Lord and His church, working, in this case, through the people of God we call Evangelicals.
The Exchange is a part of CT's Blog Forum. Support the work of CT. Subscribe and get one year free.
The views of the blogger do not necessarily reflect those of Christianity Today.