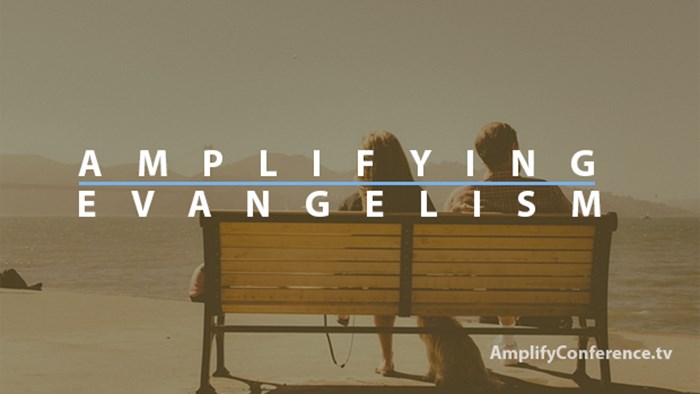 In a few weeks, a very special conference on evangelism will take place at Wheaton College called Amplify. It's a bit of a mystery why there aren't more conferences like this in light of the fact that so few churches are actually growing through evangelism. Maybe there's a connection.
Just look at the worship movement that's swept across the world. Worship conferences and seminars abound. These conferences have become catalysts that help identify and train worship leaders who are providing local churches of all types and sizes with an incredible worship experience. It would be hard to find a church that doesn't have a worship leader or a worship team consistently laboring to help inspire every believer to be a worshipper. I'm convinced that if we follow this same pattern we would see evangelism become just as prevalent as worship.
With a few adjustments they can become "engaging churches." These are congregations that are intentionally equipping believers to engage unbelievers with the gospel. It starts with finding and releasing these evangelism leaders who will build an evangelism team that equips the body of believers in this vital ministry. In scripture, these leaders are called evangelists. When these evangelists are identified and trained, they will provide the consistent leadership that can transform any church into an engaging church.
I discovered I was an evangelist shortly after I came to Christ in college. Almost from the start I was leading people to Christ, including my atheist brother who was in law school. Within two years, I was helping to plant churches on college campuses. Within my first five years of ministry, I helped plant 32 churches. The essence of this strategy was for me to partner with a pastor who would eventually lead the new congregation after our initial outreach to launch the church. That works out to being involved in a new church plant every other month for over 60 months.
"Do not neglect the gift you have."
As Paul told Timothy, "Do not neglect the gift you have, which was given you by prophecy when the council of elders laid their hands on you. Practice these things, immerse yourself in them, so that all may see your progress" (1 Tim. 4:14-15).
Because I knew that I had the gift of evangelist, it motivated me to focus on evangelism. This meant not only sharing the gospel with others, but equipping fellow believers to do the same. On a larger scale, when this gift is not neglected, the progress and growth of the Church will be seen as well!
When evangelists are a part of the local ministry team, the evangelistic fervor (as well as expertise) rises dramatically. We have seen this happen in hundreds of churches, as well as church plants. The growth in some instances has been staggering. We shouldn't be surprised by this in light of the testimony of the Early Church in the Book of Acts, where it is recorded, "So the word of the Lord continued to increase and prevail mightily" (Acts 19:20).
The more people share the gospel, the more people come to Christ. It's that simple. Of course, they must be taught and trained to be ambassadors and defenders of the faith. This is done best by those with the gift of the evangelist.
The more people share the gospel, the more people come to Christ.
This truth came into sharper focus for me during my doctoral research at Fuller Theological Seminary. After many years of planting churches and campus ministry, I took time to study the state of evangelism in the North American Church. Some estimated that only 3% of churches were growing through evangelism (2010).
It became glaringly clear that one of the primary reasons was the fact that evangelists were missing (in most cases) from the local church team. I was told my doctoral dissertation on "The Gift of the Evangelist" was actually the first in the world written specifically on this gift. This again should be another indication of how overlooked this vital ministry gift has been.
During my research, I interviewed leaders from around the world and asked how they came to know their spiritual gifts—particularly those I suspected might be evangelists. Some of the most prominent pointed to attending an evangelism seminar as a factor that helped them realize that they were gifted as evangelists. Even though they are now serving as senior pastors of large churches, they admit they are actually the evangelism leaders in the congregation.
To put it in more familiar language, to have a church that is truly missional, you must recognize and utilize the people God has gifted by His grace to make the Church missional: evangelists.
We live in an extraordinary time where opportunity abounds for outreach to a growing number of people who increasingly self-identify as "non-Christian." The crisis and stress that fills our world has produced open hearts and minds everywhere you turn. Christians of all ages are hungry to learn how to share their faith with others, as well as learn how to defend its truth against the skeptical challenges with which they are confronted. With a little effort we can see our congregations transformed into training centers for evangelism and apologetics. They can become engaging churches!
In just a few weeks, some of the most prolific evangelistic leaders of this generation will convene in the suburbs of Chicago for a dynamic time of training, inspiration, and strategy at the Amplify conference. This moment could indeed light a fire in anyone who attends and send them back to their church, school, or business with a fresh sense of mission and grace to be effective witnesses for Christ. There has never been a more critical time than now to make evangelism the top priority.
The Exchange is a part of CT's Blog Forum. Support the work of CT. Subscribe and get one year free.
The views of the blogger do not necessarily reflect those of Christianity Today.