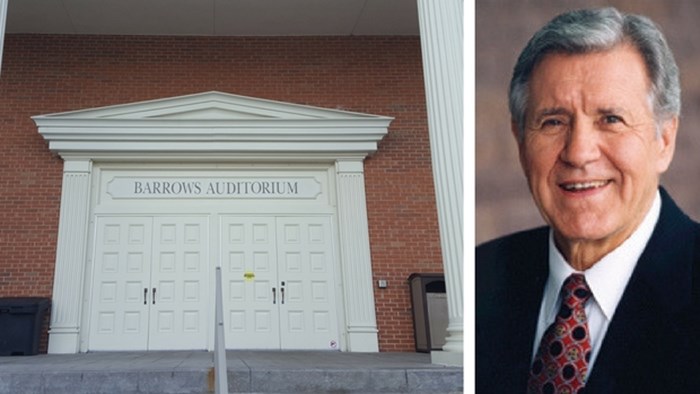 Every day when I come into my office at the Billy Graham Center, I walk through the main doors marked "Barrows Auditorium." Once inside, I pass by the auditorium, which, to this day, is often filled with students and outside groups singing gospel, contemporary, and other songs which fill our spirits and lift our eyes to Jesus.
In fact, Cliff Barrows once said, "The Christian faith is a singing faith, and a good way to express it and share it with others is in community singing."
Today, this great man of faith, who perhaps led more people in a choir than anyone, has gone to be with the Lord he loved and gave his life worshipping.
Clifford Burton Barrows (1923-2016), 93, of Marvin, NC, is perhaps best known as the song leader and choir director of the Billy Graham Crusades. Born on April 6, 1923, in Ceres, CA, he was the oldest child of the late Charles T. and Harriet M. Barrows. He came to faith at the age of 11 when the pastor preached on John 3:16. In 1944, he was ordained as a Baptist minister.
From 1945-1948 he worked as a Youth for Christ evangelist and song leader and in 1945 he joined Rev. Billy Graham at a rally in Asheville, NC. He and his new wife, Wilma "Billie" Newell, were attending a Youth for Christ rally in Asheville and the rally and the scheduled song leader and piano player was not able to attend. Rev. Barrows filled in, beginning a lifelong association with Rev. Graham. He served as music director, song leader, and master of ceremonies at almost all of Graham's evangelistic meetings.
Rev. Barrows was inducted into the Gospel Music Hall of Fame in 1988. In 1996, he was also inducted into the Religious Broadcasting Hall of Fame. Rev. Barrows was inducted into the inaugural class of the Conference of Southern Baptist Evangelists' "Hall of Faith" in 2008. In addition to his 'professional' accomplishments, Rev. Barrows and his wife, Wilma, had five children: Bonnie, Robert, Betty Ruth, Clifford (Bud), William Burton. After Wilma passed away, Rev. Barrows married Ann Prince.
When you hear the name Cliff Barrows, many of us think integrity. That's what the Bible calls having a "good name." In fact, Proverbs 22:1 says, "A good name is more desirable than great riches; to be esteemed is better than silver or gold."
Moments ago, as I prayed with a group of church leaders for his family, I also prayed for ourselves. I prayed that we, like Rev. Barrows, might live lives of such integrity and impact.
Rev. Barrows once said, "I've had no greater joy than encouraging people to sing. Every great moving of the Spirit of God has been accompanied by great singing. I believe it will always be so!"
As we remember his magnificent legacy and his contributions to not only worship through song, but lives moved from lost to found, let's follow his legacy. If he has taught us anything, he has taught us to keep singing of our Jesus until our final breath and until revival breaks out across our communities, nations, and world.
Thank you, Rev. Barrows, that you lived a life of integrity and taught us what true worship looks like.
A funeral service will be held on Tuesday, November 22, at 10:30 am at Calvary Church in Charlotte, NC.
The Exchange is a part of CT's Blog Forum. Support the work of CT. Subscribe and get one year free.
The views of the blogger do not necessarily reflect those of Christianity Today.