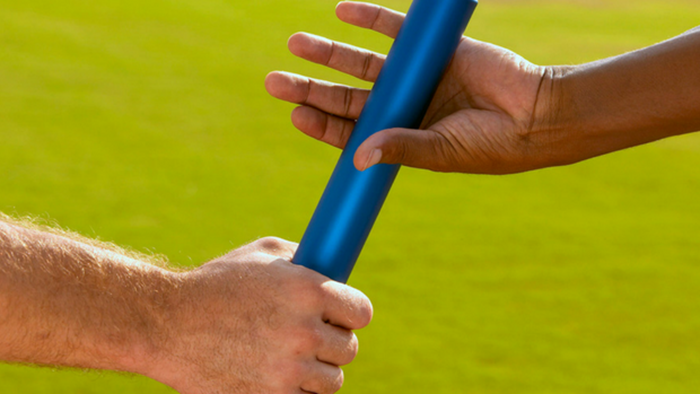 "No one will be able to stand against you as long as you live. I will be with you, just as I was with Moses. I will not leave you or forsake you. Be strong and courageous, for you will distribute the land I swore to their fathers to give them as an inheritance" (Joshua 1:5-6).
I have a baton sitting on my desk in my office with the verses above etched into it. It reminds me daily of the challenge and responsibility to carry forward the legacy of mission at Eastbrook Church, where I serve as senior pastor. Throughout our thirty-five years as a church, a strong sense of mission has been upheld not only by our founding senior pastor, Dr. Marc Erickson, but also by the ownership of our entire congregation. A courageous group of spiritual giants stand within the memories of Eastbrook's history of mission like a local version of Hebrews 11.
When I took the helm just over four years ago, we entered a season of leadership transition, weathering it well by God's grace. In the midst of this transitional time, we have worked at keeping the calling to mission central in this new era of ministry. I want to share four characteristics I have come to believe are essential for building on legacy to strengthen churches to move forward powerfully for mission.
History
The Psalmist encourages his readers with these words, "Let the redeemed of the Lord tell their story" (Psalm 107:2). One important aspect of our life in the church is to tell the stories of what God has done in our midst. As time goes on in the life of a church, particularly in leadership transitions, we risk losing our sense of history.
But retaining historical awareness of the church's mission is especially important in moving forward. Some churches are stuck in the past, or at least attempt to move forward while engrossed with what is behind. This, of course, is not constructive. Yet neither is it helpful to ignore the past, lurching thoughtlessly for the future without at least considering the value of what has come before. Every church has a story, and that unique story must be understood in order to build for the future.
When I came to Eastbrook, there were many stories of what had come before, but two loomed large. One story arose from a relationship with house church leaders in Asia. When a couple from Eastbrook went to live in that country, it quickly became apparent that there was a huge ministry opportunity for orphan care. Through the orphan care work, our congregation stepped forward to adopt children who otherwise would most likely never find homes because of challenges they faced. A deep heart connection with these children developed as they became part of families within Eastbrook. It certainly changed the children's lives, but it also changed our church.
One other gripping story within Eastbrook's history of mission came through relationship with a Somali believer, Ahmed Haile. Haile relates his own story in his book Teatime in Mogadishu, which in itself is well worth the read. Eastbrook had the chance to send a team to develop and sustain a hospital in the Horn of Africa during a very tenuous time there. Stories of courageous ministry continue to echo down the halls of our church from those days, inspiring others to step out with risky faith.
Those stories are more than just dusty anecdotes of bygone glory. They are powerful milestones in the life of our church that have shaped us into who we are today. I do not have time to detail stories from Guatemala, Belarus, Lebanon, and even our own city that have shaped our missional identity. During our leadership transition, a critical need for us was to stop, listen, and reflect upon our history as a church. As we did that, we began to consider where God was leading us into the future.
When we know our church's unique history of mission engagement, we can honor the past. Even more, this historical awareness becomes an important piece of discerning the present calling of God upon each church, enabling us to build upon the strengths of our history for a new era of ministry. Without recognizing these foundation stones, we would have missed a huge opportunity for ministry.
Relationship
The stories mentioned above demonstrate that relationships are central to Eastbrook's approach to mission. This confirmed what I saw during my time working with World Relief—that meaningful relationships not only facilitate effective work, but also form the bedrock of trust by which gateways of ministry that otherwise might remain closed are flung open.
One of the great legacies that Pastor Emeritus Marc Erickson and his wife, Nancy, established at Eastbrook was a wealth of friendships around the world that led into ongoing ministry partnership. I intentionally place the words in that order because I believe that the friendships were primary and the ministry work followed. When I joined Eastbrook's staff, Marc introduced me to friends in Jordan, Kenya, India, China, and other settings. The relational introduction served as my education in Eastbrook's missional endeavors.
Now, those same people are my friends, even as we continue to serve together on mission. The work of mission happens best through relationships. Jesus speaks to this when he tells his disciples, "I have called you friends ... I chose you and appointed you that you might go and bear fruit – fruit that will last" (John 16:15-16). Where relationships are strong, mission is fruitful.
As church leaders, we should consider the key relationships God has developed between us, our church, and others, both here and around the world. What ministry leaders, partner churches, or field workers has God brought into your path? How might those relationships become pathways for vital ministry in the years ahead?
In recent days, like many urban pastors, I have been wrestling in thought and prayer about how to respond to the racial tensions in the United States. In the midst of this wrestling, I reached out to a local pastor from across town, Bishop Walter Harvey, to talk these matters through and pray for God's guidance in our own city of Milwaukee. It was this budding friendship that unexpectedly led us into an initiative in Milwaukee aimed at bringing pastors and ministry leaders together to "seek the peace and prosperity of the city to which I have carried you into exile" (Jeremiah 29:7). Friendship was the furnace that warmed our hearts to pray and set the blaze of ministry in us together.
God is a relational God, and we too are relational beings. What better way to gain momentum for mission than by strengthening existing relationships, being available, and pursuing new relationships? While I would never say this is my strength, what I have learned to do is to slow down and take time with others, open my home to guests passing through, and intentionally plan my international travel with space to simply be with others.
The Exchange is a part of CT's Blog Forum. Support the work of CT. Subscribe and get one year free.
The views of the blogger do not necessarily reflect those of Christianity Today.