Nov 24, 2016
thanksgiving
Psalm 100: A Call to Give Thanks
Behold, the veil of the temple was rent in twain from the top to the bottom. |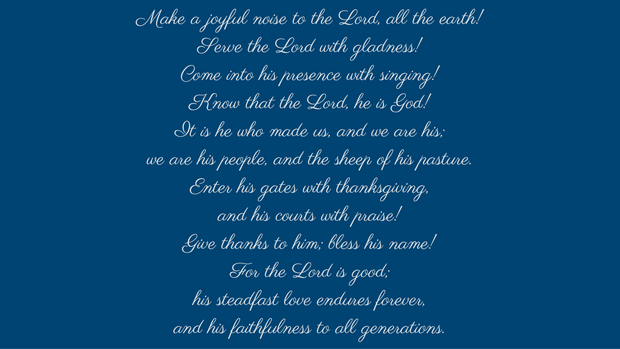 Image: auntiesem
One of the first chapters of scripture I memorized was Psalm 100. It was actually easy to memorize because it was put in the form of a song. It started, "Make a joyful noise unto the Lord, all ye, all ye lands."
This psalm reminds me of the importance of thanksgiving in general, and perhaps more so, thanksgiving today, on American Thanksgiving Day. This time of year gives us the opportunity to be thankful for so many things. We look, for example, to the words of the Psalmist, who tells us to "make a joyful noise," "serve the Lord," "come into His presence," "know," "enter," and "give thanks to [and] bless His name."
I find, however, that thanksgiving is one of the first things to be smothered when life deals us hard blows and the world seems to be crumbling around us. Our prayers, if they exist during times like these, take the form of pleas instead of praise. We lose sight of God's goodness in the midst of the dark.
But the Psalmist's words were a call to shout triumphantly because they were not fighting for victory, but they were fighting from victory. The same is true today.
It may not seem like it, but the Lord has won the battle. Our battles. We put on His armor and follow Him into the hard places. Yes, when we're in the midst of uncertainty, it may not seem as though God has won, but scripture reminds us over and over again that He has. That's a promise we cling to.
So what do we do with this knowledge? We are called to serve the Lord with gladness, to come before Him with joyful songs. We do so because God has made us new in Christ. He has transferred us from the domain of darkness into the kingdom of his beloved Son. The Psalmist acknowledges in verse 3 that Yes, He is God, He has made us, we are His people, the sheep of His pasture!
All thanksgivings flows from verse 3. We know who God is and how He approaches us and who we are in Him.
Therefore, we have great freedom to enter His gates (vs. 4). We can enter into His gates with thanksgiving and His courts with praise, and in doing so, we have greater entry when the veil has been ripped from top to bottom, when Jesus died on the cross for our sins and in our place. We can now enter His gates fully with praise.
We have full access through the blood of Jesus shed for us, validated and the victory made real through Jesus being raised from the dead for us all. God is good, His love is eternal, His faithfulness endures to all generations. That's why I can get up each and every day and be thankful to the Lord. His faithfulness does endure through all generations.
This Thanksgiving, amidst all the brokenness in our world, in our nation, and in our communities, let's meditate on Psalm 100 and what it calls us to: God's presence, God's goodness, and our worship of Him.
Support our work. Subscribe to CT and get one year free.