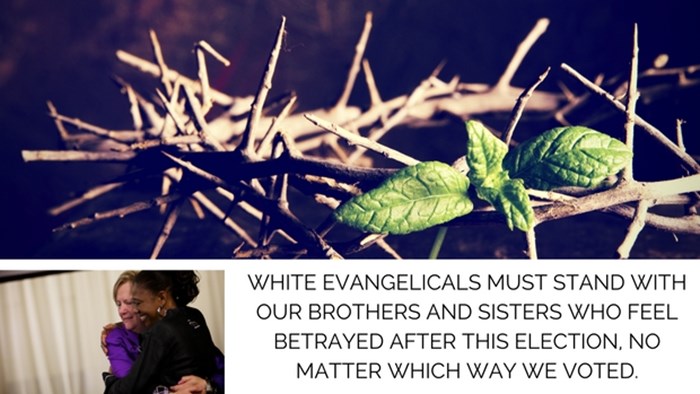 In 2010, visual artist Gene Schmidt embarked on a journey using Philadelphia, the City of Brotherly Love, as his canvas. Schmidt used panels of scrap wood to recreate 1 Corinthians 13 and laid it out against buildings and along sidewalks throughout the city. His work of art is now displayed throughout Wheaton College's campus. Every day, as I walk into the Billy Graham Center, I see a section of these scrap pieces.
Here is the portion I see: "If I speak in the tongues of men and of angels, but have not love, I am a noisy gong or a clanging cymbal."
Without love we have nothing as the Body of Christ.
The past 48 hours I've done interviews with reporters asking, "Where do we go from here? Where does the Church go from here?" I've gotten tweets and emails and seen endless posts that have one common thread, which I believe is critical for us if we are truly to walk together as one in the coming days. This thread is the need for authentic repentance and reconciliation.
A Deep Divide
What was once perhaps in the background has emerged to the surface: a deep divide between White, Black, Latino, and Christians of varying backgrounds. With estimates that 4 out of 5 White Evangelicals voted for Trump, many non-White Evangelicals feel betrayed.
Many are asking, How can White Evangelicals shut their eyes to the reality of a man (Trump) who seemingly allows and even perpetuates painful and ongoing wounds that many of our brothers and sisters deal with each day—prejudice, harassment, marginalization, violence, and rejection? How can White Evangelicals check that 'yes' box to a man (Trump) who, by his very life, seems to demonstrate a lack of the very love and unity we are called towards as followers of Christ?
These are fair and real questions.
Black, Latino, and other people of color are hurting right now, and I, as a white Evangelical, should acknowledge and respond to this. And if you are a white Evangelical, you also have a responsibility to do the same.
The Message of Trump
Regardless of if we voted for Trump, his win sends a sweeping message across our land about the desire for change. But we must be honest—that change doesn't exactly embrace those who are 'unlike' what we may perceive as the norm. And you are not paying attention if you don't think that his election has emboldened some of the worst parts of our society.
We cannot deny the pain that has come from this election season.
We cannot deny the pain that has come from this election season.
Our biblical mandate is to care for the marginalized, to walk alongside those who have been victims of prejudice and abuse, to embrace those who are different than us in background and belief.
The way of Jesus compels us.
People sometimes talk about sitting in the proverbial sack cloth and ashes, and the prophets of old actually did it. We see tears of lament and pain over the collective sin of a nation, a group of people. White Evangelicals must stand with our brothers and sisters who feel betrayed after this election, no matter which way we voted.
I'm not saying that every White Evangelical, or even most of them, voted for Trump because of the troubling things he said. For many, it was in spite of what he said. Trump voters are complex, and I'm not putting them all in the same boat. And, yes, many voted against Clinton rather than for Trump, because they cared about the unborn, religious liberty, and more.
But that does not mean that we don't have a responsibility. We do. Because we are followers of Jesus.
Hurt
It is inappropriate to judge the reason for a person's pain.
It is also inappropriate to judge the reason for people's pain or to tell them how to process this election.
Furthermore, if someone is hurting from the results of this election because they felt marginalized by the campaign that ultimately won, we cannot draw the conclusion that they don't care about other important issues that led many to vote differently.
Politics are part of a broken world, and these issues are complex. We each do the best we can to make the right decisions, but we cannot make it a zero sum game and fail to acknowledge very real pain.
Our lament (and in some cases, repentance) is critical in order for the Church to heal. My grief and sympathy, spoken out loud, is necessary in order for me to affirm my brothers and sisters in Christ who hurt.
Many deeply committed, minority believers are deeply offended.
And you can spend all your time telling hurting people that they are hurting for the wrong reason, but they are still people who are still hurting. Many deeply committed, minority believers are deeply offended and believe that White Evangelicals have thrown them under the Trump bus.
Some will say, and it's only fair to point out, that Trump won a higher percentage of people of color than other recent Republicans. However, nobody can (or should) disagree that Trump's comments have alienated many—women, minorities, and more—and since White Evangelicals propelled him to the presidency, they owe something to America, including minority Evangelicals.
White Evangelicals Owe Some Burden Bearing
"If you break it, you buy it," is a well-known idea. White Evangelicals had major concerns about the existing system, and they were part of "breaking" it this week—calling for a shake up of an unfair system. But you can't just break something and walk away satisfied. You have to step up and own the responsibility for it. You have to be part of building something better.
We have to be part of building something better.
And many minority Evangelicals are bearing the burden of this election.
We are called to "bear one another's burden" (Gal. 6:2). As such, regardless of your vote or political view, as Christians, this applies to you. And, as White Evangelicals, that applies to bearing the burden of non-White Evangelicals.
As such, let me share six ways that White Evangelicals, among others, can respond.
First, if you've never spoken up about some of the offensive things that Trump has said, this would be a good time to apologize for that.
I was deeply disappointed that many Evangelicals changed their views about the private character of public officials as President-elect Trump emerged. And many Evangelicals, who were deeply concerned about Hillary Clinton's possible election, were inappropriately silent while Trump acted and spoke so divisively.
It's a good time to apologize for that silence. Even if you made the decision that Hillary Clinton was a greater evil, if you never spoke up about some of Trump's comments, you've failed those to whom those comments were addressed.
Second, if you are in ministry leadership, affirm (or begin) a commitment to developing a multicultural approach that more intentionally elevates people of color.
My friend Derwin Gray, who is lead pastor at Transformation Church in North Carolina, has a helpful video to help us get started in our churches. We must lead our churches in such a way that when non-Christians come in, they see a commitment to Oneness in the Body of Christ. We must provide places where each person in the church, regardless of race or gender or age, feels welcomed and affirmed.
The last place I spoke before the election was the Mosaix Conference, where I and many others expressed a hope (and plan) for a more diverse church. As our nation is more divided, at this moment, the church needs to become more visibly diverse.
Honestly, I don't really consider myself a "White Evangelical," and maybe you don't either. I preach every week at Moody Church, a multicultural congregation of over 70 nations, but the fact that "White Evangelical" is so clearly a thing reminds us of the work we have to do.
Third, we must all speak for—and sometimes even join—those who are marginalized. My friend Charlie Dates, who serves as senior pastor of Progressive Baptist Church in Chicago, wrote a helpful piece on The Exchange recently. In it, Charlie wrote:
Evangelical churches in America can benefit from the testimony of other Christians who have long lived on the cultural margins, from a people group who wielded no political influence or economic superiority—a people who functioned largely as a subset, or minority in the larger American Evangelical story. In their history abides a witness, a recipe for thriving ministry, and an illustration of the gospel's power to make buoyant a church relegated to the periphery of national significance.
His statement is powerful; it is a lesson for White Evangelicals to embrace the opportunity to join those who have historically been at the margins for the good of the Church and the glory of God.
This may mean more advocacy in the face of injustice. It may mean volunteering time with inner-city youth who come from single-parent homes. There are many opportunities for compassion and solidarity, and we should be looking for them.
Fourth, we must embrace the refugee, the immigrant, and people on the move. This is a particularly frightening time for some people, precisely because of campaign promises that were made by candidates and approved by voters. Some families genuinely have no idea what will happen next. We cannot underestimate their fears, and we should be the first ones ready to show love and care.
When World Relief launched it's 'We Welcome Refugees' campaign, thousands of people planted a sign in their yards in a symbolic act of solidarity. As white Evangelicals, we pray hard and work hard so that those who find themselves without home and community have people of safety to run towards. We must be places of refuge.
Fifth, we must speak up and quickly condemn any and all racist comments flowing out of this election. Many were quick to condemn statements about other issues, and would have continued to speak out if things had gone a different way.
Racism is evil and we cannot pretend that it was not a part of the rhetoric in our culture these past several months. It simply must not continue, and we should be among the first to repudiate it.
Sixth, we must elevate non-Anglo evangelicals. If you have a platform, join me in sharing it with people of color. It's not a mistake that I've just done a series on Race in America (hosting all African American Evangelicals) and been doing a series on Diaspora Missions (i.e. refugees). Share your pulpit, platform, conference, blog, and more with people of color.
Most of these things we already owe—as Christians, to brothers and sisters of Christ—but if we listen to our minority brothers and sisters, we owe them particularly now.
The Church Must Lead
What's the end vision in all of this?
It looks like all of us walking together—White, Black, Latino, Asian—towards justice and unified witness in the world. Because at the end of everything, we will be standing together before the throne—every nation, tribe, people, and language. We carry each other's burdens now so we can cry out with one voice for eternity. Weeping may last for the night, but there is joy in the morning.
If we have not love, we are only noisy gongs or clanging cymbals. It's time to put aside that which does not swell with love, and instead turn to our friends who are wounded and say, "I know your pain is real. Can I stand with you?"
I am thankful to see movement on the part of our current President and President-elect toward the peaceful transfer of power this country is known for. It is part of our system to take a deep breath after the votes are counted and take steps to move forward. But moving forward doesn't mean we pretend hurts are not real, and moving forward doesn't mean we stop striving for a better way.
Moving forward doesn't mean we pretend hurts are not real.
Half of Americans, and the vast majority of white Evangelicals, have elected soon-to-be President Trump. Most Evangelicals I know did so because they felt he was the best, flawed, choice they had. But, the results (and the hurt) is still here—and real.
I hope that Trump will be a better President than he has been a person.
Like many, it is my hope that Donald Trump's presidency will be better than his campaign—that Trump will be a better President than he has been a person. But regardless, the Church must be the Church.
White Evangelicals owe it to their minority brothers and sisters in Christ, and ultimately all, to care, but also to help bring change in the Church and beyond.
_______________________________________________
Ed Stetzer holds the Billy Graham Distinguished Chair of Church, Mission, and Evangelism at Wheaton College. Laurie Nichols is the Director of Communication for the Billy Graham Center for Evangelism at Wheaton College.
The Exchange is a part of CT's Blog Forum. Support the work of CT. Subscribe and get one year free.
The views of the blogger do not necessarily reflect those of Christianity Today.