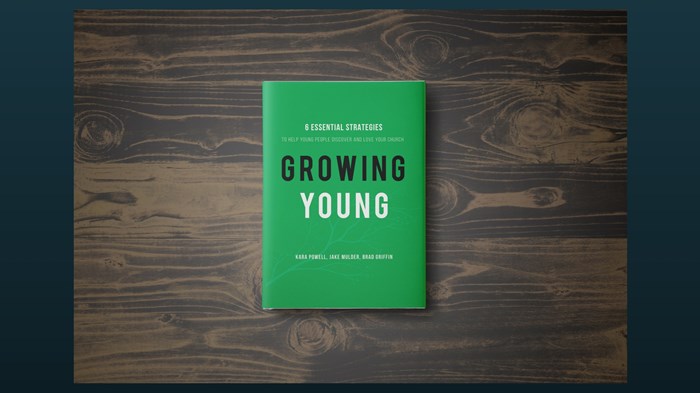 We keep hearing that young people are leaving the church and the faith in droves. Is it true, and how do you hope your research helps churches today?
Much of the doom and gloom about young people leaving the church is true. Church attendance is declining overall. The share of U.S. adults who identify as Christian has recently dropped from 78 to 71 percent. No major denomination is growing. Further, 18 to 29-year-olds make up nearly 20 percent of the U.S. population but only 10 percent of church attenders. Taken together, this can seem like a pretty bleak forecast.
But in the midst of this storm, Jake Mulder, Brad Griffin, and I wanted to study the bright spots—250 exemplary churches doing remarkable work with 15 to 29-year-olds. What we found was both surprising and hopeful. Based on our team's 10,000 pages of data and 10,000 hours of research, we've identified six core commitments of churches that don't age or shrink, but grow, and grow young.
Tell us more about the churches in the study. Where are they, and what are they like?
To our delight, the 250 congregations nominated by denominational leaders, seminaries, and other national leaders showed great diversity in every category we analyzed. In size, they ranged from 100 to over 10,000. In age, there were some less than five years old and others more than 100 years old. Ethnically, nearly half were not predominantly white. Theologically, these churches showed a great variety of denomination, or sometimes lack thereof. Our data confirms that God is working—and can work—through churches of all types.
I love it when research surprises us. What were some of the surprises in your Growing Young project?
Well, some of the biggest surprises were what we didn't find in those six core commitments. It turns out that reaching young people is not primarily done through a specific worship style. Or a great facility. Or a big budget. Or designing super-entertaining ministry programs. Reaching young people goes much deeper. It's much more about the heart of what it means to be the church. That's why we call these six strategies "core" commitments.
Your research found that one of the six core commitments of churches doing well with young people is that they excel at empathizing with them. What do you mean by that?
When we talk about empathy, we mean feeling with young people. Empathy is sitting on the curb of a young person's life, celebrating their dreams, and grieving over their despair. Instead of judging young adults today as "lazy" or "entitled," these churches recognize that young people face particular challenges on their paths toward identity, belonging, and purpose, and they journey with them.
During our study, we met Ariana, a seventeen-year-old who had given up hope that her family could provide her with the sense of belonging she craved. The ongoing conflict between her divorced mom and dad consumed so much of their emotional energy that they had little left over for Ariana.
But through her church, Ariana came face-to-face with empathy in a human form. When Denise, who was a single mom, heard that Ariana had a weekend cheerleading competition and no parent would be attending, she came and sat in the stands. Ariana was so touched that she began texting prayer requests to Denise. The two started sharing meals together.
When Ariana's mom was unable to help her prepare for senior prom, Denise stepped in. She helped Ariana select a gown and came to her apartment that night to get ready for the big dance. While Ariana is quick to point to how Denise changed her, Denise is just as quick to describe how the simple step of showing up for Ariana's cheerleading competition changed her life also.
The power of relational warmth was somewhat of a surprise in your study. What was so surprising about it?
The top phrase young people used to describe these churches was "like family." They talked about "being real" and "being myself here." What they didn't talk about was how cool or hip their church may (or may not) have been. Sure, some of these churches were pretty cool, but what we learned from young people is that warm is the new cool. Experiencing a welcoming community that's like a family turns out to matter more.
While it may seem trite to suggest Jesus is at the core of all churches, you also found that churches growing young are talking about and living out Jesus' message in particular ways. What does that look like?
Of the almost 1,300 interviews we conducted, one of our favorites was with a young adult who was asked to define Christianity. She asked the interviewer if instead of talking about Christianity, she could talk about who Jesus is and what Jesus means to her. Thanks to her church's teaching, she was able to zero in on what ultimately separates our faith from all others: the life, death, and resurrection of Jesus Christ.
These churches are ruthless about focusing on Jesus. They realize that Christianity can be awkward and sometimes confusing, but Jesus is always magnetic.
Teachers and leaders in our study paired their teaching about Jesus with clear encouragement to act—both locally and globally. Contrary to what some might assume, young people want to be invited to live radically. In fact, when describing what makes their church so effective, 40% highlighted how their congregation "challenges" them.
But please don't think these churches didn't care about doctrine. They gave young people on-ramps to discussions about challenging theological issues—both timeless questions about suffering and God's will, as well as heated contemporary questions about racial division and same-sex relationships.
What's one practical step a leader or a church attender could take this week to help their church grow young?
View your church through the eyes of a young person. What do your worship, community life, and media communicate about your values and your openness to teenagers and young adults? If you're not sure, ask a few young people to tell you. Odds are they will.
To help you understand how open your church is both to young people and to the six core commitments of Growing Young, we've developed a free church assessment. Anyone can take this short quiz by visiting churchesgrowingyoung.com. You'll get an immediate snapshot of your church's strengths and weaknesses as well as a customized list of practical ideas to help your team move forward. Based on our research, we're convinced that if these churches can grow young, your church can also.
The Exchange is a part of CT's Blog Forum. Support the work of CT. Subscribe and get one year free.
The views of the blogger do not necessarily reflect those of Christianity Today.