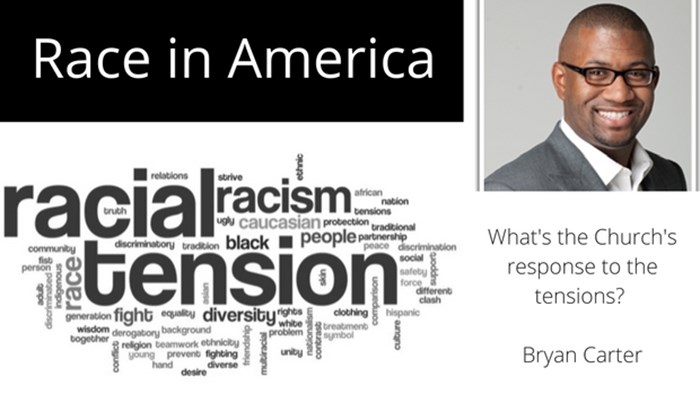 Two years ago, a white pastor friend, Jeff Warren, and I asked ourselves this question not long after the events in Ferguson: "What will happen when Ferguson comes to Dallas?"
This question prompted us to begin to explore the possibilities for our city. Dallas is a tale of two cities: the northern sector is predominantly white and known for its affluence and prosperity, the southern sector is predominantly minority with heavy pockets of poverty and inequalities.
Jeff's church is located in north Dallas and my church is located in south Dallas. Despite Dallas' great affluence, we have the fourth highest poverty rate in the country.
Jeff and I began building a relationship with the hope that we could help our city address the ongoing racial divide. Next, we decided to invite other pastors for candid conversations. He invited eight white pastors from north Dallas and I invited eight black pastors from south Dallas.
We then met monthly for lunch in order to get to know each other and discuss the racial climate in our city and nation. Our questions included:
How are you feeling about the recent racial tensions in our country?
What do you think the role of the church is in racial reconciliation?
Do you ever preach on race relations?
How has your church engaged in racial reconciliation?
What's your personal racial history or story?
Have you experienced racism or ever confronted it?
What books have you read that have helped your view of the church's role?
We spent three meetings talking through these tough and sensitive matters.
We then began taking some action steps. Jeff and I decided to swap pulpits and choirs and spoke about racial reconciliation at our churches. This led to a growing and thriving relationship between both churches with our staffs, men, women, and children. We soon developed a shared vision for the city in facing the matter of racism.
In September 2015, we hosted a larger roundtable conversation with over 60 pastors and invited them to join this effort. Then, in March 2016, we expanded the pulpit swap to 18 churches, nine white and nine black, swapping on the same Sunday, and then followed it with a day of service in Dallas with over 50 projects and over 2,000 volunteers from many of these same churches.
Then it happened. On July 7, 2016, a clash erupted in Dallas that could be heard across the country. During a non-violent Black Lives Matter march protesting the deaths of Philando Castile and Alton Sterling, a young man ambushed the Dallas police officers on duty, killing five of the police officers, injuring nine other officers and two civilians. This already devastating week seemed to boil over by this collision of tragic events.
The day after the shootings, some of the same Dallas pastors involved in our conversations led the city in a time of prayer. A "Together We Stand" community prayer service was held the evening of July 8, with churches from a wide variety of backgrounds coming together.
A week after the shootings in Dallas, we hosted two meetings: one with clergy and one with business leaders. We began a conversation around the matter of race in our city and reactions to the shootings. These conversations were engaging, authentic, and eye-opening.
One participant admitted, "I have seen all the shootings across the county, yet if I am honest, it never really meant anything to me until the officers were shot here in Dallas."
I was thankful for his honesty; however, after hearing those comments, I began to wonder, Is this how many whites have viewed these issues? My hope is that after two years of these ongoing tensions, hopefully we become fully aware that America continues to have a race problem.
The clergy in Dallas have continued to meet the last few months and have developed a clergy covenant with six key principles:
We commit to connect regularly to cultivate relationships with one another for a year.
We commit to lead our churches in having courageous conversations about race.
We commit to practice racial sensitivity and work against racism in practical ways.
We commit to equip our people to engage in the work of racial reconciliation.
We commit to participate in the Dallas pulpit swap on Sunday, March 26, 2017, or in March 2017.
We commit to support law enforcement and the community by partnerships that serve the greater good.
This covenant is our guide to shape our work together in addressing systemic racism and working toward racial reconciliation in our community.
We have learned several key lessons in our work over the last two years:
We need courageous white pastors to help take the lead in addressing the issue of racism.
We must have candid conversations about race that lead to and promote empathy and understanding.
We must preach and teach a comprehensive view of the gospel that includes the work of social engagement and pursuit of racial justice.
We must engage in practical works of justice and acts of service that address institutional racism.
We must think short term and long term, fighting racism is both relational and systematic.
You can't afford to wait for it to come to your city, because the truth is that racism is already there—in the educational system, the criminal justice system, the economic system, and throughout our daily lives. At its core, racism is a sin issue and only the Church is uniquely equipped to fight this dreadful disease in our lives and communities.