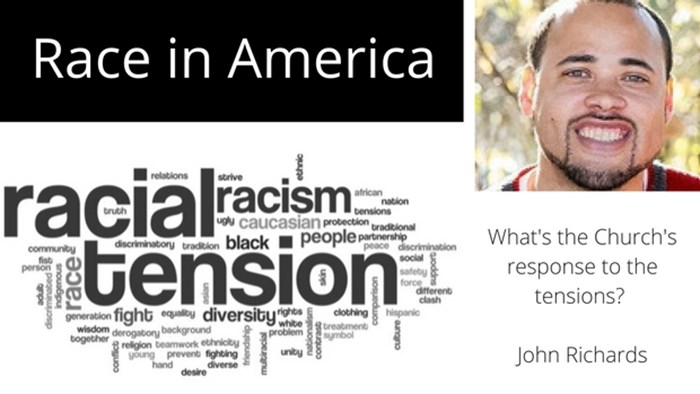 Last week, I binge watched (apparently, that's a thing) Marvel's Luke Cage on Netflix. Based in Harlem, the show is unapologetically black and unapologetically political. One article in Time calls it the "most political superhero show yet." It pulls no social punches, addressing everything from urban policing to Harlem's gentrification. Black men aren't typically seen as superheroes these days. For 13 episodes, I finally found one. To be candid, it was just what I needed to see—a bulletproof, hoodie-wearing, Black man with a heart for his city.
For some, the humanness of the Black community is under attack. Utter the words "black lives matter" in a room and watch things become awkward faster than a Usain Bolt 100-meter dash time. Race has joined the ranks of religion and politics as topics to avoid discussing in social settings.
We hear about the social implications of the racial tension over the past year, but what about the ecclesiological implications? What does this tension mean for the Church? How can the Church engage these issues well?
The Silent Majority
When racial incidents occur, there are times when Black brothers and sisters nationwide lament our evangelical family's silence. We hear the response: "We're just waiting to hear all of the facts." I understand the reservation, but I believe that Jesus' Church doesn't have to wait for all the facts to express heartbreak.
While it is true that scripture says we are to be slow to speak, we should be quick to mourn—and quick to mourn with those who mourn (see Romans 12:15).
When your brothers and sisters mourn, you'd do well to join them. Send a text. Make a call. Whatever medium you use, say something. Imagine the angst some minority attendees feel when their church does not dedicate at least one minute of prayer to these nationally divisive events.
Four Thoughts
There are some practical things I think would be helpful for Christians interested in improving race relations moving forward.
1. Read Widely
Audit your personal library. If it's mono-ethnic, try some diversification. Use your 2017 reading list as an opportunity to include resources that you wouldn't otherwise read to help understand brothers and sisters in the faith.
Christian Smith and Michael Emerson's Divided By Faith is a good starting point to understand race as a social construct. Written nearly 20 years ago, it paints a still relevant, eye-opening picture of the racial divide in America, especially in the faith community. I would also commend Ronald Takaki's A Different Mirror for a compelling, alternative American history account that you won't find in many U.S. history books. Finally, Carl Ellis' Free At Last provides a good overview of the gospel in the Black experience and traces spirituality in the Black community from the time of the Middle Passage. All three provide a good overview of the sociological, historical, and spiritual dynamics of race in America.
2. Pray Specifically
Be specific in your prayers. Pray for race relations in cities where Black men and women have lost their lives. Pray for law enforcement personnel who put their lives on the line every day. Pray for state and local officials who create and implement policies that impact race relations in their region. Finally, pray for opportunities to cultivate relationships with others outside of your ethnic group. Specific prayers tend to lead to specific results.
3. Platform Intentionally
In Divided By Faith esteemed sociologists Emerson and Smith make the following assertion: Racial practices that reproduce racial division are invisible to most whites. If this is true, then our churches need people at the table who help make the invisible visible.
Offer platforms to the issues. Offer platforms to minorities who might feel marginalized. Years ago, I appreciated events like "A Time to Speak" held at the Lorraine Motel in Memphis to discuss race relations in America. These types of events confront racism head-on.
But platforms aren't reserved for conferences and moderated national panels. The local church has an underused platform. Think about your church's sermon series over the past nine months. Was racial tension in America addressed? Was any time set aside during service for prayer after tragedies occurred around our nation?
I echo the sentiments of Ellis when he writes, "Perhaps we are where we are today because hearts in my generation (the Boomer generation) were merely legislated, yet not transformed." Transformed hearts happen at the local church level through intentional platform creation.
4. Act Deliberately
As Christ's Church, there still remains a mandate to act. Helping create space for helpful dialogue is great, but so is helping create solutions for systemic problems. Elect policymakers who enact laws that help safeguard the lives of local citizens. Invest in organizations committed to racial reconciliation and justice (e.g., the Christian Community Development Association, the Innocence Project, and the Equal Justice Initiative). Track the effectiveness of local programs implemented to promote government transparency.
Last week, a fictional series on Netflix brought me hope. May Christ's Church provide a similar hope in the months and years to come. Because ultimately, the Church's response matters.