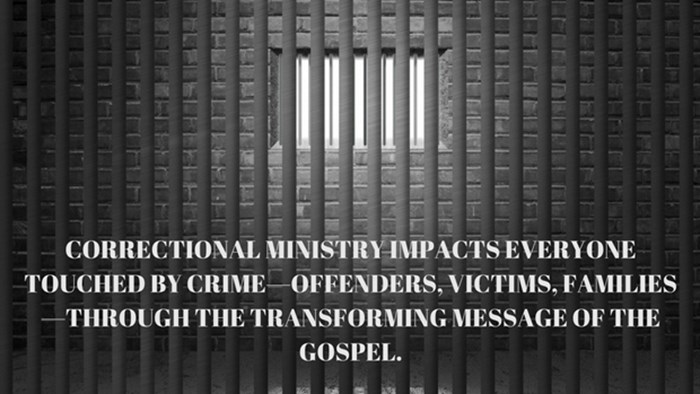 I cannot be more thrilled that the September issue of Christianity Today is dedicated to correctional ministry. You can read the main article here. Correctional ministry is often omitted or marginalized; however, it is a ministry which impacts everyone touched by crime—offenders, victims, families—through the transforming message of the gospel and holistic care which is grounded in love.
In my first 39 years of life, I really didn't think about prisoners or criminal justice issues. My only prison experience was seeing prisons from my car while traveling on family vacations growing up.
But that all changed when a friend asked me to go with her and teach in a faith-based program at a men's maximum security division at Cook County Jail in Chicago. That one visit changed my thinking, career, and life. God hooked my heart and gave me a growing passion for the incarcerated, formerly incarcerated, and their families.
At the time, my husband (an assistant pastor) and I attended a church where a congregant was sent to a federal prison for a few months. The pastoral staff and members of the congregation came alongside him and his family throughout his incarceration and release. The church was also supportive of me starting a reentry program for adult males and welcoming them into the church family, even when there was strong opposition from the community.
As the years have gone by, this primarily white, middle-class congregation of 500 has experienced juvenile and adult congregants who have been found guilty of crimes such as drugs, child pornography, and murder. The church as had to decide how to balance welcoming a sex offender while putting protections in place for its children.
I am grateful to this head pastor and the Body of Christ, who were sheep living out the passage in Matthew 25:31-46. Those on His right—the sheep—are described as feeding the hungry, giving drink to the thirsty, providing shelter for the homeless, clothing for the needy, caring for those who are sick, and visiting those in prison.
These acts of mercy are evidences that the sheep belong to the kingdom. Jesus affirms that believers are to care for one another, but especially the least and insignificant among us. These verses are some of the most quoted verses when it comes to correctional ministry, because the phrases describe both reentry ministry and ministry inside a correctional facility.
My pastor's view of the role of the church in correctional ministry is similar to the pastors surveyed in a recent Lifeway Research study, which found that almost all pastors (97%) agree that local churches have a responsibility to care for families of the incarcerated and 95% of pastors agree that local churches have a responsibility to provide resources and support for youth and adults leaving correctional facilities.
The research also reported a gap between what pastors believe a church should do and what a church actually does.
The most common barriers to churches helping the incarcerated and their families are a lack of volunteers to lead it (65%), lack of training for this type of ministry (62%), lack of finances (48%), and not knowing where to start (40%).
Exposing people to correctional ministry opportunities and providing guidance will increase your volunteer base. There are many ministries you can do without increasing financial investments. There are various ministries which offer training.
Here are a few practical ways to get involved.
Talk about the issue of incarceration in your congregation to reduce the stigma and shame families may be feeling. Offer prayer for families with a loved one incarcerated
Provide practical care for families with loved ones incarcerated within your own congregation
Provide care and counseling for victims of crime
Visit those who are incarcerated, beginning with those from or related to your congregation
Offer to give Bible studies, worship services, or teach life skills in a jail or prison
Invite speakers to share about the needs and characteristics of justice-involved people so the congregation has a more accurate view rather than the one given through media
Contact the chaplain or religious coordinator at the local jail or prison to find out his/her ministry needs
Find out what other churches in your community are doing to meet the reentry needs of those returning from incarceration
Mentor children with incarcerated parents
Mentor juveniles
Mentor justice-involved adults or those returning home from incarceration
Start a victims ministry through your local police department
Adopt a school and offer to tutor kids who need help
Offer a celebrate recovery course
Help individuals with a felony record to find employment
Provide transportation for families to visit the incarcerated
Assist with childcare
Feel free to contact the Institute for Prison Ministries for more on training and partnerships. IPM is part of the Billy Graham Center for Evangelism and supports the evangelism and discipling efforts of correctional ministries nationwide by providing training and resources.
The Exchange is a part of CT's Blog Forum. Support the work of CT. Subscribe and get one year free.
The views of the blogger do not necessarily reflect those of Christianity Today.