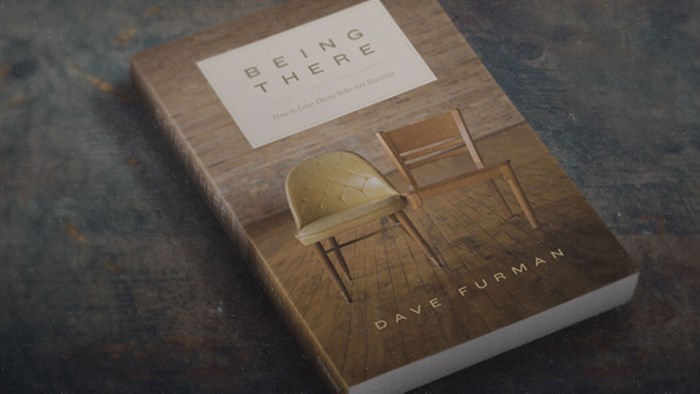 Ed: What is your book about and who is it for?
Dave: Being There is a book about how to love those who are hurting. It's a book for all of us because all of us have friends, family, neighbors, or fellow church members who suffer from disability, depression, or sickness. It's not a book about suffering, but a book on how to care for the one suffering.
Ed: What prompted you to write a book on this topic?
Dave: What tipped me over the edge to write Being There was when I realized that while my physical pain and emotional distress is difficult for me, that it doesn't just affect me, but all of the people around me. I'm disabled. I have a nerve disorder and I have very little use of my hands.
About ten years ago, as we made our plans to move overseas to plant churches, my arms just stopped working. That began a time of deep depression and trial. At one point, I had boils on all of my fingers and couldn't use my hands. I couldn't eat with a metal fork, button my shirt, or touch hardly anything at all. I mourned the loss each day and every time I woke up, I simply looked forward to the end of the day when I could lay back down.
I think about the dark nights of the soul I had. While that was awful for me to experience, it was also very stressful for my family. As I paced up and down our bedroom floor during some of those nights, my wife was awake in bed pacing those same floors with me in her heart.
There were days when she didn't know if her depressed and disabled husband would ever be joyful or healthy again. Those who care for the hurting need to be reminded of God's care for them in their pain, just like those who suffer need those reminders, too. We need hope and practical help. I wrote this book to help us in these trying times.
Ed: What is one way that we can do more harm than good in helping those who hurt?
Dave: One way we can hurt people is to be hyper-spiritual. We feel the pressure to explain their suffering away. I've heard people say things right out of the gate while the bad news is still fresh. They will say things like, "Don't cry. God is going to use all of this for something really good." Other comments like "turn to God and it will be alright" don't really offer encouragement in those moments.
We certainly want to point people to Christ at the right time, but statements like "look on the bright side" or "she's in a better place" aren't necessarily going to comfort someone in the moment. We need to take the pressure off ourselves to come up with the perfect thing to say or to explain their pain and simply just listen or say we are sorry.
It's best to not 'play God' and attempt to explain what God is doing behind the scenes. The truth is, we don't really know what's happening. A better way forward would be to say something like, "I have no idea what God is doing in this situation, but I know He is holy and good. I am so sorry for your pain."
Ed: What are some of the things that those around you have done to help you in your pain?
Dave: Continuing what I started to say in the last question, one of the best things people have done for me in my pain is just to listen. They've made comments like, "Help me to understand what you are feeling," and then they listened.
Faithful friends will sit with you and let you lead the conversation. My friends didn't bring me a new ointment or homemade remedy. They didn't try to fix all my problems, but they did their best to enter my world and be a friend. They didn't constantly bring up my pain, but they didn't act like it didn't exist either.
Another way to help is to simply 'do something' and not wait for your friend to ask for a specific thing. When you offer general help and tell your hurting friends to "let you know when they need something" it puts the pressure on them to come up with a way to help. Work hard to get to know the needs of your friend and take action.
Ed: How can the church help hurting people?
Dave: There are many ways the church can help hurting people. I think one way is for pastors to preach and teach on things like disability and depression and to lead the way in a culture of care.
Another way is for church members to keep their eyes open for hurting people on Sunday mornings. I like to joke at our church, Redeemer Church of Dubai, that all of us are on the unofficial connections team each week. We should all be looking around to meet new people and to pray for hurting people right there on the spot. We should do this throughout the week as well. A phone call or a text message goes a long way to let the hurting know you're thinking about them.
If we see a need, rather than letting the elders of the church know about it at first, we can be the church and care for those in pain. It's part of our call to "carry each other's burdens."