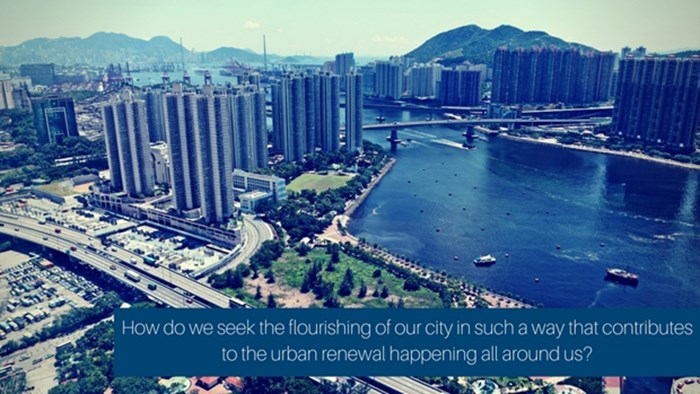 "Also, seek the peace and prosperity of the city to which I have carried you into exile. Pray to the Lord for it, because if it prospers, you too will prosper." – Jeremiah 29:7
Jeremiah 29 paints an incredible picture of a people called to love God in the context of a culture that is not their own. It is a passage that I point to regularly, read regularly, and find solace in regularly.
In a post-Christian context it is perhaps the most apt resource for the church realizing it is in the midst of a shifting culture. We are called to be a people marked by service and charity, generosity and faithfulness. But now we are in the midst of a cultural environment where we are no longer the most powerful voice, rather just one among many. So how do we engage not so much the world around us, but the community right outside our front doors?
That was the burning question for us as we planted The Mission Chattanooga. We felt called to plant in the thriving urban center of the city, the place where life, business, entertainment, and institutions were all within a one-block radius.
In 2009, the trend of people moving back into cities was in full swing and we knew that was where God was calling us to plant a new community of faith. The problem was, we knew that in order to be effective and to reveal the kingdom in the heart of the city, we would have to have a presence beyond Sunday morning (or evening, in our case, as we planted an evening service first).
So how do we engage? How do we seek the "flourishing of our city" in such a way that contributes to the urban renewal happening all around us?
In 2010, only a few months after planting the Mission Chattanooga, we opened The Camp House to be a third space in Chattanooga. We didn't want to plant a church that sat empty throughout the week.
Rather, we wanted to have a space that was a gift to the community and fit into the growing urban fabric of Chattanooga. We wanted to create a space that would foster community and cultivate culture in our city. We wanted to plant a church that honored the dual commissions of humanity in Genesis and in the Gospels—a church that equally lived into the Cultural Mandate and the Great Commission.
So for the past six years we have been a church operating a business in the heart of downtown Chattanooga for the sake of the city. Over that time, we have served innumerable of cups of coffee and hosted thousands of events, from concerts, non-profit fundraisers, conferences, entrepreneur pitch nights, storytelling events, film screenings, and lectures.
We have also hit the walls of this model, experiencing the strain of a space that is committed to being a public space and at the same time a place of worship on Sundays. In the end, however, we have become such a part of the flourishing of our city that when we were forced to move from our original location in 2014, we had local politicians, community leaders, and even secular foundations (who had never before supported a religious organization) help us search for a new home to keep our church and The Camp House downtown.
As you are thinking about planting a church or considering how to create a third space, here are three practices that we recommend to anyone looking to plant a similar model:
Be Faithfully Present
Third spaces must be contextualized to wherever you are called. There is not one model or type of third space that will work or be necessary everywhere.

When we started The Camp House, there were no 'third wave' coffee shops in Chattanooga. So we started one in the heart of a growing urban district known as 'Southside'. In 2014, we moved into the heart the Innovation District and our third space has shifted from just a coffee shop into more of a gathering space restaurant and events venue (specialty coffee is still a significant feature but the definition of who we are is much broader).

The questions that we always find ourselves asking and that force us to always reevaluate what we are doing is What are the latent possibilities here? and How else can we use this space as a gift to our community?
#1. Become An Embodied Third Space
As you are imagining a third space, consider not just adding it as a program that your church creates. Instead, embody the third space. The Camp House is not just a section of the Mission Chattanooga. Our entire space is set up to be The Camp House throughout the week and we conform the church to the space on Sundays.

In fact, most people would assume that The Camp House and the Mission are separate entities and that the church just rents our space on Sundays. We are here to serve the city and the way in which we design our space communicates that vision.
We also view this as faithful stewardship. We have been blessed with a space in a downtown that is vibrant and full of life at all times, and it is only fitting that our space plays a role in the broader life of our community. It would communicate something very different and negative for us to occupy prime real estate in our city only to allow that space to sit empty throughout the week.
#2. Engage Culture
We hosted a conference in 2014 called Horizons in which we invited local city leaders to talk about how the church can be more engaged with what is happening in their cities. One of the biggest takeaways was the fact that when churches envision engaging cities, their imaginations rarely extend beyond mercy ministries. While it is the calling of the church to feed, shelter, and care for the marginalized, we should never relegate our role in society to just that sphere.

Rather, we should play a role in cultivating culture wherever we serve. A great way to begin is by using the framework of the seven pillars or channels of culture (that said, culture is far more complex, but this taxonomy is a great starting point). How is your church engaging with each of these areas of society?

We have used this as a framework for our nighttime programming at The Camp House. Rather than creating anything, we seek out people already engaged in these spheres and seek ways to support them however we can. Often, that includes hosting events at The Camp House, but it can also be as simple as providing volunteers or spreading the message of their work through our social channels.
Creating a third space church plant is a matter of calling and sacrifice. It is a calling to serve the city around us and that is clearly reflected in everything we do—from our space, time, and budget. There are incredibly hard moments in this calling, but also ways in which the church can reveal the Kingdom of God that I hardly imagined were possible six years ago.
We would love to hear from other churches out there living into the embodied third space model. If you have a similar church or similar story, please reach out to us and share your story. What are the challenges and the celebrations you have experience as a church utilizing a third space to reach your community?
The Exchange is a part of CT's Blog Forum. Support the work of CT. Subscribe and get one year free.
The views of the blogger do not necessarily reflect those of Christianity Today.