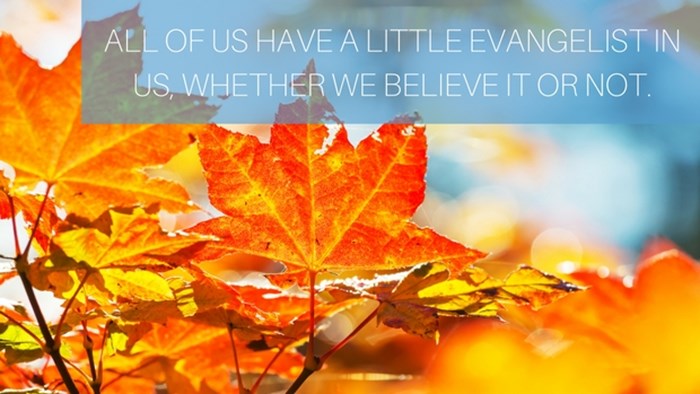 I love people who are called to be evangelists. You know the ones—they are able to engage in a faith conversation from almost any angle, in almost any moment. Sure, you have some with the gift of evangelist who abuse the gift and use it to the detriment of the Church's witness. But find the gems out there—those who have that "woo" in their very bones—and it's almost as though you can see the little flames of the Spirit hovering above their heads.
I know; I am friends with and work with a number of them. Here goes a typical conversation I have with one of them:
Me: How was your trip to Bora Bora?
My evangelist friend (flames beginning to burn fiery red): I got to see four people come to Jesus!
Me (no flame): That's great! So, how was Bora Bora?
My evangelist friend (flames about to take over her whole body): It was nice, but, wow, what a privilege to see four people put their lives in Jesus' hands!
After my initial jealousy wears off, I praise God, along with them, for his goodness. After all, it's my Christian duty, right? To thank God for all the people who are coming to faith through the results of my co-workers' and friends' efforts? "Humble yourself in the sight of the Lord…" and all that. "Rejoice when others rejoice."
Seriously, when we are around those with the gift of evangelist—those who seem to be able to engage someone in a faith conversation faster and more meaningfully than you can say, "Help me Jesus!"—we likely have one of two responses:
(1) Jealousy burns in our bones and we quietly convince ourselves that God doesn't really need us to draw people to himself and, well, we aren't really capable of doing it anyways—so let's leave it to the professionals.

(2) We swallow our pride and rejoice in what the Lord has done as we ask, "Lord, help me to be a better witness. Give me opportunities to draw others to you as well."
Which do you choose? Do you flee from people who talk about their "successful" gospel witnessing encounters because of the emotional response it rouses in you? Or do you run towards those who seem to always be leading people to Jesus because you want to be inspired and to learn more?
Let me share at least seven reasons why I love being around godly and gifted evangelists. And maybe, just maybe, why they are good for those of us who aren't naturally inclined to be this way.
1. Because they love Jesus. Evangelists are so in love with our beloved Savior that not talking about him would seem very odd since he is their #1 priority. They have found their true love and want to tell the world about him. It's like Psalm 51:15 is their mantra: "Open my lips, Lord, and my mouth will declare your praise."

2. Because they inspire me in my daily faith journey. Evangelists spend a lot of time with God. A lot. They read scripture, they pray, sometimes they journal. They come in and say, "I had such a pleasant time with God this morning!" and then proceed to explain what they "heard" him say during their devotional time. (And sometimes, all I can think about is how excited I was that this morning none of the kids were naked as they left and I had squeaked out the door by 8:02 to head to work.) Evangelists take very seriously what God has called them to and want to do it with excellence. Even in their call they live Colossians 3:23: "Whatever you do, work at it with all your heart, as working for the Lord."

3. Because they are bold. No, not bold as in, "Let me tell you how to get out of hell, you pagan person, who I just met on the street." Rather, bold as in, they are not afraid to speak the name of Jesus or to celebrate his goodness. They ignore the voice of doubt that whispers, "Who are you to tell people about Jesus?" They understand that Jesus is Lord and Savior and the hope of the world, and they are unashamed to say so. They deeply believe Romans 1:16: "For I am not ashamed of the gospel, because it is the power of God that brings salvation to everyone who believes."

4. Because they are humble. A true evangelist never takes the credit for leading people to Jesus. It is always God's work. They understand it is God's world, God's field, God's saving grace. Like the Apostle Paul, they humbly say, "For when I preach the gospel, I cannot boast, since I am compelled to preach. Woe to me if I do not preach the gospel!" (1 Cor. 9:16).

5. Because they are great reporters. Evangelists ask good questions. They may say, "So, tell me more about yourself…" They may ask, "Do you have a faith background?" Whatever the question, they understand that Jesus' modus operandi was often to ask questions to get people thinking. It's a way of engaging others on a deeper and more meaningful level.

6. Because they are good listeners. Anyone worth any grain of sand in God's kingdom must listen. Listening = caring. Otherwise, we are just a "clanging cymbal or a resounding gong." Evangelists know that they have two ears and one mouth for a reason. They listen intently and ask God for guidance in responding. They heed the counsel: "Everyone should be quick to listen, slow to speak and slow to become angry" (James 1:19).

7. Because they are like you and me. Oftentimes, we "normal" people see evangelists as special and, well, better and more righteous and holy than us. We erroneously believe they are closer to God and have it all together. The truth is, the more time I have spent with evangelist friends, the more I realize they are just like me. Just gifted a little differently. They have fears and uncertainties that occasionally paralyze them. They get bumps and bruises along the way. But they always get back up and continue to live in a manner worthy of what God has called them to.
Do you see a little of yourself in this list? Hopefully you do, because all of us have a little evangelist in us, whether we believe it or not.
The Exchange is a part of CT's Blog Forum. Support the work of CT. Subscribe and get one year free.
The views of the blogger do not necessarily reflect those of Christianity Today.