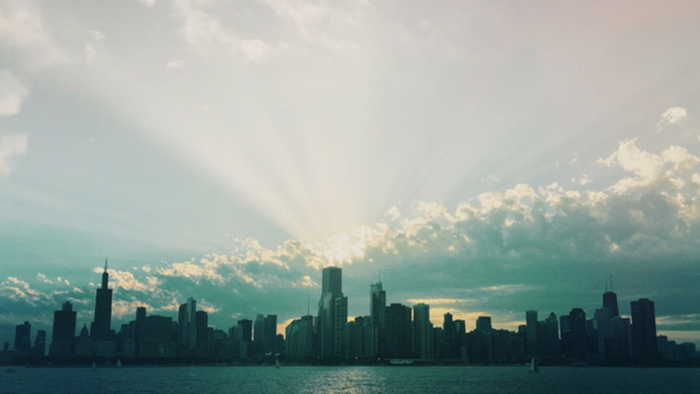 Ed: Dave, you came here and started Church of the Beloved in Chicago, but give me a little backstory. How did you come to start this church?
Dave: I was getting some offers from churches that were established with senior leaders who are highly respected and seasoned. I was really excited about the possibility of getting mentored by a few of them, so I went to a little chapel in the Billy Graham Center Museum at Wheaton College to fast, pray, and seek the Lord.
During that time, I felt the Lord saying, "Open up Exodus 33." It's the chapter right after Israel had worshiped the golden calf. God was angry with them and said, "You guys can go to the Promised Land, but I won't go with you," and Moses basically pleads with God that if His presence doesn't go with them, what will separate them from all the other people on the earth?
I got the impression from the Lord that He wanted me to plant a church in Chicago and that His presence would go with me. I decided to say yes to the Lord and started the church on June 21, 2011, with no people, no resources, no denomination, no building, nothing. I knew God wanted me to plant in Chicago somewhere, so I drove around the city. Eventually, through God's grace, I happened upon a guy who was a Wheaton grad who had a space at his church that was not used on Saturday afternoon. He said he would let us use it for free, and that's how we started the church.
Ed: Why did you call it Church of the Beloved?
Dave: A couple of reasons. First, the name actually comes from the vision, which is that we want people to come to know they're beloved of God because of Christ, so we are very big on gospel identity. At that time, we were planted in the near west side of Chicago in an African-American neighborhood. Today, we're planted in three areas in Chicago. We planted our first church in a less affluent neighborhood and then planted a second church in the heart of downtown Chicago in a much more affluent neighborhood.
The same gospel identity speaks to both demographics. Those in the downtown are highly educated and find a lot of worth in their performance. Many have been told that if they don't succeed, they're not worth anything. Church of the Beloved has a vision to bring healing to people who need to believe the gospel. Many are just not resting in the righteousness of Christ.
We decided to plant a church with that gospel identity, but we also really felt like there was a need for more multi-ethnic churches in Chicago that were not trying to make multi-ethnicity the ultimate thing, but was instead a logical outflow of the gospel.
A gospel-centered church that was cross-cultural was our goal, but at the time it was more of an American multi-ethnicity. Within a few months, I started noticing that a lot of the people didn't speak English as their first language, and so I had a moment in a church service when I said, "If you were born outside the States, would you stand?" About half of the church stood up. I knew God was doing something significant in our church.
At that time, we were far away from any L Stop and were meeting on a Saturday afternoon at 4:00 pm, which is about the worst time to have a church service in Chicago. Yet all these internationals started coming to a pretty rough neighborhood, and we were trying to figure out why. We realized that because I'm an Asian-American and had grown up in different cultures, there were certain things I was creating intuitively that was making immigrants and internationals feel at home.
The church started exploding with international growth. Out of that we began to assess and evaluate why these internationals felt safe at our church, and then we began to focus on reaching people from different nations.
Ed: Tell me the demographics today.
Dave: In our downtown location we have anywhere from 30-45 nations represented in our church on a given Sunday. If you walk around and talk to people, you'll meet people from Nepal, India, Guyana, Korea, Indonesia. The average age of those in the church is probably 25. About 10% are not believers and 25% of the church would consider themselves either unchurched or dechurched.
Ed: When you preach the gospel to high achievers, what are some things you keep in mind?
Dave: Well, you can't be sloppy. You have to be well prepared in your sermon prep. They want something that will connect with their head and their heart. You have to use stories and illustrations that allow them to feel like they're understood. You have to be cross-cultural in your language. You have to be sensitive to a kind of political climate, the social climate of the city. You have to be aware of the fact that there are certain cultural realities in Chicago that need to be addressed.
You can't not talk about race in Chicago. You can't not talk about some of the violence that's going on in our cities. There are certain things that you have to talk about if you want to be validated as a speaker in Chicago.
There is also a real performance mentality that they have. Most of their worth is tied to their job, career, what school they graduated from, and how lavish their condos might be. You need to speak to their idols and the functional saviors that they have, and then show them how Jesus is more healthy and satisfying than those idols.
Ed: What would you say to the potential pastor and church planter saying, "I'd like to do something like that"?
Dave: It depends on where they're coming from. If they're coming from the city of Chicago, there's a different conversation because they know the context. I've noticed that a lot of people coming to cities are coming from the south. A lot are coming from places that they consider major global cities in the south, but they're not even remotely similar to New York, Chicago, and Los Angeles. I've found that the failure rate of people who have good doctrine and who've been well prepared at their seminaries is high. They come in thinking that they know how to plant a church (and they might know how to plant a church in their neighborhood in the south in a small city, but they don't know how to do that in Chicago). Unfortunately, many just don't know how to contextualize.
We need to have humility to come into a city to learn and say, "Hey, we need to be observers for maybe four or five years and really understand the context." If I talked to most planters from the south and I asked them, "What makes Chicago unique?" or "How is Chicago different in your context, and how are you going to contextualize your ministry to reach those people?" then I find there is a lot of ignorance. Contextualization is imperative in their understanding of how they bring the gospel into this context.
Ed: How can we pray for you?
Dave: For spiritual vitality for our staff and our leadership. That we would stay intimate with Christ. For wisdom in terms of stewarding growth when we are constantly looking for new buildings. There's never a building situation we're really happy with because they always have restrictions. They kick us out for certain weeks of the year. Pray for wisdom; we need lots of it.
Ed Stetzer holds the Billy Graham Distinguished Chair of Church, Mission, and Evangelism at Wheaton College, is Executive Director of the Billy Graham Center for Evangelism, and publishes church leadership resources through Mission Group.
The Exchange is a part of CT's Blog Forum. Support the work of CT. Subscribe and get one year free.
The views of the blogger do not necessarily reflect those of Christianity Today.