Apr 7, 2017
webinar, evangelism
Why Has Evangelism Fallen On Hard Times?
Join Drs Richardson and Stetzer for the Billy Graham Center's first webinar. |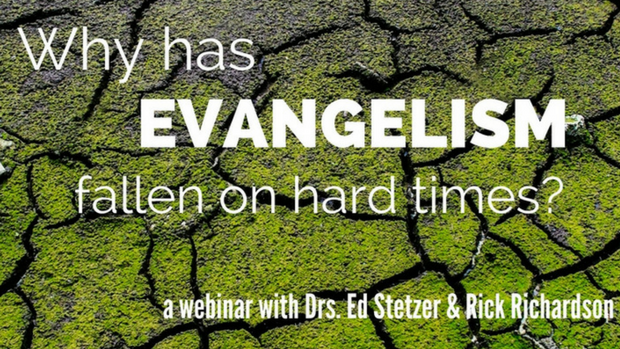 You know, the more I talk with pastors and leaders, the more I continue to see the need for evangelism resources to equip all levels of the Church—from senior pastors through lay Christians. Evangelism is a funny little word which captures the heart of what Jesus has commanded of us, and yet which too few of us actually engage in.
It's a sobering reality that nearly 80% of unchurched people say they will engage in a faith conversation but that only 30% of Christians are actually telling people about Jesus. Despite what many may say to the contrary, the vast majority of people around us are willing to talk about faith and the deeper things of life. The void in the human heart without Jesus doesn't change across generations. Under the veneer that all is well, many people need—and want—to hear that there is a God who loves them.
At the Billy Graham Center for Evangelism, we are continually seeking new ways to both inspire and equip Christians to share their faith in relevant and meaningful ways. We've created websites and podcasts and videos and image-driven resources, all about evangelism. And now we are beginning to use another avenue—webinars.
I'd like to invite you to join me on Monday, May 1, from 12:00-1:00 pm CDT as I lead a webinar with Dr. Rick Richardson, a Wheaton College evangelism professor and director of our research arm here at the Center. In this webinar, we will discuss:
The state of evangelism in the Evangelical and Protestant traditions
A brief history of evangelism over the past couple of centuries
What evangelism practice looks like today
The role of personal discipleship in evangelism
Simple practices for leading those under your care to a more evangelistic lifestyle today
This webinar is primarily for pastors, leaders of networks and denominations, and those in various leadership positions within a church, but the overview and principles can be applied to individuals as well. The webinar will be one hour in length and include a time of Q&A. It will be recorded and be made available to participants after it runs. The cost is just $20. Learn more here and register to reserve your spot.
Ed Stetzer holds the Billy Graham Distinguished Chair of Church, Mission, and Evangelism at Wheaton College, is Executive Director of the Billy Graham Center for Evangelism, and publishes church leadership resources through Mission Group.
Support our work. Subscribe to CT and get one year free.