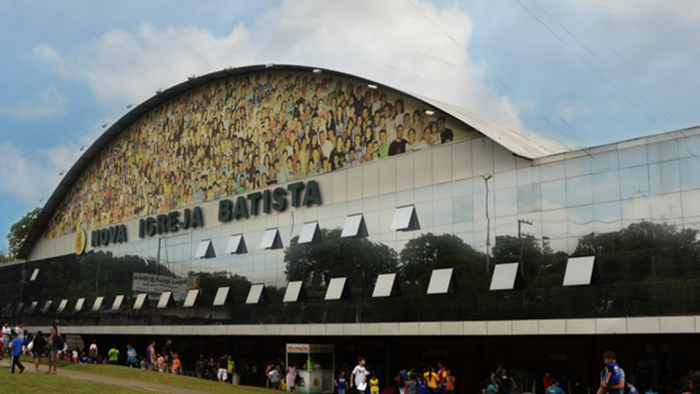 Ed Stetzer: Tell me a little about your burden for theological education in Brazil. How did that come about?
David Hatcher: Jesus created the Church to be His school, from pre-school to PhD. Unfortunately, Christian education—Bible education and knowledge—is really shallow in churches all over the country. Research has shown that this is the number one problem among conservative Christian churches. There's a lot of Pentecostalism, which uses a lot of the prophecies and visions, but there is very little actual knowledge of scripture. So when we created the seminary, we knew it shouldn't just be for leaders; it needed to be for everyone.
Ed: So when you started the seminary, you called it Sunday Seminary. How did you go from traditional seminary to Sunday Seminary?
David: At the time, I was working as a director of a seminary. Ephesians 4:11-13 tells us that everybody has to be prepared. So we decided to basically take the seminary curriculum and break it down into six-week (12 hr) modules, because we found that that was the ideal. We basically took the seminary and put it into the church on Sunday morning. We included classes on Tuesday nights as well. People can go through the basic seminary curriculum in about eight to nine years. As good educators we review, evaluate, and have daily homework just as in a college program.
Ed: The Church in Brazil has been described by many Brazilians as being a mile wide and an inch deep. A lot of growth, but not a lot of depth. How then do you help Brazilians value education?
David: I think that when Christians get an opportunity to learn under good teachers, they love it. And they love being able to come to church and leave with more than just a good feeling. They want new principles to base their decisions—their business decisions, family decisions, and school decisions.
By having the seminary where people come and take notes, we have seen their faith grow in amazing ways. Families are being changed in such a way that secular educators are taking notice. When I took over this church, we had 60 people on Sunday morning. It was getting to the point where the leadership was considering shutting it down. We now run between 7,500 and 8,000 every Sunday morning just at the central location. And this is going on in another 28 churches around the city and country.
Ed: And what percentage of people who attend have gone through Sunday Seminary, or are currently in Sunday Seminary?
David: Currently we have about 4,500 older youth and adults in seminary and 2,700 teens and children in the Bible school program here at this central location.
Ed: You are also involved in teaching other pastors how to implement Sunday Seminary. What are you teaching them to do?
David: Many pastors, especially Latin pastors, have to see it before they can do it. Years ago, when I wanted to start using big shows and big event evangelism, I took my crew to Disney. I wanted them to see that you could have perfection—that things could really be done well. I took our puppeteer, who uses just small puppets. When I took him to Disney, he came back a different man. He builds all sorts of puppets. He's probably the best puppet builder in the country now. He builds puppets, writes scripts and creates incredible shows.
So, the first thing is to let pastors see how the training works. Then we move on to the pedagogy and give them the videos of how the class is taught and all of the syllabi and notes. We give them a pin online and they can download whatever they want.
Ed: You've basically got 4,500 people working towards what would be a Bachelors degree in Bible, and doing it over five years. Why do you think we have not all caught onto this? Why is this uniquely being experienced here?
David: I have no idea why other people haven't caught on. But everywhere that it has caught on, it's boomed. And every church in Brazil that has done it has multiplied their leadership. They're training their own leadership. As people move off, they now have the training, and many end up starting a church. We help them out once they've got it started and supply all the materials they need.
Ed: How many have finished the training thus far?
David: We've probably had about 1,000 who have received a certificate.
Ed: Where can people find more information?
David: They can visit www.nib.org.br.
Ed Stetzer holds the Billy Graham Distinguished Chair of Church, Mission, and Evangelism at Wheaton College, is Executive Director of the Billy Graham Center, and publishes church leadership resources through Mission Group.
The Exchange is a part of CT's Blog Forum. Support the work of CT. Subscribe and get one year free.
The views of the blogger do not necessarily reflect those of Christianity Today.